Close
UHV Guarantee helps more students afford college
Petur Vega knew he wanted to go to college to study biology, but he didn't know exactly how to pay for it until a University of Houston-Victoria recruiter visited his San Antonio high school last year.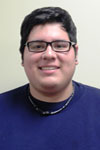 Petur Vega
That is when Vega learned about the UHV Guarantee, a financial aid opportunity for new freshmen and sophomores from outside the Victoria area whose families meet federally certified income requirements.
"I was looking into attending Texas A&M University-Kingsville and Texas A&M University-Corpus Christi, but with the UHV Guarantee, coming to school in Victoria ended up being the most affordable of the three," Vega said.
One year after it was introduced, Vega is one of 212 students taking advantage of the UHV Guarantee. Those students are receiving some or all of their tuition and fees paid while they pursue their bachelor's degree.
To qualify for the UHV Guarantee, freshmen and sophomores must first complete the Free Application for Federal Student Aid at www.fafsa.gov. Those whose families are documented to have an annual income of $50,000 or less may have all of their tuition and fees covered by federal, state and/or university aid. Those whose families have annual incomes from $50,001 to $90,000 may have 50 percent of their tuition and fees covered, and those with family incomes of more than $90,000 may receive up to a $1,000 UHV scholarship.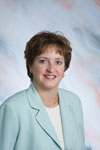 Carolyn Mallory
Carolyn Mallory, UHV financial aid director, said the UHV Guarantee has been a success in providing greater access to a higher education degree.
"The UHV Guarantee has benefited more than 200 students already," she said. "It's doing a good job drawing more students to the university, raising awareness about what the university offers, and saving money for the students."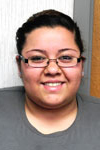 Mariela Chavar
The Guarantee is a key reason why Mariela Chavar is attending UHV. The freshman from Houston first learned about the financial aid opportunity through a staff member at her high school.
"My family and I decided to make the trip to Victoria to find out more about it," she said. "As a first-generation college student, I saw this as a great opportunity. We didn't have enough money for college, so the Guarantee helped a lot."
Chavar was careful to ask a lot of questions to make sure she knew how the Guarantee worked. She said it was easy to understand.
"I was kind of worried about paying for college," she said. "My parents and I didn't want to take out loans. When I learned that I wouldn't need a loan to pay for tuition, the UHV Guarantee started sounding really good."
Chavar is majoring in psychology and plans to minor in Spanish. She has a work-study job in the Office of Admissions, where she gives prospective students feedback on their applications.
"I would recommend the UHV Guarantee to any student who has financial needs," she said. "It has helped me."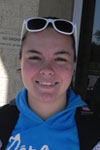 Jennifer Sanchez
The same is true for UHV freshman Jennifer Sanchez, a goalkeeper for the Jaguars soccer team. When sorting through soccer recruitment pitches, the UHV Guarantee played a role in her decision-making process.
"As soon as I learned that this program at UHV would offer tuition scholarships, I knew this was where I wanted to go to school," she said. "It's good that the university has this option for students who are trying to afford college."
Sanchez said the UHV Guarantee reduced financial worries for her family.
"It was a weight off our shoulders," she said. "I plan on continuing to take advantage of the Guarantee."
Sanchez is from San Antonio, where word about the UHV Guarantee has spread. When Eliza Fortner, a UHV financial aid specialist, went to a recruitment event in San Antonio, unprompted high school students came up to the UHV table to ask about it.
"The awareness of this program is growing," Mallory said. "Students are finding out about it in Houston and San Antonio."
To be eligible for the UHV Guarantee in fall 2013, a student must be:
A Texas resident from outside the Victoria area pursuing an undergraduate degree.
Eligible to receive federal, state and/or university aid as verified by a completed FAFSA.
A new UHV freshman or sophomore.
Taking face-to-face classes on the Victoria campus at UHV and enrolled in at least 12 credit hours.
To remain eligible for the UHV Guarantee, students must maintain a minimum 2.0 grade-point average and complete at least 24 credits a year. The UHV Guarantee covers tuition and fees only in the fall and spring semesters, but other incentives may be available for the summer.
To receive the UHV Guarantee, students need to apply to UHV and complete a FASFA. Links to these forms and more information can be found at www.uhv.edu/underclassmen/Guarantee.aspx.
For more information about the UHV Guarantee, renewal requirements and all other financial aid opportunities, call the Office of Financial Aid at 361-570-4125 or toll free at 877-970-4848, ext. 4125.
The University of Houston-Victoria, located in the heart of the Coastal Bend region since 1973 in Victoria, Texas, offers courses leading to more than 80 academic programs in the schools of Arts & Sciences; Business Administration; and Education, Health Professions & Human Development. UHV provides face-to-face classes at its Victoria campus, as well as an instructional site in Katy, Texas, and online classes that students can take from anywhere. UHV supports the American Association of State Colleges and Universities Opportunities for All initiative to increase awareness about state colleges and universities and the important role they have in providing a high-quality and accessible education to an increasingly diverse student population, as well as contributing to regional and state economic development.