Close
UHV education professors earn award for teacher preparation paper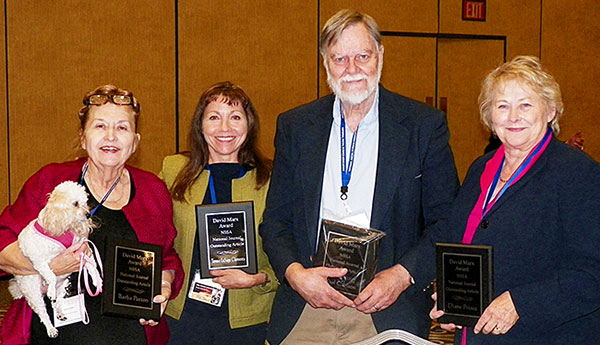 University of Houston-Victoria School of Education & Human Development faculty members Barba Patton, left, Teresa LeSage Clements, Paul Carlson and Diane Prince display the plaques they received for winning the 2012 National Social Science Association award for best journal article.
A paper written by four University of Houston-Victoria School of Education & Human Development faculty members recently was chosen as the top journal article of 2012 by a national organization.
The National Social Science Association presented the award March 25 to Teresa LeSage Clements, Barba Patton, Diane Prince and Paul Carlson and during its spring conference in Las Vegas.
Prince and Carlson are education professors. Patton is an associate professor of curriculum and instruction, and LeSage Clements is an assistant professor of curriculum and instruction. Each received a plaque during the award ceremony.
The faculty members wrote "Billions of Dollars Wasted: New Teacher Preparation Models Needed." The paper was published in Volume 41 of the National Social Science Journal.
"The award came as quite a surprise," LeSage Clements said. "We were honored that the association chose our paper for this recognition."
The National Social Science Association is an interdisciplinary association devoted to interaction among social scientists through conferences, seminars and publications. Being chosen for publication is an accomplishment in its own right since the association only accepts about 12 percent of all papers submitted, Patton said.
"To be considered for this award meant our paper had to be the cream of the crop," she said. "There are a number of worthy papers, so we are extremely proud to be chosen for the top honor."
In the paper's introduction, the authors explain how the problems of low teacher retention and high teacher attrition costs the U.S. billions of dollars each year in teacher preparation programs, professional development training, recruitment and lost time.
"The graying of the teaching profession and the high departure of younger teachers present a problem in sustaining a quality education for all students," LeSage Clements said. "Many of the current teacher certification and recruitment models are overlooking the education paraprofessionals."
Paraprofessionals generally assist teachers in the classroom and provide administrative support for teaching. The four UHV faculty members conducted a study to investigate if paraprofessionals who obtain a teaching certificate and degree have greater teacher retention and lower attrition rates than people who did not have prior work experience in education before becoming teachers. The survey was disseminated to about 2,800 UHV School of Education & Human Development alumni.
The results showed that paraprofessionals with community ties stay in the classroom longer than teachers without prior education work experience.
"The premise was that certified and degreed paraprofessionals with education work experience understand the reality of being a classroom teacher more than someone who just decides to become a teacher," LeSage Clements said. "It's an untapped resource of teacher candidates."
Patton said the award is given out based on the paper's writing style, organization, content and how it addresses problems. In addition to those areas, LeSage Clements said having a timely issue and performing a strong literature review helped their cause.
While at the conference March 24 to 26 in Las Vegas, LeSage Clements, Patton, Carlson and Prince also jointly presented a symposium about evaluating teacher education preparation now and in the future. In addition, they attended several sessions presented by other educators and social scientists.
Clements and Patton are on the National Social Science Association board of directors, and Patton serves on the executive board. They attended various business meetings during the conference.
"While there are about 3,000 association members, only about 300 attended the conference," Patton said. "It's a small enough gathering to where we get to know people and have a chance to catch up with them every spring to network and discuss projects. Often these discussions lead to additional presentations and publications."
The University of Houston-Victoria, located in the heart of the Coastal Bend region since 1973 in Victoria, Texas, offers courses leading to more than 80 academic programs in the schools of Arts & Sciences; Business Administration; and Education, Health Professions & Human Development. UHV provides face-to-face classes at its Victoria campus, as well as an instructional site in Katy, Texas, and online classes that students can take from anywhere. UHV supports the American Association of State Colleges and Universities Opportunities for All initiative to increase awareness about state colleges and universities and the important role they have in providing a high-quality and accessible education to an increasingly diverse student population, as well as contributing to regional and state economic development.