Close
Life, politics in South Africa next subject of UHV lecture series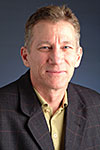 Douglas Foster
In telling the story of South Africa following the end of apartheid, author Douglas Foster alternates giving the perspective of presidents with the narratives of six young people.
On April 18, Foster will present stories, video and audio about the next generation of South Africans during the second installment of the University of Houston-Victoria Provost's Lecture Series. "After Mandela: The Struggle For Freedom in Post-Apartheid South Africa" will start at noon in the University Center Multi-Purpose Room, 3007 N. Ben Wilson St. The event is free and open to the public.
In researching his 2012 book, "After Mandela," Foster said he got to know South Africa President Jacob Zuma well when Zuma was moving up the political hierarchy. He got to know an HIV-infected teenager and a homeless orphan through group interviews and hitting the streets.
"I was able to then navigate the understanding of an emerging black elite, and in alternating chapters, move through the circle of young people and tell a generational story," he said.
A former newspaper reporter, magazine editor, television correspondent and documentary producer, Foster is an associate professor in Northwestern University's Medill School of Journalism. The book is an exercise in immersion journalism, the subject Foster teaches at the Evanston, Ill., university.
"I gave myself the challenge of doing an immersive journalism experience over about six years," he said. "It required me to cross all kinds of lines from nation, culture, language, race, class and gender to create an emerging profile of a generation that will shape the future of one of the world's newest democracies."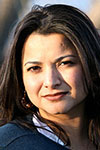 Macarena Hernández
Students in a UHV fall "Intercultural Communication" class taught by Macarena Hernández, the Victoria Advocate Endowed Professor of the Humanities, read "After Mandela" and participated in a discussion with Foster on Skype. Hernández, who is teaching the book again this semester, said many of her students were too young to remember when Nelson Mandela took office in 1994.
"What the book has done is challenge my students' perceptions of South Africa and what they imagine that country to be," she said. "The book so brilliantly humanizes the real stories and struggles behind the headlines. My students really connected with the young people interviewed in the book, and that made them feel more invested in learning about South Africa."
Kelvin Rudd, a junior communication major who took Hernández's class, said he became deeply inspired by Foster's book.
"After reading a few chapters and immediately connecting with a homeless boy named Jonathan, I found it hard to put the book down," Rudd said. "Douglas used vivid descriptions to depict the rural areas of South Africa and shared insight on Africa's struggle with the AIDS virus."
Foster said many of his readings have been at college campuses, so he's frequently talked with students about the book. Many younger students were shocked by what they read. The book opens up discussion about racial equality, economic equality and whether the voices of younger people are drowned out in South Africa and the U.S.
"I think young readers find powerful resonance, and they start thinking about global generational challenges," he said.
Two of the in-depth interviews come from the offspring of the presidents. The profile of Zuma's daughter, Thuthu, arose because she happened to be home while Foster was trying to convince the future president to give him an interview.
"I realized she had an interesting story as a 17-year-old just beginning college," Foster said. "She allowed me access to tell the story of someone who will be an important political figure on the continent in the future."
Apartheid was a system of racial segregation officially launched in 1948 by the South African government and enforced through legislation and force. Apartheid was dismantled in a series of negotiations from 1990 to 1993, culminating in democratic elections in 1994 when Mandela was elected president.
At the birthplace of Mandela, Foster attended a ceremony anointing a new village chief.
"He and his two grandsons were there, and I fell into a conversation with a grandson who allowed me access to the family since Mandela wasn't doing interviews anymore," he said.
In a review in the Los Angeles Times, author Martin Rubin applauded Foster for gaining a superb understanding of the complexities of South African society.
"Foster shows us a country blessed with a wonderful constitution, ensuring freedoms of all kinds," Rubin wrote. "But that noble document is beleaguered, its permissiveness under attack from religious zealots and other bigots: Even its treasured press freedom is threatened by the very leaders sworn to uphold it."
Foster said there is a vibrant privately owned media with the fewest content restrictions of anywhere on the continent. However, a proposed bill would change that.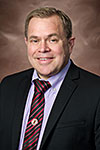 Jeffrey Cass
"It is very troubling," Foster said. "Toward the end of the book, readers will see the president and I get into a tremendous disagreement about that bill, which results in me getting left on the tarmac out of the motorcade. There is a disturbing tone in that debate because some leaders refer to editors and reporters as enemies of the revolution. This bill would have a chilling effect."
As part of UHV's 40th anniversary celebration, the Provost's Lecture Series began in January to bring more opportunities for scholarly discussion to the university. Jeffrey Cass, UHV provost and vice president for academic affairs, said Foster's lecture will be of interest to the community as well as UHV students, faculty and staff.
"By telling the story from many different perspectives, Mr. Foster has gone to great lengths to provide a true sense of what life is like in South Africa today," he said. "This is the type of presentation we had in mind when we launched this new lecture series. We are excited to hear the stories of these individuals and hear why the author is hopeful for the future."
The University of Houston-Victoria, located in the heart of the Coastal Bend region since 1973 in Victoria, Texas, offers courses leading to more than 80 academic programs in the schools of Arts & Sciences; Business Administration; and Education, Health Professions & Human Development. UHV provides face-to-face classes at its Victoria campus, as well as an instructional site in Katy, Texas, and online classes that students can take from anywhere. UHV supports the American Association of State Colleges and Universities Opportunities for All initiative to increase awareness about state colleges and universities and the important role they have in providing a high-quality and accessible education to an increasingly diverse student population, as well as contributing to regional and state economic development.