Close
de León Symposium to focus on Latina experience in South Texas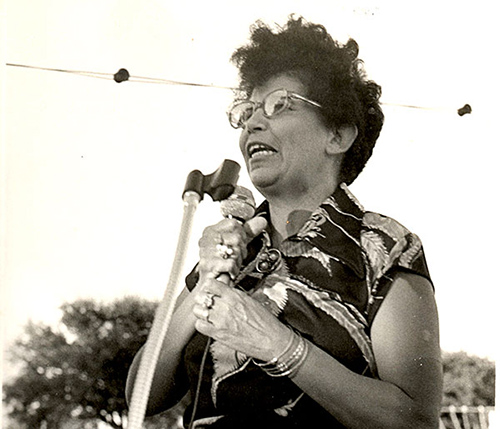 Aurora Orozco, a Mexican American activist from Cuero, will be the subject of her daughter's presentation at the Martin de León Symposium on the Humanities. The event will be April 27 at the University of Houston-Victoria.
When historian Cynthia Orozco was growing up in the 1970s, few Mexican Americans from her hometown of Cuero attended college.
That fact greatly bothered Aurora Orozco, Cynthia's mother, who strongly believed in the importance of education for everyone.
"For all that my mother accomplished, the most important thing she did was make sure every one of her six children earned college degrees," Cynthia said.
Cynthia will present "Aurora E. Orozco: Cuero Activist, Valley Girl and Mexican Immigrant, 1918-2011" during the 27th annual Martin de León Symposium on the Humanities at the University of Houston-Victoria.
The theme of this year's symposium is "The Latina Experience in South Texas." The event is from 9 a.m. to noon April 27 in the Alcorn Auditorium of UHV University West, 3007 N. Ben Wilson St. It is free and open to the public.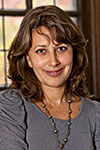 Maria Cotera
The symposium is presented by the UHV School of Arts & Sciences and the de León Club of Victoria. Named after Victoria founder Martin de León, the de León Club is a nonprofit organization dedicated to promoting business and encouraging civic participation to improve the quality of life in Victoria.
After an introduction to start the symposium, Maria Cotera, a Chicana feminist, activist, author and researcher, will make a presentation titled "Searching for Margaret: Jovita González, Caballero and the Politics of Mexican-Anglo Collaboration in Texas."
Cotera is an associate professor in American culture and women's studies at the University of Michigan in Ann Arbor. During Cotera's childhood, her parents became active in Texas politics and the civil rights movement. She spent most of her childhood in Austin and El Paso, and visited family in Mexico several times.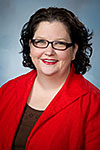 Beverly Tomek
Beverly Tomek, a UHV assistant professor of history and chair of the 2013 Symposium Advisory Committee, said Cotera and Orozco's mothers are both featured in "Texas Through Women's Eyes: The Twentieth-Century Experience." That book was co-written by Hal Smith, a UHV professor of history and humanities and Judith McArthur, a former UHV adjunct faculty member.
"When I saw that connection with UHV, it made a lot of sense to invite Dr. Cotera and Dr. Orozco to the event," Tomek said. "It highlights Dr. Smith and McArthur's work too, because they wrote about women who did important community organizing work. Many of those individuals have been overlooked."
Cynthia, a history professor at Eastern New Mexico University-Ruidoso, will make the second presentation at 10:45 a.m. during the symposium. An author, film and museum consultant, civic leader and motivational speaker, Cynthia wrote the 2009 book "No Mexicans, Women or Dogs allowed: The Rise of the Mexican American Civil Rights Movement." She is co-editor of "Mexican Americans in Texas History" and associate editor of Latinas in the United States: An Historical Encyclopedia.
Her mother, Aurora, came to the U.S. in the 1920s with her parents because of violence from the Mexican Revolution. After living in Mercedes for three decades, she became a U.S. citizen. She married fellow Mexican immigrant, Primitivo Orozco Vega, and the couple moved to Cuero where Vega worked as a bootmaker.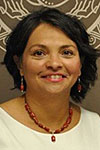 Cynthia Orozco
"Cuero was different than the valley, but it still had racial segregation in those days," Cynthia said. "The housing and neighborhoods were segregated. There weren't many Mexican Americans graduating from schools. Education was a big problem."
With Vega having trouble with nerve problems and alcoholism, it fell to Aurora to raise their six children on minimum wage as an employee of Lieberman's Department Store. She also found time to become heavily involved in community, church, education and political causes.
Aurora helped lead the Texans for Educational Advancement of the Mexican Americans and she participated in the Parent Teacher Organization, League of United Latin American Citizens and Families Unidas. She spent four years as the chief representative for Cuero of the La Raza Unida Party, where she helped back third-party candidates to run against Republicans and Democrats. She also was active in Our Lady of Guadalupe Rosary Society and the Our Lady of the Guadalupe Parish Council.
"My mother fought for equality for Mexican Americans and African Americans," Cynthia said. "She did this in the evenings after working a full day and raising six children. People in Cuero who couldn't read English would bring papers for her to translate. She was trying to uplift and empower the community. She was respected for doing so."
Cynthia said her mother wrote an autobiography, a biography about her husband, short stories, poetry, conference reports and travel logs. About 99 percent of it was written in Spanish. She shared her views about women's rights and social issues through her writing and by attending scholarly conferences.
"Down the line, we are hoping to publish some of her work," Cynthia said. "I think that after her work comes out, she will be famous."
For more information about the symposium, contact Tomek at 361-570-4363 or tomekb@uhv.edu.
The University of Houston-Victoria, located in the heart of the Coastal Bend region since 1973 in Victoria, Texas, offers courses leading to more than 80 academic programs in the schools of Arts & Sciences; Business Administration; and Education, Health Professions & Human Development. UHV provides face-to-face classes at its Victoria campus, as well as an instructional site in Katy, Texas, and online classes that students can take from anywhere. UHV supports the American Association of State Colleges and Universities Opportunities for All initiative to increase awareness about state colleges and universities and the important role they have in providing a high-quality and accessible education to an increasingly diverse student population, as well as contributing to regional and state economic development.