Close
UHV outstanding education students learn key to student success is adaptation
The University of Houston-Victoria School of Education & Human Development's outstanding graduates, Blan Willoughby and Blair Kelly, both have learned the importance of flexibility when working with children.
"When it comes to dealing with children, I quickly saw that every situation is different," Willoughby said. "We have to look at the whole picture because it is not always easy to know why children act the way they do without knowing their background. Sometimes children can be labeled as having behavior problems when they really just don't know how to handle stressful situations. Every child deserves for someone to take the time to find out their individual needs."
Kelly agreed that being open to children's needs will lead to successful experiences teaching.  
"All kids are teachable," she said. "Teachers just have to find what message works best for each student. If a student doesn't understand a lesson, teachers need to find a different way to communicate the message. It's not fair to give up on a child because he or she doesn't learn the same way that I teach."  
Willoughby and Kelly will be honored during the university's spring commencement. UHV will hold two graduation ceremonies May 11 at Faith Family Church, 2002 E. Mockingbird Lane. The 9 a.m. ceremony will be for graduates of the schools of Arts & Sciences and Education & Human Development. The 1 p.m. ceremony will be for graduates of the schools of Business Administration and Nursing.  
Each semester, professors from the four UHV schools select at least one outstanding student from both their graduate and undergraduate programs to be honored during commencement.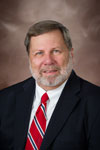 Fred Litton
"Blan and Blair have shown through their time at UHV that they are able to adapt to difficult situations," said Fred Litton, dean of the UHV School of Education & Human Development. "This is a key component to being a good educator and school counselor. That's one of the many reasons why they were chosen for this honor."  
Willoughby is graduating with a Master of Education in counselor education with a concentration in professional school counseling. She said the face-to-face classes at UHV were the most beneficial for her.
"Even though it's harder to commit to attending face-to-face classes, I learned more about real-life counseling situations from listening to professors' experiences," she said. "In counseling, there aren't step-by-step guidelines for finding a solution to a problem. Each situation is handled differently to reflect the circumstances."  
Willoughby's interest in counseling started when her children were in elementary school. She was volunteering as a mentor and tutor when she found her calling.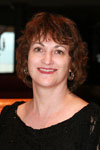 Blan Willoughby
"I realized I enjoy talking with the children and wanted to help them," she said. "I enjoy teaching, but my heart is in helping children figure out solutions or coping skills to handle issues in their lives so that they are better both in and out of school."  
To become a school counselor, Willoughby had to first become certified to teach. After completing her certification through the Region III Education Service Center, she taught at a private school before joining Calhoun High School in Port Lavaca, where she teaches a business computer course. She completed her certification and began teaching all while attending UHV.  
"It was time consuming to go to school, be a mom and a full-time teacher, but I have a wonderfully supportive husband and in-laws who were helpful," Willoughby said. "I'm looking forward to some time off this summer. It has been three years of hard work, but the payoff of working with children one-on-one will be worth it."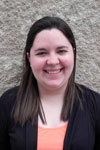 Blair Kelly
Kelly also juggled family life and school while earning a bachelor's degree in early childhood education.  
In addition, she took on the responsibilities of being co-president of the UHV chapter of the international education honor society Kappa Delta Pi. Alpha Zeta Lambda was established in 2011 and has more than 90 active members in Victoria and Fort Bend. To join, members must have completed at least 30 semester credit hours and have a minimum of a 3.0 grade-point average.  
"Because I don't live on campus, it was hard for me to get involved with the university," she said. "Being a part of the honor society gives me that full college experience and allows me to do the things I enjoy, such as volunteering."  
Kelly always knew she wanted to be a teacher, but it wasn't until her student teaching and observations that she realized her passion for teaching second-graders.  
"The kids at that age are able to do their own activities, but the teacher still gets to guide them," she said. "The curriculum and activities are fun, and the students enjoy doing the creative projects."  
Kelly also enjoys the moments when students understand what they've learned.  
"In one class, we were teaching the kids about different types of clouds," she said. "We went outside later for playground time, and the students started identifying the clouds they saw in the sky. You could see their faces light up."  
Kelly said her favorite part of the university has been the community feel of the School of Education & Human Development.  
"The education professors really care about their students," she said. "They stop students in the hallway to ask how the program is going and what we're learning. I have created good relationships with faculty members and look forward to returning to UHV to get my master's degree."
The University of Houston-Victoria, located in the heart of the Coastal Bend region since 1973 in Victoria, Texas, offers courses leading to more than 80 academic programs in the schools of Arts & Sciences; Business Administration; and Education, Health Professions & Human Development. UHV provides face-to-face classes at its Victoria campus, as well as an instructional site in Katy, Texas, and online classes that students can take from anywhere. UHV supports the American Association of State Colleges and Universities Opportunities for All initiative to increase awareness about state colleges and universities and the important role they have in providing a high-quality and accessible education to an increasingly diverse student population, as well as contributing to regional and state economic development.