Close
UHV outstanding nursing students tout importance of further education
When Clair Jordan, former executive director of the Texas Nurses Association, heard about Angelica Ybarra's hectic schedule and academic drive, she asked the University of Houston-Victoria graduate student to write an article for a publication sent to more than 300,000 nurses.
While pursuing a UHV Master of Science in Nursing in nursing administration, Ybarra worked as a nurse analyst in Austin, completed a leadership practicum at the Texas Nurses Association, raised two sons and helped support her husband through law school.
Now Ybarra, an Austin resident, also is the School of Nursing outstanding spring graduate student. Kelly Randermann of Weimar is the outstanding spring undergraduate.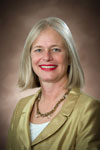 Kathryn Tart
Kathryn Tart, founding dean of the UHV School of Nursing, said Ybarra and Randermann represent what nurses can achieve with further education.
"Angelica and Kelly have a remarkable academic record, and we are proud to honor them," Tart said. "Although already successful in their careers, they realized there is more to achieve by pursuing an advanced degree."
Each semester, professors from the four UHV schools select an outstanding student from both their graduate and undergraduate programs to be honored during commencement.
UHV will hold two graduation ceremonies on May 11 at Faith Family Church, 2002 E. Mockingbird Lane. A 9 a.m. ceremony will be for graduates of the schools of Arts & Sciences and Education & Human Development. A 1 p.m. ceremony will be for graduates of the schools of Business Administration and Nursing. The School of Nursing also will have a pinning ceremony for its graduates at 3 p.m. at Faith Family Church.
A Registered Nurse for 13 years, Ybarra has worked in varied health care settings such as hospitals, home health, telehealth, community health and nursing management. She now is a nurse analyst for TMF Health Quality Institute where she develops and maintains medical policies for Texas Medicaid and the Children with Special Health Care Needs Services Program.
"Nurses have versatility, and we fulfill roles in every facet of health care," Ybarra said. "The majority of the nursing workforce is at the front lines of direct-patient care, but nurses can also serve in administrative and executive leadership roles. As nurse administrators, we have the opportunity to collaborate with other health care professionals, provide nursing leadership, foster healthy workplace environments, advocate for nurses and improve patient outcomes on a larger scale."
Ybarra's article, titled "Nurse Ybarra takes action to support the '80 by '20' initiative," was published in Texas Nursing Voice. Ybarra discussed her nursing journey and gave her opinion about the initiative. The "80 by '20" initiative recommendation was set forth in the Institute of Medicine's Future of Nursing report to increase the number of nurses with baccalaureate degrees 80 percent by 2020.
Ybarra said a highlight of her graduate nursing education was conducting the practicum at the Texas Nurses Association and mentoring under Jordan. Her experiences during her practicum made her want to seek out leadership opportunities in the future.
Ybarra thanked the M.G. & Lillie A. Johnson Foundation for providing her with a nursing scholarship at UHV.
"As a Johnson scholar, I felt compelled to excel in my nursing studies, and I'm proud to say I will complete the MSN program with a 4.0 grade-point average," she said. "I strongly believe that the nursing profession can be strengthened through education. I can attest to the fact that my understanding of the broader context of nursing practice has reached a deeper level that makes me feel more effective in my nursing role."
Similarly, Randermann said she tried to apply everything she learned in UHV's RN to Bachelor of Science in Nursing program to her job as a critical care nurse at Memorial Hermann in Katy.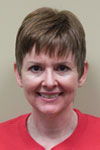 Kelly Randermann
"Because of my education at UHV, I am able to look more critically at research, have a greater understanding of policy and regulatory practice, and am able to collaborate with colleagues more often."
Randermann earned an associate degree in 1987 from Dallas Community College. After two decades away from school, Randermann started an online nursing program in 2008 but was unable to complete it because of a family health matter. She decided to give it another try last year but sought a face-to-face program. Randermann heard from other nurses that the faculty interaction at UHV was excellent.
"I have thrived here," she said. "I really have enjoyed the academic setting, and I like having easy access to the faculty. UHV has world-class faculty members who challenge the students."
Randermann said the reason she initially enrolled in an online program is because she had a fear of formally speaking to a group of people.
"From the first class at UHV, we were expected to develop and give PowerPoint presentations," she said. "I have carried that out here and extended that ability to my workplace. I'm comfortable with it now."
Randermann is interested in continuing her education with UHV's new MSN family nurse practitioner track. UHV is scheduled to begin offering the track this fall, pending approval from the Texas Higher Education Coordinating Board.
She also has thought about eventually joining the academic side of the profession as a teacher.
"There are a lot of good role models here at UHV," Randermann said.
The University of Houston-Victoria, located in the heart of the Coastal Bend region since 1973 in Victoria, Texas, offers courses leading to more than 80 academic programs in the schools of Arts & Sciences; Business Administration; and Education, Health Professions & Human Development. UHV provides face-to-face classes at its Victoria campus, as well as an instructional site in Katy, Texas, and online classes that students can take from anywhere. UHV supports the American Association of State Colleges and Universities Opportunities for All initiative to increase awareness about state colleges and universities and the important role they have in providing a high-quality and accessible education to an increasingly diverse student population, as well as contributing to regional and state economic development.