Close
UHV freshman shares love of soccer with children
Sometimes the biggest motivation comes in the smallest of packages. And for University of Houston-Victoria freshman Jennifer Sanchez-Lozano, that motivation came in the form of a few rough-and-tumble kids.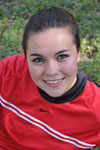 Jennifer Sanchez-Lozano
Sanchez-Lozano recently ended her first coaching season with the Victoria Youth Soccer Organization. She guided five girls – ages 4 through 6 – through the basics of the game.  
"Things were a little shaky in the beginning and we didn't win much," she said with a laugh. "But they got more aggressive as we went on, and they really improved. We all had a lot of fun."  
The soccer field is something of a second home to Sanchez-Lozano, a member of the UHV women's soccer team who's played the sport for as long as she can remember.  
Love of the game or not, Sanchez-Lozano, goalkeeper, admitted her position carries its fair share of stress. After all, if the ball gets past her, it's a goal for the other team.  
Still, she isn't alone.  
"There's a lot of pressure, but it's a balanced pressure," she said. "That ball has to go through the whole team before it gets to you, so it's OK. I always tell myself, 'Do your best and just go for it. It's all you or your coach can ask for.'"  
Last season Sanchez-Lozano saved 180 balls and only allowed 35 goals.  
Sanchez-Lozano was born in Mexico, but relocated to Texas six years ago. She graduated from Cibolo's Byron P. Steel II High School in 2012 before enrolling at UHV. Several factors contributed to her decision to become a Jaguar.  
The school was close to home and affordable – two pluses for her parents. UHV's coaching staff, was there to answer questions, which also helped seal the deal.  
"UHV just seemed like the best fit for me and, honestly, it has been," she said. "For some reason I believe God wants me to be here. I love it."  
When she isn't in class or out on the field, the 19-year-old said she enjoys the chance to sit back and relax. Watching movies, listening to music and visiting with friends all help her unwind.  
Another favorite hobby is sleight of hand. Sanchez-Lozano is known among her friends for her love of magic and she enjoys keeping a few tricks up her sleeve.  
"I like being able to show people something cool – something they might not have seen before," she said. "It's fun to practice a trick and know it, then get to show it off."  
Down the road, the biology major said she plans to earn her teaching certification and transform her love of the game into a full-fledged career. She hopes to start at the high school level and work her way up.  
As for her initial coaching experience? She deemed it a success.  
Her little girls might not have won every game or practiced perfect form but that's not important.  
"At that age it's not about winning," she said. "It's about having fun and learning the game. And who knows? When they grow up, they might decide they love it and want to keep playing. I want them to have that good experience."  
I am a Jaguar is an online feature highlighting the exceptional students who attend the University of Houston-Victoria. To nominate a student, contact Paula Cobler, UHV interim director of marketing and communications, or call 361-570-4350.  
The University of Houston-Victoria, located in the heart of the Coastal Bend region since 1973 in Victoria, Texas, offers courses leading to more than 80 academic programs in the schools of Arts & Sciences; Business Administration; and Education, Health Professions & Human Development. UHV provides face-to-face classes at its Victoria campus, as well as an instructional site in Katy, Texas, and online classes that students can take from anywhere. UHV supports the American Association of State Colleges and Universities Opportunities for All initiative to increase awareness about state colleges and universities and the important role they have in providing a high-quality and accessible education to an increasingly diverse student population, as well as contributing to regional and state economic development.