Close
Business students complete goal of taking first in UHV competition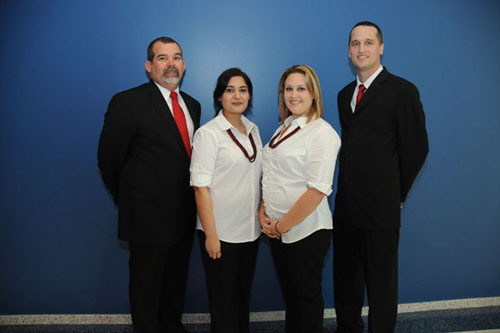 Dwayne Zatopek, left, Ayisha Qureshi, Megan Randle and Travis Chaka make up the winning team at the University of Houston-Victoria Spring 2013 Bachelor of Business Administration Conference.
SUGAR LAND - A quartet of University of Houston-Victoria business students knew the moment they became a team in their capstone course that they wanted to win the Spring 2013 Bachelor of Business Administration Conference.  
The team recently presented their winning strategic analysis of Wal-Mart during the conference at UH Sugar Land, where UHV offers many of the programs. The first place team consisted of Travis Chaka of Boling, Megan Randle of El Campo, Ayisha Qureshi of Sugar Land and Dwayne Zatopek of League City.  
"Our team knew from the start that if we were going to dedicate all this time and effort into the project, we wanted to win," Randle said. "We got along great as a team, and that had a lot to do with our success. We were competitive and wanted to finish strong."  
The group made up some of the more than 100 undergraduate business students who participated in the competition and heard a keynote address from Ivette Mayo, owner of Yo Soy I Am, a cultural diversity consulting company based in Houston. UHV students who were enrolled in "Strategic Management," the capstone course of the BBA program, attended the conference along with judges comprised of faculty and former BBA students.  
"The conference allows the students to showcase all the knowledge they've learned throughout their BBA program," said Farhang Niroomand, dean of the UHV School of Business Administration. "It also gives the students a chance to talk to judges who have a deeper understanding of the business world."  
Randle said the judges were engaging and had a lot of questions after the presentation. The team's strategy was to stand by their recommendations during questioning. They took the advice of UHV assistant professor Uche Nwabueze, who stressed the importance of sticking to one side of an argument.  
"We didn't think our presentation went as well as we wanted, so it was a shock for us to win," Randle said. "The judges told us after the conference that although our recommendations weren't necessarily practical, the effort and creativity we put into them set us apart."  
The winning team members each received an individual plaque recognizing their accomplishment, and their names will appear on a plaque in the UHV School of Business Administration office. They also will be invited to serve as panelists at future case competitions.  
After all the groups gave their presentations, attendees gathered for lunch and listened to Mayo's keynote address before the winners were announced. The luncheon was co-sponsored by the Willis Group, Regency Nursing and Rehabilitation Centers, and Mark Zafereo from Wells Fargo Advisors.  
Mayo spoke to the attendees about the importance of understanding cultural differences in the workplace.  
"A lot of our business students are working while they go to school," Niroomand said. "They deal with different communication issues on a daily basis. Ms. Mayo's insight in diversity in business will go a long way with our students."  
Mayo has extensive experience in marketing, sales, public relations and training. She spent most of her career with a major global airline, where she successfully integrated culture and language as key components to the airline's successful launch into the Latin American market. As a corporate trainer, she was instrumental in developing cultural awareness training. Mayo launched Yo Soy I Am in 2006 to help clients bridge cultural differences and coach them to develop the skills to grow professionally and competitively.  
While the project was stressful, Randle said the day of the event was much calmer than everyone made it out to be.  
"Dr. Nwabueze did a great job of preparing us for the presentation and stressing the importance of everything looking perfect," Randle said. "He challenged us to do well, and our hard work paid off."  
She plans to use the experience in her family's El Campo real estate rental company.  
"I now pay more attention to economics and how our company can grow in the future," she said. "There are factors involved in every decision, and I want to explore how we can differentiate ourselves as a business to create a better value for our customers."
The University of Houston-Victoria, located in the heart of the Coastal Bend region since 1973 in Victoria, Texas, offers courses leading to more than 80 academic programs in the schools of Arts & Sciences; Business Administration; and Education, Health Professions & Human Development. UHV provides face-to-face classes at its Victoria campus, as well as an instructional site in Katy, Texas, and online classes that students can take from anywhere. UHV supports the American Association of State Colleges and Universities Opportunities for All initiative to increase awareness about state colleges and universities and the important role they have in providing a high-quality and accessible education to an increasingly diverse student population, as well as contributing to regional and state economic development.