Close
UHV outstanding students excel in finance, health care administration
A pair of Houston area students originally from Central America are the top graduating students this spring in the University of Houston-Victoria School of Business Administration.  
For their academic excellence, Gisela Azimi-Shooshtari of Sugar Land was selected as the school's outstanding graduate student, while Gabriela Garcia of Houston was chosen as outstanding undergraduate.  
Azimi-Shooshtari took face-to-face classes with a concentration in finance at UH Sugar Land, while Garcia took online classes concentrating on health care administration. UHV offers many of the classes at UH Sugar Land.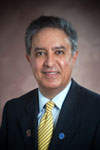 Farhang Niroomand
"Gisela and Gabriela came into the business school with different education and work experiences, and took different routes toward their degrees in concentrations they weren't familiar with," said Farhang Niroomand, dean of the UHV School of Business Administration. "Yet they were similar in this respect – both were extremely dedicated students who displayed great intellect on their assignments, projects and exams. They deserve this recognition."  
Each semester, professors from the four UHV schools select an outstanding student from both their graduate and undergraduate programs to be honored during commencement.  
UHV will hold two graduation ceremonies on Saturday at Faith Family Church, 2002 E. Mockingbird Lane in Victoria. A 9 a.m. ceremony will be for graduates of the schools of Arts & Sciences and Education & Human Development. A 1 p.m. ceremony will be for graduates of the schools of Business Administration and Nursing.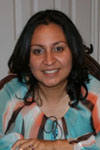 Gisela Azimi-Shooshtari
A native of Honduras, Azimi-Shooshtari graduated from UH in 2005 with a bachelor's degree in management. She intended to resume studying management at UHV, but her plans changed after taking a finance course.  
"I found it very interesting, and I wanted a challenge," Azimi-Shooshtari said. "I always thought finance was difficult, but I was ready to embrace the complexity and learn something different. I'm so glad I did."  
Azimi-Shooshtari helps her husband with bookkeeping and accounts payable at the family's two Sugar Land restaurants. She also served as a graduate assistant in the business school. In fall 2012, she helped with faculty research about multiplayer online games. She spent the spring semester working on a project classifying journals.  
Azimi-Shooshtari said her favorite thing about attending UHV was interaction with the business faculty and her fellow Master of Business Administration students.  
"The whole program gives the students the necessary tools to be competitive in the labor market," she said. "We not only used theory and case analysis, but also several simulations to give us hands-on experience. I now feel more prepared and more confident that I will get the job that I want."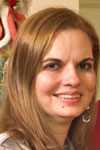 Gabriela Garcia
Garcia said her UHV education should help her land a job in health care. She will graduate Saturday with a Bachelor of Business Administration.  
Originally from Costa Rica, Garcia has lived in Houston the past 15 years, working 13 of those in the automotive business. She handles financing for customers of Tricolor Auto.  
"Health care is a different area, but in the end, it's all the same because it's about people," she said. "I like interacting with people and providing good customer service. In a hospital or clinic setting, I will have the opportunity to help a lot of people."  
Garcia found the online BBA classes perfect for her busy schedule.  
"I work full time and have a family with two children, so I needed that convenience," she said. "Because you aren't there together, students have to tell everyone about themselves and share stories about their jobs and families. That's how the professors learned about my life. They were professional and really helped me succeed."  
Garcia said it never occurred to her she would win an academic award. Her intention was just to study hard.  
"I was excited to win this honor, and I hope this award is inspiring for my children," she said.  
Garcia has a 9-year-old daughter and a 19-year-old son who has something in common with mom.  
"He's graduating from high school this spring," she said. "We'll have two graduations in one month."
The University of Houston-Victoria, located in the heart of the Coastal Bend region since 1973 in Victoria, Texas, offers courses leading to more than 80 academic programs in the schools of Arts & Sciences; Business Administration; and Education, Health Professions & Human Development. UHV provides face-to-face classes at its Victoria campus, as well as an instructional site in Katy, Texas, and online classes that students can take from anywhere. UHV supports the American Association of State Colleges and Universities Opportunities for All initiative to increase awareness about state colleges and universities and the important role they have in providing a high-quality and accessible education to an increasingly diverse student population, as well as contributing to regional and state economic development.