Close
UHV professors honored for research, service, teaching excellence
A trio of University of Houston-Victoria assistant professors selected by their students and peers for outstanding teaching, research and service will be recognized at Saturday's commencement ceremonies.  
Jere Hammer, assistant professor of nursing in the School of Nursing, earned the Enron Teaching Excellence Award.
Rupak Rauniar, assistant professor of management and the Partnership Professor of Operation Management in the School of Business Administration, earned the Research and Scholarly Activity Excellence Award.
J. Keith Akins, assistant professor of criminal justice in the School of Arts & Sciences and director of the First Year Academic Experience, earned the Distinguished Faculty Service Award.  
The three faculty members were selected by committees that oversaw nominations and selected finalists before choosing a winner.  
The award winners will receive a plaque and a monetary award. They also will be honored during UHV's two graduation ceremonies Saturday at Faith Family Church, 2002 E. Mockingbird Lane in Victoria. A 9 a.m. ceremony will be for graduates of the schools of Arts & Sciences and Education & Human Development. A 1 p.m. ceremony will be for graduates of the schools of Business Administration and Nursing.  
"Every year, these awards are a testament to the strength of UHV's faculty members and their hard work and dedication," said Jeffrey Cass, UHV provost and vice president for academic affairs. "As usual, there were many qualified candidates to pick from, making the committees' task a difficult one. They did a fine job because these three assistant professors exemplify the best qualities of our faculty members."  
The Enron Teaching Excellence Award was established in 1993. UHV students nominate professors who exemplify innovative, high-quality instruction relevant to their lives and careers.  
Jeffry Moe, co-chair of the 2012-2013 Enron Teaching Excellence Award Committee and a UHV assistant professor of counseling, said the committee appreciated Hammer's diversity of teaching modes and methods as well as her ability to inspire students.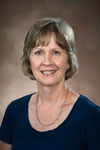 Jere Hammer
"Students told us that Dr. Hammer has great passion and enthusiasm for nursing education," Moe said. "They also complimented her breadth and depth of professional experience, and her ability to prepare them for their professional lives in an effective and student-centered manner."  
During the past three years at UHV, Hammer has taught many of the Master of Science in Nursing administration concentration courses and various Registered Nurse to Bachelor of Science in Nursing classes. A former nurse administrator, Hammer said she can best serve the profession by bringing along other nurses to fill shortages.  
"We don't have enough nurses to take care of all the needs that we have," she said. "I believe in nursing. I am passionate about nursing, so that makes it easy to share that passion with other nurses. The students in the courses I teach are already nurses, so they are colleagues. I treat them with respect, and we learn from each other."  
The Research and Scholarly Activity Excellence Award recognizes professors who have made outstanding research and scholarly contributions to their scientific and scholarly communities. Rauniar said he's proud to be part of a group of great scholars at UHV.  
"This award provides encouragement and motivation to stay focused on advancing my research," he said. "The research my colleagues and I conduct not only brings recognition to the university but it also helps our teaching because we stay updated with the latest theories in the field."  
Since 2010, Rauniar has taught business leadership, organizational change, operations and supply chain management to business students at UHV. His primary research area is new product development focusing on the automobile industry. In order for the new products to be successful, work and knowledge integration within the project teams are important factors, he said.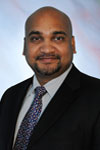 Rupak Rauniar
"My studies have looked into important drivers of work and knowledge integration in the product development environment that is made up of cross-functional teams, customers and suppliers," Rauniar said. "I look at the entire supply chain process for product development which begins with conceptualization of the new product and ends up with product launch."  
Rauniar's research has been published in many well-regarded business journals.  
"In selecting Dr. Rauniar for this year's award, the committee noted both the quality and impact of this year's publications," said Joann Olson, chair of the 2012-2013 Research and Service Awards Committee and a UHV assistant professor of adult and higher education.  
 Each year, UHV faculty members also recognize a peer instructor who serves the university in various capacities with the Distinguished Faculty Service Award.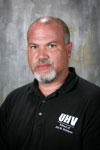 J. Keith Akins
A UHV assistant professor since 2008, Akins is coordinator of criminal justice graduate studies, and he leads UHV's effort to increase freshman student success.  
"Dr. Akins has demonstrated a consistent pattern of engagement in the community and service to the university," Olson said.  
Akins has been on the Faculty Senate for four years and was president in 2011-2012. He also served as chair of both the Graduate Studies Committee and the Budget Oversight Committee.  
"I've always tried to serve on at least two or three committees a year," Akins said. "I like to participate in the governing of the university to help keep things working."  
Akins' term as president of the Faculty Senate coincided with the arrival of a new university president and provost. He is credited with helping create a solid working relationship between the faculty and new administration.  
"I think what I was most proud of as Faculty Senate president was getting the faculty manual rewrite completed," he said. "That was a process that had been underway for years. While I did little of the work myself, I was able to bring together the right people to get it done."
The University of Houston-Victoria, located in the heart of the Coastal Bend region since 1973 in Victoria, Texas, offers courses leading to more than 80 academic programs in the schools of Arts & Sciences; Business Administration; and Education, Health Professions & Human Development. UHV provides face-to-face classes at its Victoria campus, as well as an instructional site in Katy, Texas, and online classes that students can take from anywhere. UHV supports the American Association of State Colleges and Universities Opportunities for All initiative to increase awareness about state colleges and universities and the important role they have in providing a high-quality and accessible education to an increasingly diverse student population, as well as contributing to regional and state economic development.