Close
UHV receives designation as Hispanic-Serving Institution
The University of Houston-Victoria is now eligible to receive additional federal funding to expand educational opportunities for Hispanic students because of its new designation as a Hispanic-Serving Institution.  
The U.S. Department of Education Office of Postsecondary Education recently announced this new designation. By earning this status, UHV is eligible for the first time to apply for Title III and Title V funding from the federal government.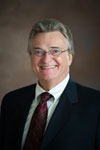 Phil Castille
A university can be designated an HSI if its enrollment of full-time undergraduates is at least 25 percent Hispanic. UHV's overall Hispanic student enrollment has climbed by about 4 percent since 2010, when the university first started accepting freshmen and sophomores. Hispanics made up 49 percent of UHV's 2012-2013 freshmen class.  
"The numbers make it clear that more Hispanic and African American students than ever before are making UHV their choice for higher education," UHV President Phil Castille said. "Since we admitted our first freshmen and sophomores in 2010, UHV has become a much younger and more diverse institution."  
All four UH System universities are now HSIs. The UH System is the first higher education system in Texas in which all member institutions have the designation.  
"This is an important achievement because it means that we are making progress in encouraging and educating more Hispanic students," said Renu Khator, chancellor of the UH System and president of UH. "In these economically challenging times, additional resources like this are not just welcome, they are crucial to our mission."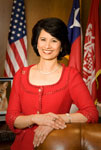 Renu Khator
In 2012, HSIs received $220 million through the U.S. Department of Education. UHV research administrator Angela Hartmann said the university plans to take advantage of various funding opportunities. She already has started work on an application for Title III funding.  
"We are really interested in using this money to expand our student services offerings," Hartmann said. "We'll also take advantage of funding that will increase our retention rates and drive up student completion rates."  
Title III funding is designed to expand Hispanic-Serving Institutions' capacities to serve low-income students by providing funds to improve and strengthen academic quality, institutional management and fiscal stability. The money supports faculty development, establishes endowment funds, and develops and improves academic programs.  
Title V funding provides grants to expand educational opportunities for Hispanic students. Funding also may be used for educational materials, academic tutoring and counseling programs, construction or renovation of facilities, and student support services.  
Another benefit is HSIs can apply to receive an exemption from the matching cost associated requirements with certain federal programs, Hartmann said. The HSI designation allows UHV the option to waive matching costs required with the Federal College Work Study program.  
"This exemption could significantly expand opportunities for qualified students to earn money on campus as student workers," Hartmann said.  
Becoming a designated HSI has been a goal of UHV administrators for several years.  
"Downward expansion continues to completely transform UHV," Castille said. "We are rapidly evolving into a residential university providing access to students from the Crossroads area and beyond, and we continue to extend opportunities for higher education to eligible students from all traditionally underserved groups."
The University of Houston-Victoria, located in the heart of the Coastal Bend region since 1973 in Victoria, Texas, offers courses leading to more than 80 academic programs in the schools of Arts & Sciences; Business Administration; and Education, Health Professions & Human Development. UHV provides face-to-face classes at its Victoria campus, as well as an instructional site in Katy, Texas, and online classes that students can take from anywhere. UHV supports the American Association of State Colleges and Universities Opportunities for All initiative to increase awareness about state colleges and universities and the important role they have in providing a high-quality and accessible education to an increasingly diverse student population, as well as contributing to regional and state economic development.