Close
UHV math professor teaches innovative lesson plans
Step inside Barba Patton's classroom, and you never know what you might find. From students tossing beach balls to making paper crafts, class time resembles recess.  
Then again, it's supposed to be fun.  
As an associate professor of mathematics education in the University of Houston-Victoria School of Education & Human Development, Patton makes it a point to teach innovative lesson plans that teaching students can use in their own classrooms.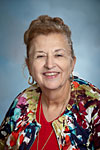 Barba Patton
"Every student learns differently," Patton said. "If you don't have them interested and wanting to learn, it won't work. So we do a lot of crazy things, but it's all educational."  
Teaching was always in the cards for the Cuero native with a knack for math. Still, she faced hurdles.  
Mathematics was a male-dominated world when Patton first started out. And while she had female math teachers growing up – a rarity at the time – she still had to find her own footing.  
"The first college math course I took, I think there were 17 male students and a male instructor," she said. "I was the only female in the room. But I was raised believing that, if you wanted to do it, you could do it. That there weren't any 'girl' or 'boy' jobs."  
Patton earned an associate degree from Victoria College and her bachelor's degree in education from UH. A master's degree and doctorate in education later followed from the same university.  
She has taught elementary and middle school math classes, as well as courses at community and technical schools. She also has served in public school administration.  
Today she strolls the UHV campus with her trusty poodle Cherie in tow. Cherie, a service dog, can sense Patton's blood sugar levels and alerts her diabetic owner if they become dangerously low.  
Patton joked that the dog is like having another student.  
"We get to class, she checks me, and then she goes to sleep," she said, chuckling.  
Patton's academic work extends beyond the classroom.   The longtime educator has served on state math textbook committees and was a charter member of the Association of Math Educators in Texas. As a team leader with the College and Career Readiness Initiative, Patton works to get universities, community colleges and school districts working toward a common goal.  
Patton also is involved in a partnership with students in Fort Bend where she studies retention levels in relation to state test success rates. Research indicates that fifth-grade students who don't score at the highest level on those tests are unlikely to pass state tests at the middle school level, Patton said. Those students are more likely to drop out.   "
This committee is trying to investigate what the teachers who are seeing so much success with high poverty or lower socioeconomic students are doing right," she said. "We're trying to break that cycle of the poor child dropping out. It's very interesting."  
Patton manages to stay busy, even away from UHV.   She enjoys sewing and photography, and is active with St. Francis Episcopal Church. She also crochets prayer shawls for ill patients. A second career awaits her on the home front, where she and her husband raise cattle.  
While some people don't take to math naturally, it's rewarding when a lesson finally "clicks," Patton said.
"You just have to get their interest," she said of those having difficulties with the subject. "And with the ones who've struggled for so many years, you have to show them it's not that hard. But when they get it, they get it."  
The Faculty Feature is an online feature highlighting faculty members from each of the University of Houston-Victoria's four schools. To nominate a faculty member, contact Paula Cobler, UHV interim director of marketing and communications, or call 361-570-4350.
The University of Houston-Victoria, located in the heart of the Coastal Bend region since 1973 in Victoria, Texas, offers courses leading to more than 80 academic programs in the schools of Arts & Sciences; Business Administration; and Education, Health Professions & Human Development. UHV provides face-to-face classes at its Victoria campus, as well as an instructional site in Katy, Texas, and online classes that students can take from anywhere. UHV supports the American Association of State Colleges and Universities Opportunities for All initiative to increase awareness about state colleges and universities and the important role they have in providing a high-quality and accessible education to an increasingly diverse student population, as well as contributing to regional and state economic development.