Close
Victoria native, former UHV fundraiser takes on new corporate relations role
To financially launch the University of Houston-Victoria/American Book Review Reading Series in 2006, Charles Alcorn III took on the task of building relationships with Victoria companies and foundations regarding something they knew little about.  
The UHV/ABR Reading Series has gone on to present more than 60 writers of national stature and become one of Victoria's premier cultural events.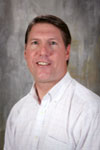 Charles Alcorn III
Those relationship-building skills will again be put to good use in Alcorn's newest role at UHV. The former ABR managing editor recently began work as director of corporate and foundation relations for the Office of University Advancement.  
"Many individuals and corporations were generous in starting the UHV/ABR Reading Series and helping to bring these nationally recognized authors to Victoria," he said. "Everyone in town was welcoming to the idea of supporting a fairly esoteric operation. That was a positive experience and one I thought I could build on in this advancement position."  
The Victoria native served as ABR managing editor and a lecturer in the UHV School of Arts & Sciences from 2006 to 2011. He most recently taught as an English instructor at UH.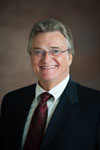 Phil Castille
"We are elated to have Dr. Alcorn return to UHV to lead our advancement efforts with corporations and foundations," UHV President Phil Castille said. "Charlie has been an asset to the university as a teacher, editor and fundraiser, and his deep ties to the Victoria community will be a great help to us in his new position."  
Alcorn earned a bachelor's degree in geology and journalism from Washington and Lee University in Lexington, Va. He continued his education with a master's degree in creative writing and fiction from the Center for Writers at the University of Southern Mississippi in Hattiesburg. Alcorn served as a teaching assistant and fellow at UH from 2001 to 2006 while he earned a doctorate in English literature and creative writing/fiction in the Creative Writing Program.  
In addition to professional business writing, Alcorn taught freshman composition courses at UHV after the university added freshmen and sophomores in fall 2010.  
Alcorn is putting aside teaching for now to concentrate on his new job. He said teaching helped him with public speaking, which was important in raising more than $475,000 from 2006 to 2011 to assist in establishing and funding the Friends of ABR Endowment.  
"The endowment was successful primarily through individual contributions," Alcorn said. "But we also identified many generous local businesses, corporations and foundations, which continue to support it generously today."  
Alcorn helped organize and write grant proposals to the National Endowment for the Arts and Texas Commission on the Arts. Between 2007 and 2011, UHV received a $10,000 grant from the NEA three times. The university received a total of $11,000 from three Texas arts grants in the same period.  
"This is a natural extension of those responsibilities," he said. "I look forward to expanding our donor base as Victoria continues with its economic expansion of the last few years. I think there are a lot of good corporate citizens who want to partner with UHV on behalf of furthering educational opportunities for our students."
The University of Houston-Victoria, located in the heart of the Coastal Bend region since 1973 in Victoria, Texas, offers courses leading to more than 80 academic programs in the schools of Arts & Sciences; Business Administration; and Education, Health Professions & Human Development. UHV provides face-to-face classes at its Victoria campus, as well as an instructional site in Katy, Texas, and online classes that students can take from anywhere. UHV supports the American Association of State Colleges and Universities Opportunities for All initiative to increase awareness about state colleges and universities and the important role they have in providing a high-quality and accessible education to an increasingly diverse student population, as well as contributing to regional and state economic development.