Close
UHV education students gain teaching experience in three-week class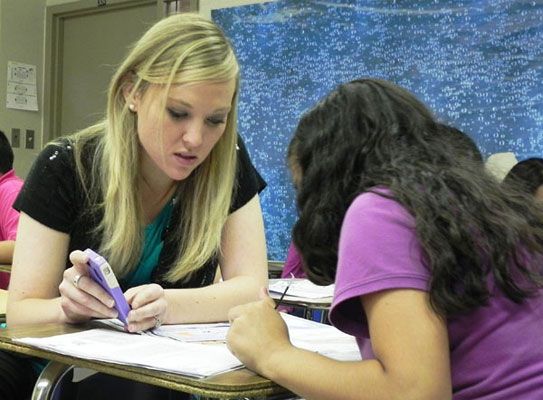 Amber Hermes, left, assists a sixth-grader with a project in Lana Schomburg's social studies class at Stroman Middle School. Hermes is one of seven UHV education students taking a three-week course at Stroman that is being held between semesters.
The idea of squeezing an entire University of Houston-Victoria education course into the three weeks between semesters seemed a little daunting at first to Christine Gold.  
But since the senior from Moulton wants to graduate early, she opted to enroll in UHV's first May Mester class. It turned out to be the right decision.  
"I like the small, hands-on class setting because it's easy to ask questions and interact with our professor," Gold said. "We cover the content, get experience in the classroom and then do our assignments that evening. Even with the condensed time, I don't think it's any more difficult than a full semester online course."
May Mester is being taught at Stroman Middle School in Victoria. Carol Klages, a UHV associate professor of education, teaches a lesson every weekday and then sends her seven students into classrooms to observe middle school teachers and engage with students.  
"It's hands-on exposure, and it happens immediately," Klages said. "This is truly a field-based course because the students are taking what they learn and turning around and applying it in the same day."  
Gold said she loves having the opportunity to put new knowledge into practice right away.  
"We get to go in and experience it," she said. "And then when we get home, we can reflect back on the lesson for that day."  
May Mester began May 13 and will continue until May 30. This is the first time the UHV School of Education & Human Development has offered a three-week class between the spring and summer semesters.  
"It's a way for students to get a course completed before the summer semester begins," Klages said. "It's also a way for students to catch up on credits if they weren't able to take as many classes as they wanted the previous fall or spring semesters."  
The students in the class are pursuing a Bachelor of Science in Interdisciplinary Studies. All but one of them has an early childhood through sixth-grade concentration. Those six students are helping sixth-graders with a social studies research paper about a country. The UHV students have helped the sixth-graders conduct research and have explained the differences between primary and secondary sources.  
The other UHV student is studying to teach secondary school history. She is helping an eighth-grade class with a project relating the movie "Gone with the Wind" to the Civil War.  
Gold said the teachers at Stroman appreciate the help, especially at the end of the school year when many projects are due and students are looking ahead to summer.  
"If the students have questions, we can help them without the teacher having to run all over and try to get to everyone," Gold said.  
Kassie McBride-Camacho, a UHV senior from Port Lavaca, said another benefit of the course is it provides a convenient place for students to obtain observation hours. Each student has to clock 45 hours of classroom observation before they are eligible to become a student teacher. McBride-Camacho will be a student teacher this fall.  
"This is much better than trying to arrange to get those observational experiences on our own," she said. "We come back the next morning and talk about what happened. It's direct feedback without having to wait a week to discuss it."  
Gold said she hopes UHV offers more classes between semesters.  
"I think it would help a lot of UHV students to offer this opportunity because they get class credits and observation hours," she said. "It is hard work, but it's worth it."    
The University of Houston-Victoria, located in the heart of the Coastal Bend region since 1973 in Victoria, Texas, offers courses leading to more than 80 academic programs in the schools of Arts & Sciences; Business Administration; and Education, Health Professions & Human Development. UHV provides face-to-face classes at its Victoria campus, as well as an instructional site in Katy, Texas, and online classes that students can take from anywhere. UHV supports the American Association of State Colleges and Universities Opportunities for All initiative to increase awareness about state colleges and universities and the important role they have in providing a high-quality and accessible education to an increasingly diverse student population, as well as contributing to regional and state economic development.