Close
Jaguar Hall Dining set to expand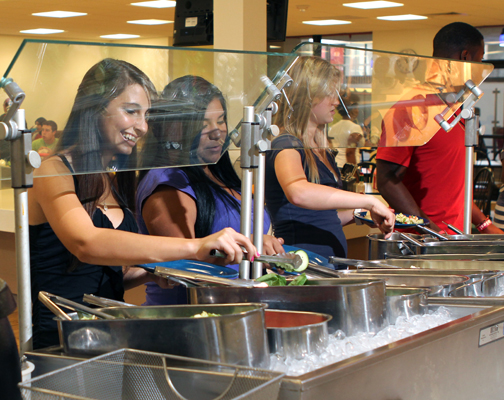 University of Houston-Victoria students Alexandra Hawk, left, and Dominique Mendoza select items from the produce station at Jaguar Hall Dining. A larger produce area is one of many improvements students will enjoy this fall upon completion of a dining facility expansion project.
Construction will start Tuesday on an expansion project at the University of Houston-Victoria's Jaguar Hall dorm that will lead to more menu options and increased seating.  
Beginning this fall, Jaguar Hall Dining will offer new food stations, a pizza conveyor oven, a grill and a 3-D digital nutrition wall.    
The upgrades are being made in anticipation of more diners than ever before with the August opening of Jaguar Suites, UHV's first newly constructed sophomore and upperclassmen residence hall. Combined with students staying at Jaguar Hall and Jaguar Court, there could be as many as 600 students eating their meals this fall at Jaguar Hall. The dining facility also is open to UHV faculty and staff, as well as the general public.  
"Expanding our dining facility in Jaguar Hall is another step we're taking as UHV continues to evolve into a destination university," UHV President Phil Castille said. "With the approaching grand opening of the beautiful, new $11.5 million Jaguar Suites next door, we realized that student demand will require more dining space at peak meal times."  
The estimated $800,000 dining hall expansion is expected to take about seven weeks to complete. The work will be done by SpawGlass of San Antonio. Since 2010, UHV has put more than $27 million into the Jaguar Village complex of residence halls.  
"The expansion of Jaguar Hall Dining is another part of UHV's contribution toward improving and repopulating the Houston Highway corridor in Victoria," Castille said. "UHV's investments, in addition to expanding Jaguar Village, have spurred the construction of new apartment complexes and retail outlets. This is an important aspect of Victoria's economic boom."  
Dining will open for the fall semester on Aug. 25, the day before school starts.  
"I'm beyond excited to get it underway," said Christina Barrera, Jaguar Hall Dining food service director. "We are thrilled to have the additional space and to be able to offer expanded food options this fall. We're already busy planning the menus."  
The summer construction won't stop catering operations. Jaguar Hall Dining – managed by Aramark – caters dinners, luncheons, receptions, breakfasts and coffee breaks. It provides meals for summer camps and conferences at UHV, as well as feeding the university's Resident Assistants who are training during the summer.  
Barrera said the dining staff will continue to have some kitchen access during the renovation.  
"Aramark has done these types of renovation projects in the past, so I'm confident we'll be able to work around the construction crews to meet our catering obligations," she said.  
The expansion is part of a larger reconfiguration of space inside Jaguar Hall. The kitchen and dining area are expanding into what used to house the Athletics Department. In May, Athletics moved to 3302 N. Ben Wilson St., located across the street from UHV's soccer field. That building used to house UHV Facilities, which moved a few blocks south to 2301 N. Ben Wilson St.  
The inspiration for many of the dining upgrades came directly from students who made use of the Jaguar Hall Dining suggestion box.  
"We are really trying to give the students what they want," Barrera said. "There are some vegetarians who wanted more options, so we'll cater to that request. I'm hoping we can wow the returning students. The new look is hard to describe now, but I think students will be pleasantly surprised come fall."  
Barrera said they are more than doubling the size of the produce area.  
"We'll be offering fresh-cut veggies right in front of the students," she said.  
Previously, pizzas were made in the back. In the fall, pizzas will be made at a station in the dining area. A conveyor oven will run the pizzas through, and five minutes later they will be ready.  
Barrera said Jaguar Hall Dining is adding a made-to-order pasta station on Tuesdays and Thursdays. On Mondays and Fridays, specialty panini sandwiches will be offered along with homemade chips. Another station will offer a mix of comfort and international foods.  
"We're going to offer a specialty item every day of the week and have a larger number of stations," Barrera said. "I'm anticipating the biggest highlight for students will be the grill. We will have grilled burgers, grilled chicken and veggie burgers offered every day. We'll also have grilled cheese, fries and a healthy snack."  
There also will be a new dish return, and a new health and wellness wall where the nutritional facts of the entire menu will be listed. Aramark is introducing a new nutritional program this fall called Healthy for Life. This program is designed to create a culture of health and wellness that enables and encourages health and well-being.  
Barrera said her staff will be able to handle big crowds for meals.  
"There may be a hiccup or two at first, but with my background and the experience of our staff, I think we'll be able to feed upwards of 700 people without a hitch," she said.  
For more information about Jaguar Hall Dining catering and fall meal plans, visit www.uhv.campusdish.com.
The University of Houston-Victoria, located in the heart of the Coastal Bend region since 1973 in Victoria, Texas, offers courses leading to more than 80 academic programs in the schools of Arts & Sciences; Business Administration; and Education, Health Professions & Human Development. UHV provides face-to-face classes at its Victoria campus, as well as an instructional site in Katy, Texas, and online classes that students can take from anywhere. UHV supports the American Association of State Colleges and Universities Opportunities for All initiative to increase awareness about state colleges and universities and the important role they have in providing a high-quality and accessible education to an increasingly diverse student population, as well as contributing to regional and state economic development.