Close
UHV professor continues to be part of university's growth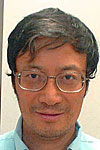 Li Chao
Li Chao recalled a time not that long ago when the University of Houston-Victoria sat on the brink of growth.
It was 1995 when the university launched plans to offer courses in Sugar Land. And, while the facilities were in place, one important element was missing: people.
"I was one of two professors who went to Sugar Land to teach," he said. "But there weren't enough students. I had to take five students from Victoria – in a van – and drive to Sugar Land. That was really how we started."
From small beginnings to the many UHV students who now take classes at UH Sugar Land daily, the drive to push forward and adapt to change paved the way for UHV's future.
It's the same mindset Chao uses in the classroom.
The professor of computer science and mathematics in the UHV School of Arts & Sciences said he strives to educate his students about the latest and greatest the digital world has to offer.
"You have to teach them what's new on the market, or they won't have any motivation to learn," said Chao, who also works as chairman of the school's Technology and Mathematics Division. "And companies need people who know this stuff. When our students come out of school, they should know the new stuff."
Computer science is a longtime passion for Chao, who doesn't remember the last time he worked an eight-hour day. Even away from work, the exploration continues.
"People like me, we're just curious," he said. "Whenever new things come out, we get so excited. We're willing to sacrifice other things to learn more about it."
Chao was born and raised in China but moved on to the U.S. to attend the University of Wyoming in Laramie. There, he obtained a master's degree, two doctorates and two IT certifications – Oracle Database Administrator and Microsoft Solution Developer.
He joined the UHV faculty in 1995.
Chao's work doesn't end with classroom lectures. Research opportunities also join the mix.
His current project focuses on mobile devices and cloud computing, a system in which many devices are connected on one network, allowing them to share information and communicate in real time.
It's a trend, it appears, that will grow with time.
"It's really solved a lot of problems," said Chao, explaining such networks allow a safe, stable environment for vital information while still giving others access to the information they need.
Chao has published two books on cloud computing – one on research and another on teaching.
Although he loves his work, he admits there are times when he needs to step away from the computer. When that time comes, he takes to the great outdoors.
The educator said he enjoys gardening and grows a variety of flowers and vegetables.
"Once you get into it, it's not that hard," he said. "I watch everything grow, and it's exciting. Instead of jogging outside, I'm out in the garden. It's even better."
An avid sports fan, he also enjoys baseball, football and basketball, although he rarely finds time to play.
Looking forward, Chao said he expects both UHV and the School of Arts & Sciences to continue growing with time. With that growth, he hopes to see more students pursue computer science.
After all, the demand is there.
Chao said companies contact him all the time looking for students to fill open positions.
"Our students don't have an unemployment problem," he said. "A lot of them already have companies trying to hire them on when it's time to graduate. I would just like to have more students."
The Faculty Feature is an online feature highlighting faculty members from each of the University of Houston-Victoria's four schools. To nominate a faculty member, contact Paula Cobler , UHV director of marketing and communications, or call 361-570-4350.
The University of Houston-Victoria, located in the heart of the Coastal Bend region since 1973 in Victoria, Texas, offers courses leading to more than 80 academic programs in the schools of Arts & Sciences; Business Administration; and Education, Health Professions & Human Development. UHV provides face-to-face classes at its Victoria campus, as well as an instructional site in Katy, Texas, and online classes that students can take from anywhere. UHV supports the American Association of State Colleges and Universities Opportunities for All initiative to increase awareness about state colleges and universities and the important role they have in providing a high-quality and accessible education to an increasingly diverse student population, as well as contributing to regional and state economic development.