Close
New VC/UHV 2+2 Plan now official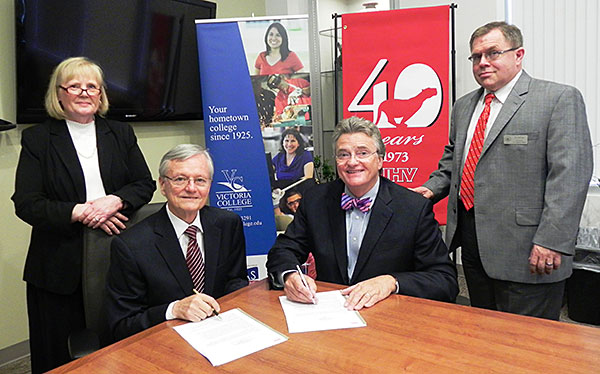 Victoria College President Tom Butler, seated on left, and Phil Castille, president of the University of Houston-Victoria, get ready Thursday to sign a 2+2 Plan between the two institutions while Patricia Vandervoort, VC vice president of instruction, and Jeffrey Cass, UHV provost and vice president for academic affairs, look on. The new agreement will help students earning certain associate degrees from VC easily transfer to UHV to earn related bachelor's degrees.
The University of Houston-Victoria and Victoria College signed an official agreement on Thursday that will help transition students in the Crossroads region to bachelor's degrees.
The 2+2 Plan includes eight different curricular paths for students to earn their associate degree at VC and easily transfer to UHV to earn a bachelor's degree in a related field. UHV President Phil Castille said the partnership guarantees that students' 60 credits in their chosen programs from VC will transfer to specific UHV degree programs, not wasting students' credits and time.
"VC and UHV are working together to assure the seamless transition of students who are seeking an associate degree in designated academic programs and want to go on toward a related bachelor's degree – without taking excess credits," Castille said.
UHV is the only baccalaureate degree-granting institution within 100 miles of Victoria, so the extended partnership between the two institutions has a positive impact on the community, Castille said.
"VC and UHV have a long history of joining together for the benefit of our region, dating back to UHV's inception 40 years ago," VC President Tom Butler said. "These 2+2 degrees are another fine example of that cooperation, to the benefit of our students and our community."
A comprehensive report on the earnings of college and university graduates across the state was released in April by the Texas Higher Education Coordinating Board. It stated that median first-year earnings of bachelor's degree graduates in Texas amount to $40,000.
"The coordinating board report demonstrates that there's a real economic and professional workforce payoff to having a bachelor's degree, and this articulation agreement with VC makes it easier for students to attain one," Castille said.
UHV degrees offered in the 2+2 Plan include: Bachelor of Science in criminal justice, Bachelor of Arts or Science in psychology, Bachelor of Applied Arts & Sciences, Bachelor of Business Administration in accounting and Bachelor of Science in Interdisciplinary Studies (grades four through eight, early childhood through sixth grade, or secondary). Since 2010, VC and UHV have had a seamless articulation agreement for students who transition from the Associate Degree in Nursing to Bachelor of Science in Nursing program.
For more information or to enroll in the VC/UHV 2+2 Plan, contact Victoria College's Advising and Counseling Services Office at 361-582-2400. For further details about UHV's part of the 2+2 Plan, contact the UHV Provost's Office at 361-570-4321.
The University of Houston-Victoria, located in the heart of the Coastal Bend region since 1973 in Victoria, Texas, offers courses leading to more than 80 academic programs in the schools of Arts & Sciences; Business Administration; and Education, Health Professions & Human Development. UHV provides face-to-face classes at its Victoria campus, as well as an instructional site in Katy, Texas, and online classes that students can take from anywhere. UHV supports the American Association of State Colleges and Universities Opportunities for All initiative to increase awareness about state colleges and universities and the important role they have in providing a high-quality and accessible education to an increasingly diverse student population, as well as contributing to regional and state economic development.