Close
UHV senior joins brother in acoustic band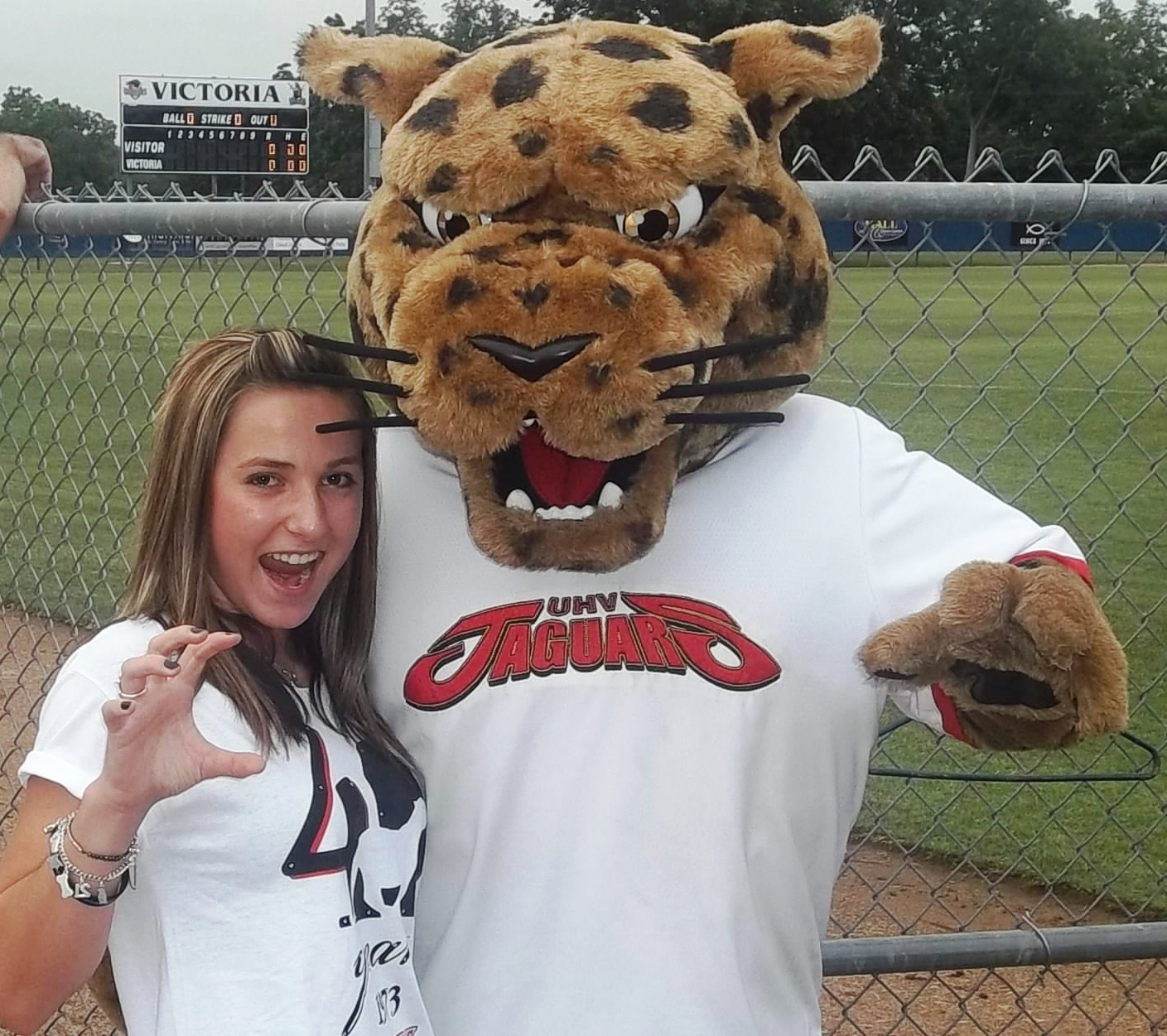 University of Houston-Victoria senior Brooke Dolezal takes a picture with jaX the Jaguar during the university's 40th anniversary celebration at the June 11 Victoria Generals game. Dolezal sang the national anthem before the game.
Some siblings fight like cats and dogs, while others are best friends. University of Houston- Victoria senior Brooke Dolezal and her older brother have a different sort of connection.
The two are bandmates.
Dolezal and her brother, Jordan Dolezal, formed the Brooke Kelsey Band, where they play a mixture of original songs and covers. It's strictly acoustic, she said.
"We both really love music, and it just sort of came together," she said. "It's nothing big, and we don't play everywhere, but we have fun."
While the Dolezals haven't made it big yet, they've played their share of gigs. Brooke said they have played at several venues in Moulton, and opened for both Honeybrowne and Kyle Park.
Brooke decided to venture out solo when she performed a rousing rendition of the national anthem during UHV's 40th anniversary celebration at the June 11 Victoria Generals baseball game.
Music isn't the UHV student's only pastime, however. She enjoys the great outdoors, taking in a hog hunting trip whenever possible.
"I'm not very high maintenance," she said. "You can take me out on a date where we go hunting, then for a beer in the backyard. That's just how I am."
Dolezal graduated from Moulton High School in 2009 before moving on to Austin Community College for her first two years of higher education. Although she enjoyed it, the self-proclaimed homebody decided that home was where her heart was.
She returned home to be close to family and began looking at schools. Rave reviews from some of Moulton's teachers, along with UHV's nearby proximity, led her to find a place among her fellow Jaguars.
The humanities major, who is working toward her secondary history teacher certification, said she made the right decision.
"All of my professors have been great, and I like the atmosphere," she said. "It's not too big and not too small."
The 21-year-old is about to embark on her last year of school and, while she said she looks forward to the final semesters, she's even more excited about what follows.
She said she hopes to find work teaching high school history and coaching either basketball or cross country.
"I was always active in high school, playing different sports, and now I substitute in my hometown," she said. "I've had people tell me not to follow that path because the money isn't good, but I'd prefer to do something I like. I want to enjoy my job."
She encouraged others to follow their dreams as well. It might take time to find that just-right plan, but it will work out.
"Don't rush in to choosing a degree," Dolezal said, noting it took her two years to decide her own path. "But once you figure it out, go all out. Do what you can and what you love. That's what really matters."
I am a Jaguar is an online feature highlighting the exceptional students who attend the University of Houston-Victoria. To nominate a student, contact Paula Cobler, UHV director of marketing and communications, or call 361-570-4350.
The University of Houston-Victoria, located in the heart of the Coastal Bend region since 1973 in Victoria, Texas, offers courses leading to more than 80 academic programs in the schools of Arts & Sciences; Business Administration; and Education, Health Professions & Human Development. UHV provides face-to-face classes at its Victoria campus, as well as an instructional site in Katy, Texas, and online classes that students can take from anywhere. UHV supports the American Association of State Colleges and Universities Opportunities for All initiative to increase awareness about state colleges and universities and the important role they have in providing a high-quality and accessible education to an increasingly diverse student population, as well as contributing to regional and state economic development.