Close
UHV alumna, equal pay advocate attends White House celebration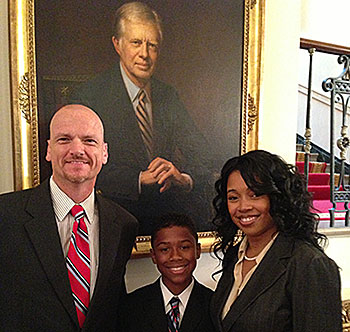 UHV alumna Laquitta Martell-DeMerchant, right, stands in front of former President Jimmy Carter's official portrait in the East Wing of the White House with her husband, Ken DeMerchant, and son Mikey Martell. They recently visited the White House as part of the 50th anniversary of the signing of the Equal Pay Act.
A University of Houston-Victoria alumna recently was invited to the White House as a guest for the 50th anniversary of the signing of the Equal Pay Act by former President John F. Kennedy.
Sugar Land resident Laquitta Martell-DeMerchant was asked to attend because of her advocacy in equal pay for women. She created an app designed as a tool for women to educate themselves about the average salaries of various jobs.
She earned her Master of Business Administration in 1999 from UHV. Since then, Martell-DeMerchant has worked in the information technology industry, and she is a facility security officer and service account manager for NetIQ in Houston.
"Equal pay is a topic that is near and dear to me on a personal and professional level," she said. "I've always been an advocate for equal pay and thought that this was my chance to do something about it."
Her free app, Aequitas, allows people to search for average salaries of various jobs both nationally and locally. The data in her app is from the U.S. Department of Labor and recently was released to the public because of the Open Data Executive Order President Barack Obama signed into law in 2009.
The Equal Pay Act of 1963 was signed to abolish wage disparity based on sex. Fifty years later, the wage gap has grown considerably smaller, but women often still make less than their male counterparts, Martell-DeMerchant said.
Last year, the U.S. Department of Labor and the National Equal Pay Task Force hosted a competition for people to build tools that educate the public about the pay gap and promote equal pay for women. Martell-DeMerchant entered Aequitas into the Equal Pay App Challenge and was one of four grand prize winners nationwide. She also was awarded the competition's Women Innovation Mobile Award for the best app designed by a female. The grand prize was a scholarship to General Assembly, an organization that educates people about opportunities in technology, business and design.
Even though the competition ended a year ago, Martell-DeMerchant has updated Aequitas each time the U.S. Department of Labor releases new data. She also has kept in contact with U.S. Department of Labor employees involved with the competition. Martell-DeMerchant said it was her continued passion for equal pay that got her invited to the White House for the 50th anniversary.
Her time at the White House included a televised anniversary presentation by Obama in the East Room that was attended by equal pay advocates and the White House Press Corps. She attended a private reception with the president and toured the East Wing of the White House, where she saw the Rose Garden, former President Abraham Lincoln's official china, the White House theater room, portraits of former presidents and the South Lawn. She also met White House senior adviser Valerie Jarrett, the person who thought of the app challenge.
"It was a great experience getting to meet the president and other women who are passionate about equal pay," Martell-DeMerchant said. "There is no justification for the wage gap. I have witnessed in my past managers talking about how a woman doesn't need to make as much money because she is married or because her job isn't as demanding. Something needs to be done to eliminate this misconception, and it was nice seeing others working toward this goal."
Martell-DeMerchant's history with equal pay goes back to both of her grandmothers, who raised families without husbands present. When her parents were children, they had to work on farms and cotton fields in Louisiana to make money for their families because their mothers couldn't make enough on their own.
"My parents have always communicated to me the struggles and difficulties they had working at a young age to try to bring home money so the family could eat," she said. "I heard the impact it had on my parents' families by not having a father present. If a woman could have received equal pay, the family would have been better off and would not have had to rely on government assistance."
Using the prizes she won from the app competition, Martell-DeMerchant has attended a startup boot camp and several General Assembly workshops designed to educate her about how to position her company, FuzionApps, to venture capitalists. Before Aequitas, Martell-DeMerchant had only developed children's apps for personal use. She now spends her free time developing apps and growing her business.
The University of Houston-Victoria, located in the heart of the Coastal Bend region since 1973 in Victoria, Texas, offers courses leading to more than 80 academic programs in the schools of Arts & Sciences; Business Administration; and Education, Health Professions & Human Development. UHV provides face-to-face classes at its Victoria campus, as well as an instructional site in Katy, Texas, and online classes that students can take from anywhere. UHV supports the American Association of State Colleges and Universities Opportunities for All initiative to increase awareness about state colleges and universities and the important role they have in providing a high-quality and accessible education to an increasingly diverse student population, as well as contributing to regional and state economic development.