Close
UHV, WCJC sign three agreements to benefit students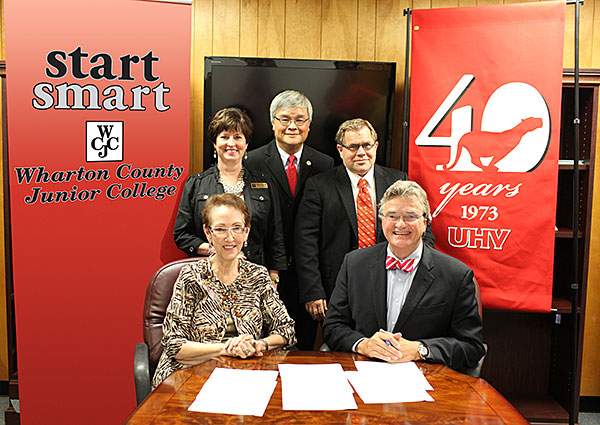 Betty McCrohan, seated left, president of Wharton County Junior College, and Phil Castille, seated right, president of the University of Houston-Victoria, get ready to sign three agreements between the two institutions on Tuesday with Leigh Ann Collins, left, WCJC vice president of instruction, and Jeffrey Cass, right, UHV provost and vice president for academic affairs. Also attending the signing ceremony at WCJC was Allison Wen, friend of higher education and co-chair of the global initiatives committee for the Greater Fort Bend Economic Development Council.
Administrators from the University of Houston-Victoria and Wharton County Junior College signed three agreements Tuesday to allow students to seamlessly obtain their associate degree from WCJC and their bachelor's degree from UHV.
"These agreements not only strengthen our partnership with WCJC, but also make it easier for students in the Coastal Bend area to graduate with two degrees and get out in the workforce earlier," UHV President Phil Castille said.
Signing both joint admissions and reverse transfer agreements at the WCJC main campus in Wharton were Castille and WCJC President Betty McCrohan. In addition to the presidents of the two institutions, Jeffrey Cass, UHV provost and vice president for academic affairs; and Leigh Ann Collins, WCJC vice president of instruction; signed a 2+2 articulation agreement.
McCrohan said she was pleased that the two institutions were collaborating for the benefit of students.
"These agreements demonstrate how both WCJC and UHV work together to encourage students to move forward on to the next level of their education goal if they choose," McCrohan said. "By working together, we make it easier for students who desire to continue their education and to maximize a return on their investment."
Below are details about the three agreements:
Joint Admissions – Qualified WCJC students who complete their associate degree are guaranteed admission into UHV bachelor's degree programs. In order to gain admission, students must submit a Joint Admissions Contract during the first 30 hours of course work at WCJC, finish their associate degree, and remain in academic, financial and disciplinary good standing.


Reverse Transfer – Eligible students can transfer certain course work from UHV to WCJC to complete requirements for an associate degree at the same time they are working on their bachelor's degree. Students enrolled at UHV who previously attended WCJC or who are enrolled at WCJC and took a minimum of 24 semester credit hours will be eligible. There will be no additional cost to students to receive an associate degree.


2+2 Articulation – Students can complete an associate program at WCJC and then transfer to UHV to complete their bachelor's degree without a loss of credits or a duplication of course work. WCJC students must earn a minimum 2.0 cumulative grade-point average, complete at least 60 credits and meet all UHV admission requirements in order to participate in the program.
"These agreements provide a streamlined approach so that students don't waste time or incur a lot of debt while they are getting their associate and bachelor's degrees," Cass said.
Although the three agreements will work for students taking courses at any WCJC campus and for UHV students taking classes online, at the UH System at Cinco Ranch or the university's main campus in Victoria, it will be particularly helpful to WCJC student at the Sugar Land Campus. UHV offers many programs at the UH Sugar Land teaching center, which shares a campus with WCJC.
"Students don't even have to leave the building to earn their associate degree at WCJC and their bachelor's degree at UHV," Collins said. "It can't get any easier than that."
UHV and WCJC fall classes begin Aug. 26. For more information about how to enroll at UHV, contact UHV Admissions at 877-970-4848, ext. 4110 or admissions@uhv.edu. For more information about how to enroll at WCJC, contact WCJC Admissions and Registration at 979-532-6303 or visit wcjc.edu.
The University of Houston-Victoria, located in the heart of the Coastal Bend region since 1973 in Victoria, Texas, offers courses leading to more than 80 academic programs in the schools of Arts & Sciences; Business Administration; and Education, Health Professions & Human Development. UHV provides face-to-face classes at its Victoria campus, as well as an instructional site in Katy, Texas, and online classes that students can take from anywhere. UHV supports the American Association of State Colleges and Universities Opportunities for All initiative to increase awareness about state colleges and universities and the important role they have in providing a high-quality and accessible education to an increasingly diverse student population, as well as contributing to regional and state economic development.