Close
New UHV Staff Council chair has varied university experience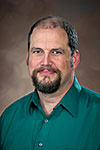 Harry Bashaw
As an alumnus and long-time employee of the University of Houston-Victoria, Harry Bashaw has experienced the university from many viewpoints.
Bashaw, the multimedia specialist for the UHV School of Education & Human Development, will take on a new role at the university as chair of the 2013-2014 UHV Staff Council, an organization that represents staff in university matters.
Among his duties, he will represent the staff on the UHV President's Cabinet and will be the chair of the 2013-2014 University System Staff Executive Council, a group of staff members from each UH System university that work together on new ideas and systemwide policies.
Bashaw has worked at UHV since 2001 in a variety of departments, including Student Services, the School of Arts & Sciences, Web Services, Marketing & Communications and the School of Education & Human Development. He has two degrees from UHV – a Bachelor of Science in computer science and a Master of Arts in Interdisciplinary Studies in computer science and communications.
"As a student and employee, I've seen a lot of growth at UHV," Bashaw said. "I've had insight from both the student services side and the business side of the university. I see this as an opportunity to serve the university and hope other employees will do the same by participating in the Staff Council."
Bashaw's main goal is to create active subcommittees that address different issues concerning staff members. Some, such as a communications committee, could be ongoing throughout the year, while others could be short term to address a specific need. The first subcommittee is a wellness committee charged with addressing health education options and finding possible wellness incentives for employees.
"The key to success this year will be how well the subcommittees work," he said. "Staff Council leadership would like to see more people getting involved, and this is an easy way to do that."
He also plans to address past ideas that were put on the back burner and ongoing ideas such as low-cost day care options for the children of employees.
Joining Bashaw on the 2013-2014 Staff Council are:
Vice Chair – Veronica Bures, senior administrative assistant, Administration & Finance
Secretary – Natalie Ruiz, senior administrative assistant, University Advancement
Exempt Staff Member at Large (representing salaried employees) – Faye Landry, administrative coordinator, President's Office
Non-Exempt Staff Member at Large (representing hourly employees) – Mary Densman, assistant, Small Business Development Center
Representative at Large (Sugar Land) – Tamara Lair, student advising coordinator, School of Arts & Sciences
Representative at Large (Cinco Ranch) – Melissa Jersild, student recruitment coordinator, School of Business Administration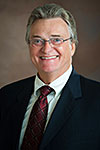 Phil Castille
"We want UHV to be a place where employees always feel valued," UHV President Phil Castille said. "I look forward to working with Harry and the Staff Council to ensure staff members' needs are met, the lines of communication with the administration are always open and their hard work is acknowledged on behalf of the students we all serve."
Bashaw agreed that making UHV an employer of choice is important but said it requires the help of employees.
"It is up to staff members to look out for themselves and get involved in creating a positive workplace," he said. "If there is an issue that needs to be addressed, I encourage staff members to bring the subject up at a Staff Council meeting."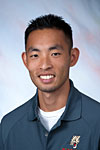 Billy Lagal
Meetings will be the second Thursday of each month. UHV staff at the UH System at Cinco Ranch and UH Sugar Land can participate through Interactive Television. Bashaw encourages at least one representative from each department to attend the meetings.
Billy Lagal, 2012-2013 Staff Council chair and manager of UHV's Letting Education Achieve Dreams and student recruitment programs, will serve as the council's past chair to assist new members with any questions they have. He said it's a privilege serving alongside Bashaw on the council.
"Harry's vision and passion for UHV will suit him extremely well as the incoming Staff Council chair," Lagal said. "I would like to personally congratulate him for taking on this leadership role and look forward to assisting him in any way possible as we rev up for the new year."
The University of Houston-Victoria, located in the heart of the Coastal Bend region since 1973 in Victoria, Texas, offers courses leading to more than 80 academic programs in the schools of Arts & Sciences; Business Administration; and Education, Health Professions & Human Development. UHV provides face-to-face classes at its Victoria campus, as well as an instructional site in Katy, Texas, and online classes that students can take from anywhere. UHV supports the American Association of State Colleges and Universities Opportunities for All initiative to increase awareness about state colleges and universities and the important role they have in providing a high-quality and accessible education to an increasingly diverse student population, as well as contributing to regional and state economic development.