Close
UHV faculty elects management associate professor president of Faculty Senate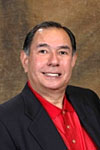 Ron Salazar
One of the top priorities for UHV Faculty Senate President Ron Salazar during the 2013-2014 academic year is greater faculty engagement with students.
Salazar said he's observed the positive outcomes from faculty and student interaction. He said to be truly healthy, university educators need to have a continuous set of conversations with the student body.
"I've seen how some UHV faculty members go out of their way to talk with students outside of the classroom, and it's inspired me to make increased student engagement a priority," Salazar said. "By engaging with students at special events, sports games, the dining hall or the library, it helps drive student retention."
Salazar, an associate professor of management in the UHV School of Business Administration, will serve as Faculty Senate president for the upcoming school year. Salazar is entering his fifth year on the Senate. He was vice president last school year.
The Faculty Senate is an elected body that listens to the collective voice of faculty members and provides a forum for discussion about academic and curricular matters. Senators are elected by faculty from their respective schools, while members of the Executive Committee are elected by the entire UHV faculty.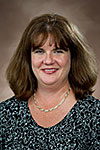 Denise Neill
Denise Neill, an associate professor in the UHV School of Nursing who served as Faculty Senate president for the 2012-2013 school year, said Salazar brings a strong skill set to the table.
"He has experience in both management positions and labor relations that will stand him in good stead as he advocates for the faculty," Neill said.
Neill agreed that faculty interaction can play a role in increasing student retention.
"While it was not technically part of my role as president, some of the most enjoyable activities I experienced the past year were participating in student activities such as athletic games, Community of Readers events and the Meet the Leaders get together, where students got to know faculty and administrators better. Any time faculty can be visible to students as people, it adds value."
Salazar's other top priorities as president are greater faculty involvement in shared governance and gaining improved technology for student learning. Shared governance refers to working with the administration in carrying out university objectives. Salazar will serve on the President's Cabinet.
UHV President Phil Castille said he looks forward to discussing issues important to the faculty.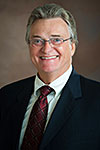 Phil Castille
"The administration has enjoyed a great working relationship with the Faculty Senate, and I'm sure that will continue under Dr. Salazar's leadership," Castille said. "He is well-informed about the needs of the faculty, knowledgeable about the university as a whole and not afraid to ask tough questions. He will make sure the lines of communication with the administration are always open."
Salazar said UHV can enhance some online classes by including more practical applications and videos. The Faculty Senate will be working with a provost's committee to write grant proposals for new technology, improved software and more staff support for inserting media in class presentations.
Salazar earned a bachelor's and master's degree from what was then Southwest Texas State University in San Marcos. In 1990, he obtained a doctorate in business administration from the University of Texas at Austin.
Salazar joined the UHV faculty in 2004 after working as a consultant on strategic management and technology to numerous private and public sector organizations. Salazar's research interests include strategic management and the management of technology.
Salazar and Neill said the Faculty Senate has worked closely with the provost's office and the school deans on the university's reaccreditation.
"That process began last school year in earnest, and we're working hard to continue that initiative," Salazar said. "There is an increased work load for faculty related to updating and completing those accreditation documents."
UHV is preparing for an April accreditation review by the Southern Association of Colleges and Schools Commission on Colleges. Although UHV already is accredited by SACS, member institutions must go through periodic reviews that show the university is continuing to provide quality education consistent with SACS guidelines. SACS is the accreditor for all universities and colleges in an 11-state region that includes Texas.
Other members of the Senate Executive Council will be:
Elsa Leggett, assistant professor of counseling, School of Education & Human Development – vice president
Denise Neill, associate professor, School of Nursing – past president
Justin Bell, assistant professor of philosophy, School of Arts & Science – secretary
Senators and their representative schools will be:
Arts & Sciences – J. Keith Akins, Alireza Tavakkoli and Mark Ward
Business Administration – Joseph Ben-Ur, Jifu Wang and Jun Yang
Education & Human Development – Paul Carlson, Joann Olson and Barba Patton
Nursing – Lisette Barton, Terry Kirk and Kay Reeve
The Senate will hold its first meeting of the school year on Sept. 6.
The University of Houston-Victoria, located in the heart of the Coastal Bend region since 1973 in Victoria, Texas, offers courses leading to more than 80 academic programs in the schools of Arts & Sciences; Business Administration; and Education, Health Professions & Human Development. UHV provides face-to-face classes at its Victoria campus, as well as an instructional site in Katy, Texas, and online classes that students can take from anywhere. UHV supports the American Association of State Colleges and Universities Opportunities for All initiative to increase awareness about state colleges and universities and the important role they have in providing a high-quality and accessible education to an increasingly diverse student population, as well as contributing to regional and state economic development.