Close
UHV hires law enforcement veteran as first university police officer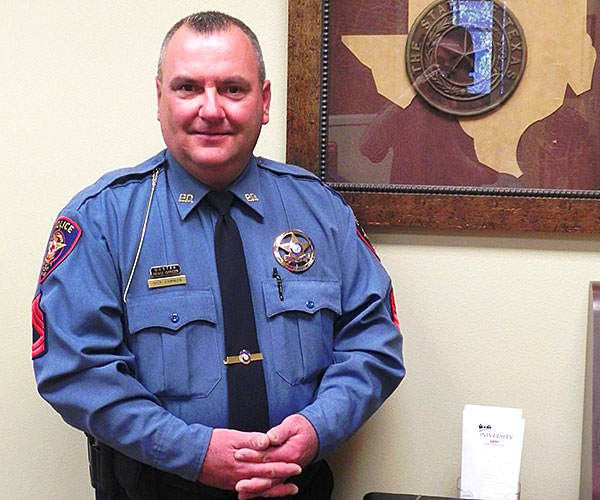 Sgt. Eric "Rick" Gammon is University of Houston-Victoria's first police officer. He began work Tuesday and is in charge of campus security, criminal investigations and violence prevention.
The University of Houston-Victoria has hired its first university police officer to bolster campus security and launch crime preventative measures.
Sgt. Eric "Rick" Gammon began his new job Tuesday at UHV. Gammon is a career public servant with more than 12 years of work experience in law enforcement. His most recent position was as a constable in El Paso.
"The addition of a full-time police officer at UHV is part of the natural progression of becoming a residential university," UHV President Phil Castille said. "Statistics show that, year after year, UHV is one of the safest campuses in the state. The addition of Sergeant Gammon will go a long way in helping us continue providing a safe learning, teaching and working environment as well as providing an effective liaison to local and area law enforcement agencies."
Gammon was hired following a national search conducted by the UH Police Department. Gammon is an employee of that department, but he will live and work in Victoria. He also has police jurisdiction for locations in Fort Bend, Harris and Montgomery counties where UHV offers classes and programs.
Lt. Bret Collier, UH Police Department chief of staff, said Gammon is perfectly suited for this position.
"I knew Rick from a police leadership conference we attended," he said. "When his resume hit my desk, I knew that with his experience, demeanor and skills, he would be the right fit."
A portion of Gammon's salary will be covered by a U.S. Department of Justice grant UHV received in November 2011. The $299,752 three-year grant also is being used to fund the positions of UHV victim advocate Elena Torres and counseling psychologist Hege Riise.
Gammon, 42, will work on numerous fronts, including patrol, criminal investigation, violence prevention and reporting of campus crime statistics. He said it is a unique opportunity to be the first police officer at UHV.
"Starting fresh gives me the chance to talk with the administration, student affairs and residence hall leaders about how a college police department operates," he said. "Being the first officer presents some challenges, but that's the aspect of the job I thrive on. I love taking on challenges."
In addition to keeping students, faculty, staff and visitors safe on campus, Gammon also plans to introduce crime preventative measures.
"Part of the intention of the grant is to minimize the risk of crimes, including domestic violence issues and sexual assaults," Gammon said. "We not only want students to be knowledgeable about potentially harmful situations, but also have tactics they can use to fend off potential attacks. We'll respond to incidents, but we want to be proactive and not just reactive."
The addition of freshmen and sophomores at UHV in 2010 and the opening of Jaguar Suites, the university's third residence hall, means more students are spending an increasing amount of time at UHV. Collier said UH and UHV administrators knew that with the campus growing, the need for increased security was inevitable.
UHV also has five security officers who patrol the campus, student housing and provide security at university events. The security officers will continue to work at UHV and will report to Gammon. Gammon's office will be in Jaguar Hall, UHV's freshman residence hall.
A St. Louis native, Gammon earned a bachelor's degree in criminal justice from Park University in Parkville, Mo. He served as a weapons technician in the U.S. Army for nine years.
After the Army, Gammon worked as a police officer and school resource officer for the Socorro Independent School District Police Department in El Paso and as a police officer for Texas Tech University's El Paso Medical Clinic and Campus. At Texas Tech, Gammon handled criminal investigations, patrol and traffic enforcement.
"These positions gave me invaluable administrative and managerial experience, as well as field experience in campus law enforcement in an academic setting," he said.
In 2006, Gammon was elected constable of El Paso County Precinct 2. He served in that capacity from 2007 to 2012. As the chief law enforcement administrator, he handled the budget, grants, record management, personnel, complaints, training and technological updates.
Gammon and his wife, Patricia, were seeking employment opportunities in the Gulf Coast region to be closer their daughter, son-in-law and first grandchild, who live in suburban Houston.
"It is a tremendous honor to be selected for this position, and I look forward to serving the university community with professionalism, integrity, fairness and empathy," Gammon said.
The University of Houston-Victoria, located in the heart of the Coastal Bend region since 1973 in Victoria, Texas, offers courses leading to more than 80 academic programs in the schools of Arts & Sciences; Business Administration; and Education, Health Professions & Human Development. UHV provides face-to-face classes at its Victoria campus, as well as an instructional site in Katy, Texas, and online classes that students can take from anywhere. UHV supports the American Association of State Colleges and Universities Opportunities for All initiative to increase awareness about state colleges and universities and the important role they have in providing a high-quality and accessible education to an increasingly diverse student population, as well as contributing to regional and state economic development.