Close
UHV associate professor chosen for nursing leadership program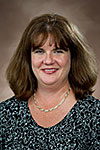 Denise Neill
Getting accepted to a prestigious nursing leadership training program required Denise Neill to spend some time this summer performing a thorough self-evaluation.
Neill, an associate professor in the University of Houston-Victoria School of Nursing, was one of 40 educators nationwide selected as a 2013-2014 Leadership for Academic Nursing Program fellow.
Stopping to think about how she acted and how other people perceived her was eye-opening, Neill said.
"This program is designed to help educators learn about their own personality type," she said. "A key part of leadership training is identifying our strengths and weaknesses."
The American Association of Colleges of Nursing has presented the Leadership for Academic Nursing Program for the past dozen years. The UHV School of Nursing is a member of the association. Fellows are chosen from colleges that are part of the association.
The leadership program is designed to prepare a more diverse, younger pool of leaders for nursing programs. The program's professional development experience encompasses an assessment and evaluation of leadership skills, opportunities for strategic networking and case study development, consultation to achieve long-term goals and identification of key partnerships.
Fellows engage in professional development activities, including an assessment of current leadership style and skills, and mentoring opportunities with an experienced leader. Neill will be mentored by Susan Ruppert, director of the adult/gerontology primary care nurse practitioner program at the University of Texas Health Science Center in Houston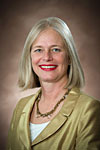 Kathryn Tart
Neill said she was honored to be selected as a fellow. She and Kathryn Tart, dean of the UHV School of Nursing, had discussed Neill applying for the fellowship for a number of years, but the timing wasn't right because of other commitments.
"One of the reasons I am excited about this program is if you go back and look at the original list of fellows in 2002, you'll find Dean Tart's name," Neill said. "She had a wonderful experience with it, and she wanted me to have the same opportunity."
Tart said she was thrilled that Neill was selected in the competitive application process.
"The Leadership for Academic Nursing Program is one of the programs that AACN is most proud of because it has a really high success rate," she said. "This program is largely how aspiring deans grow into leadership roles. I'm proud Dr. Neill was selected. She has a bright future ahead of her."
Neill said she's interested in assuming more of a leadership role in nursing education.
"Whether it's a dean or associate dean, I'm not sure yet, but I enjoy the administrative side of my job," Neill said. "I know that if I ever left teaching, I would miss being in the classroom. It's a difficult decision to make. This program gives me the opportunity to explore leadership options."
A South Arkansas native, Neill earned an associate degree at Southern Arkansas University in Magnolia. She moved on to the University of Central Arkansas in Conway, where she earned both bachelor's and master's degrees. She later completed her doctoral studies at Texas Woman's University in Denton.
Neill has been a faculty member at UHV for seven years. She also is the Registered Nurse to Bachelor of Science in Nursing coordinator and served as president of the UHV Faculty Senate during the 2012-2013 school year.
In 2012, Neill relocated to the Lone Star College University Center at Montgomery to oversee the expansion of UHV's RN to BSN program in The Woodlands.
The Leadership for Academic Nursing Program began with a conference July 28 to Aug. 1 in Colorado Springs, Colo. At the conference, Neill received the results of personality tests and leadership quality evaluations, participated in peer coaching and got to know the other fellows during a trip to the Garden of the Gods.
"What I learned from my Colorado trip is to think out loud a little more," Neill said. "Sometimes people think I'm not advocating for them because I don't share all the details. I learned that I have some good, solid strengths as a leader. While my personality preference is facts and information, the comments I got from peers and other evaluators showed that I also focused on feelings and making relationships work."
The Colorado workshop was the start of the yearlong program. Each participant sets goals for the next few months. Those goals will be discussed in follow-up phone calls and meetings.
"My goals have to do with ways we can continue to grow the UHV RN to BSN program," Neill said. "I look forward to getting feedback along the way about how I can enhance my leadership of that program."
The University of Houston-Victoria, located in the heart of the Coastal Bend region since 1973 in Victoria, Texas, offers courses leading to more than 80 academic programs in the schools of Arts & Sciences; Business Administration; and Education, Health Professions & Human Development. UHV provides face-to-face classes at its Victoria campus, as well as an instructional site in Katy, Texas, and online classes that students can take from anywhere. UHV supports the American Association of State Colleges and Universities Opportunities for All initiative to increase awareness about state colleges and universities and the important role they have in providing a high-quality and accessible education to an increasingly diverse student population, as well as contributing to regional and state economic development.