Close
UHV staff member, alumna writes Bigfoot novel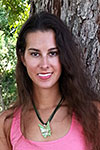 Ashlen Brown
While Ashlen Brown's mother and sister can't say for sure what they stumbled upon during a dark night several years ago just outside the family's country home near Brazos Bend State Park, their mysterious encounter makes for one heck of story.
The family tale was so good, in fact, that Brown, a University of Houston-Victoria alumna and lab technician, wrote a novel about it. "The Secret of Blackjack Woods" was released this summer and has drawn compliments from Bigfoot believers and nonbelievers.
"There are some people who truly believe, and they are determined to find some sort of evidence," Brown said. "I think my book appeals to them because they like anything that puts a positive light on Bigfoot."
In 2012, Brown earned a Master of Arts in Interdisciplinary Studies with a concentration in forensic science and biomedical sciences from UHV. After finishing her thesis about designing DNA markers to identify coyotes from their pellet DNA, Brown had time to pursue other projects. The Sugar Land resident enjoys creative writing, and once she got rolling, the novel was complete in three months. After a few months of editing, the book was published by Telemachus Press in June.
"It still hadn't completely hit me that I wrote a book that was published," Brown said. "It's just incredible to see my work out there. I've had strangers reading it, commenting on it and loving it. It's been wild."
In the opening scene of the book, 12-year-old Jim Thomas is surprised by his mother and sister's eerie account of a mysterious creature seen in the woods. Thinking there has to be a reasonable explanation, Jim sets upon discovering the truth. In short time, Jim is faced with a being that supposedly doesn't exist. Before long, his friend is in trouble, and only Jim and his family can save him.
The first scene is based on the night Brown's mother and sister were frightened by something they encountered in the woods. Brown and her twin brother were sitting on the couch at home when their mother and sister came running through the front door in a panic. The episode set off years of Brown family speculation and some fun debates about the existence of Bigfoot.
"My sister is more open to the idea that there was something strange out there, while my mother has to see it to believe it," she said. "I fall more in line with my mother, but I do have an open mind. As a kid, I thought it would be really fun to find Bigfoot. I tried to recapture the whole possibility of 'what if' in my book."
Brown said her family members inspired different characters in the book.
"I didn't tell my family beforehand, but when they read it, they started pointing at one another and saying, 'Hey, that's you,'" she said. "It was funny to see their reaction."
Brown, 29, works as a teacher's assistant and lab technician for two undergraduate biology courses at UH Sugar Land, where UHV offers many programs. While the book doesn't go into many details about biology, there are some forensic science references as the main character pursues his investigation.
Brown, who also earned a bachelor's degree in biology in 2008 from UHV, said she enjoyed taking classes at the university.
"I loved the small class sizes because I got to know everyone," she said. "My professors were able to help me and the other students with assignments and research. UHV was an incredible place to attend college."
A paperback version of "The Secret of Blackjack Woods" can be purchased online for $9.95 at Amazon, Barnes & Noble, and the Diesel Bookstore. An e-book version is available for $2.99 at Amazon, Barnes & Noble, Smashwords, Kobo, Sony and the iBookstore.
The University of Houston-Victoria, located in the heart of the Coastal Bend region since 1973 in Victoria, Texas, offers courses leading to more than 80 academic programs in the schools of Arts & Sciences; Business Administration; and Education, Health Professions & Human Development. UHV provides face-to-face classes at its Victoria campus, as well as an instructional site in Katy, Texas, and online classes that students can take from anywhere. UHV supports the American Association of State Colleges and Universities Opportunities for All initiative to increase awareness about state colleges and universities and the important role they have in providing a high-quality and accessible education to an increasingly diverse student population, as well as contributing to regional and state economic development.