Close
Lecture series to show different sides of UHV Community of Readers book
The purpose of the University of Houston-Victoria Community of Readers is not just to get community members and university students and employees to read the same book but also look at a subject from different angles including politics, mathematics, health, education and culture.
UHV students and community members have the opportunity to discuss this year's book, "Escape from Camp 14," during the UHV Community of Readers Book Lecture Series, which will be held throughout the fall semester.
J. Keith Akins, director of the UHV First Year Academic Experience, said the Community of Readers program establishes a common academic experience and bond between first-year students and the larger community but also shows students that it is possible to look at a subject from different academic disciplines.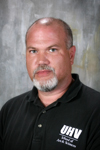 J. Keith Akins
"We don't want freshmen to start their college experience thinking there are these thick walls between the academic fields and that one of them has nothing to do with the other," he said. "This learning experience may help them decide on a career path. They have the opportunity to see what resonates with them and learn what type of career field they may want to choose."
"Escape from Camp 14" is a true story of how one man escaped from a North Korean political prison camp. Written by Blaine Harden, "Escape from Camp 14" is an account of Shin Dong-hyuk, who is thought to be the only person born and raised in a North Korean political prison camp to escape.
All lectures will be from 11:30 a.m. to 12:30 p.m. with the exception of the Oct. 21 lecture, which will be from 5:30 to 6:30 p.m. They will be in the UHV University Center Multi-Purpose Room, 3007 N. Ben Wilson St., and are free and open to the public. The lecture schedule is:
Sept. 24 and Sept. 25 – "Philosophies of Enlightenment and Democratic Government" presented by philosophy assistant professor Justin Bell
Oct. 1 – "Differences in Camp 14 and U.S. Prison Systems" presented by criminal justice assistant professor Michele Quinones
Oct. 10 – "Escape from Camp (4! - log_2 1024)" presented by mathematics assistant professor Ricardo Teixeira
Oct. 15 and Oct. 16 – "Effects of Post-Traumatic Stress Disorder" presented by counseling assistant professor Linda Autry
Oct. 21 – "Prison Camps in North Korea and other Countries" presented by political science lecturer Gino Tozzi
Oct. 23 – "The Power of Uncle and Cabbage: Of Illness and Wellness in Camp 14" presented by clinical associate professor Terry Kirk
Oct. 24 – "Being a Korean - Living in the Last Cold War" presented by mathematics lecturer Jang-Woo Park
Nov. 11 – "Communication in Camp 14: The Impact of Evil Speech" presented by communications assistant professor Mark Ward
Nov. 20 – "Who Learns What? Higher Education in North Korea" presented by education assistant professor Joann Olson
Besides the lecture series, lessons from the book are incorporated into UHV class lectures and projects. Other book-themed special events will include movie screenings and a Korean cuisine dinner at Jaguar Hall for students.
The Community of Readers program was founded in 2010, when UHV welcomed its first freshman class. It is part of the First Year Academic Experience, a program for freshmen students designed to improve graduation rates, and increase retention and student success. Previous books in the program include Suzanne Collins' "The Hunger Games," Max Brooks' "World War Z" and Erik Larson's "Isaac's Storm."
Akins said it is not too late to read the book and join in on the events and discussion.
"With this project, we are trying to create a holistic learning environment for the students and encourage the community to join in on the lectures," he said. "We want the students to see that their majors are part of a uniform education process and not just about isolated theories and angles to their studies."
UHV students, faculty and staff can request a free copy of "Escape from Camp 14" by going to the "Request a Book" link on the Community of Readers website, www.uhv.edu/community-of-readers. The book also is available for purchase at local and online retail outlets, and copies may be checked out from the Victoria Public Library and the Victoria College/UHV Library.
The University of Houston-Victoria, located in the heart of the Coastal Bend region since 1973 in Victoria, Texas, offers courses leading to more than 80 academic programs in the schools of Arts & Sciences; Business Administration; and Education, Health Professions & Human Development. UHV provides face-to-face classes at its Victoria campus, as well as an instructional site in Katy, Texas, and online classes that students can take from anywhere. UHV supports the American Association of State Colleges and Universities Opportunities for All initiative to increase awareness about state colleges and universities and the important role they have in providing a high-quality and accessible education to an increasingly diverse student population, as well as contributing to regional and state economic development.