Close
UHV president addresses concerns of regional universities at Texas Tribune Festival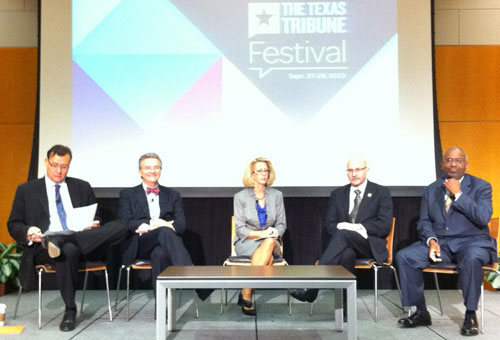 Moderator James Henson, left, looks over his notes in preparation for the "Meanwhile, Back at the Nonflagships" panel Saturday at the Texas Tribune Festival in Austin. Featured on the panel were UHV President Phil Castille, second from left; and university presidents Dana Gibson of Sam Houston State University, Robert Nelson of the University of Texas-Pan American, and George Wright of Prairie View A&M.
University of Houston-Victoria President Phil Castille was one of four university presidents who raised awareness about the successes and concerns of regional higher education in Texas during a statewide conference Saturday.
Castille was part of a panel titled "Meanwhile, Back at the Nonflagships" at the Texas Tribune Festival in Austin. While there are 38 public institution of higher education in Texas, only a handful are considered flagship universities.
"The Texas Tribune is often a beat ahead on taking the pulse of Texas politics and policy-making," Castille said. "Having a panel dedicated to the state's nonflagship universities – which are producing the majority of Texas' college graduates – shows the Tribune recognizes our crucial importance to the future success of Texas public higher education."
Joining Castille on the panel were Dana Gibson, president of Sam Houston State University; Robert Nelson, president of the University of Texas-Pan American; and George Wright, president of Prairie View A&M. The panel was moderated by James Henson, director of the Texas Politics Project at the University of Texas at Austin and a frequent commentator on the national "PBS NewsHour." The session was attended by several hundred people.
Castille said the event served as an opportunity to identify and promote common interests among regional institutions. For example, the panelists agreed that criteria the state uses for performance-based funding needs to be in line with the missions of the nonflagship universities.
"The main performance-based funding criterion in the state of Texas right now is the number of degrees awarded," Castille said. "Guess who's going to win every year? The flagship universities with more than 50,000 students will always come out on top. I welcome performance-based standards for state funding, but give me something relevant to UHV's size and mission."
Using the number of science, technology, engineering and mathematics graduates also is an unfair performance standard, Castille said.
"Many regional universities can't afford to have engineering schools because they are the most expensive to build, so we can't compete effectively in that category," he said. "It's not that we're underperforming. We just don't have the state support to create the numbers needed for those types of performance standards."
Castille said all Texas higher education leaders and many legislators are disappointed that the Tuition Revenue Bonds bill was not approved by the Legislature last session. TRBs allow universities to issue debt against future revenue from tuition to build classrooms, laboratories and other essential facilities.
"The negative impact falls hardest on the younger, developing institutions because we lack the physical infrastructure that older institutions have," Castille said. "I pointed out that some schools are overbuilt as they move toward electronic forms of distance learning."
Castille said because younger schools like UHV often lack physical infrastructure, they must be innovative using technology to extend their reach.
"UHV has been a national leader in the past decade in online learning," Castille said. "The UHV School of Business Administration was one of the first accredited programs in the country to offer entire business degrees online. Today UHV has one of the state's highest percentages of students who take all online courses. But we need a reliable means of state funding to build out our Victoria campus so we don't have to cap enrollment for face-to-face students."
The festival was held at the AT&T Conference Center at the University of Texas at Austin. Evan Smith, Texas Tribune CEO and editor-in-chief, said attendance overall at the festival increased by 50 percent from the previous year. There were about 2,500 attendees.
Renu Khator, UH president and chancellor of the UH System, also participated Saturday in a panel discussion titled "Higher Education in 2038." The UH System was the only university system with two presidents speaking at the festival.
Raymund Paredes, the Texas Higher Education commissioner who oversees the Texas Higher Education Coordinating Board, was a panelist with Khator and stayed to listen to the panel Castille was on.
"It was a wonderful opportunity for us to put our concerns directly in front of the commissioner," Castille said. "I thank Dr. Paredes for staying and listening."
The University of Houston-Victoria, located in the heart of the Coastal Bend region since 1973 in Victoria, Texas, offers courses leading to more than 80 academic programs in the schools of Arts & Sciences; Business Administration; and Education, Health Professions & Human Development. UHV provides face-to-face classes at its Victoria campus, as well as an instructional site in Katy, Texas, and online classes that students can take from anywhere. UHV supports the American Association of State Colleges and Universities Opportunities for All initiative to increase awareness about state colleges and universities and the important role they have in providing a high-quality and accessible education to an increasingly diverse student population, as well as contributing to regional and state economic development.