Close
Bloomberg Businessweek presents awards to UHV faculty members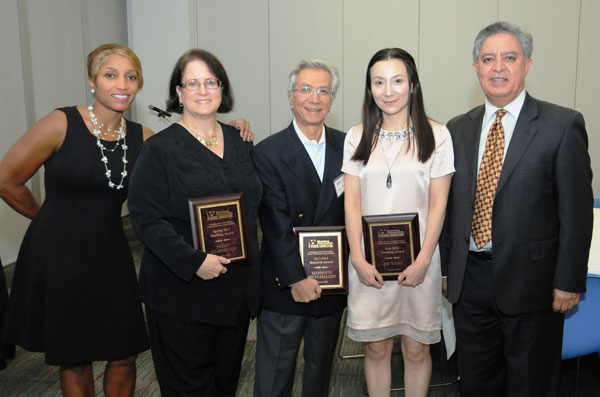 Bloomberg Businessweek Teaching and Research Award winners Peggy Cloninger, second from left, Massoud Metghalchi and Jie Yang accept plaques from Shandale Robertson, Bloomberg Businessweek regional sales manager, left, and Farhang Niroomand, dean of the UHV School of Business Administration, at an awards reception Oct. 3 in Sugar Land.
SUGAR LAND – Three University of Houston-Victoria business faculty members recently received recognition from a popular business magazine for effectiveness in using the company's materials in teaching and research.
The 2012-2013 recipients of the Bloomberg Businessweek Teaching and Research Awards are:
Jie Yang – Fall 2012 Teaching Award
Peggy Cloninger – Spring 2013 Teaching Award
Massoud Metghalchi – Research Award
The awards were handed out at the UHV School of Business Administration awards reception Oct. 3 at UH Sugar Land, where UHV offers many of the programs. Metghalchi received a $2,500 honorarium, while Yang and Cloninger each received $2,000. They each were given a plaque from Shandale Robertson, Bloomberg Businessweek regional sales manager.
Yang, a professor of operations management and quantitative methods, is the first two-time Bloomberg award winner. She also won the research award in 2011.
Yang has taught several operations, supply chain management and research methods courses at UHV since 2009. She said she tries to exhibit enthusiasm, responsibility and diligence in her teaching.
"This award is nice recognition for what I have done in teaching and also a confirmation of the importance of case discussions in experiential learning," she said.
Yang said she gives her students Bloomberg articles on several different topics. The articles are a springboard for class discussion.
"Students are highly motivated and engaged when they are discussing real-world business cases," she said. "Discussion questions greatly help them apply the knowledge they learned from the class in the analysis of real scenarios."
Cloninger is an associate management professor. A UHV faculty member since 2000, Cloninger teaches a number of management courses, including "Seminar in Strategic Management." She also serves as chair of the School of Business Administration Department of Strategy and Decision Sciences.
"I'm delighted to receive the Bloomberg Teaching award, and I'm honored to be recognized for my efforts to teach our students not only theoretical concepts, but about actual companies competing in a complex global environment," Cloninger said. "Bloomberg Businessweek's coverage of business and world events is extensive. I can always find articles that I can assign for analyses or that supplement my weekly discussions."
Metghalchi is a finance professor whose primary research interest is the world's equity markets. His latest project is researching the behavior of stock markets in the U.S., Europe and Asia.
Metghalchi has taught at UHV since 1991. He was the recipient of the 2008-2009 UHV Research and Scholarly Activity Excellence Award. In January, he was the first faculty member to be named a Ron Sardessai Endowed Professor.
"When I look at my awards that I have won at UHV, it reminds me of my past hard work," Metghalchi said. "But it also reminds me that the past is behind us, and I need to keep working hard in the future."
Several student award winners from the past year also were recognized at the reception. The students included the 2012-2013 Bachelor of Business Administration Conference winners, and the 2012-2013 Master of Business Administration Conference case study and simulation winners.
The reception was attended by several Fort Bend and Victoria business, political and education leaders, including Texas Rep. Rick Miller; Victoria City Councilman David Hagan; Bob Brown, chairman of the Greater Fort Bend Economic Development Council; and Omar Rachid, chair of the UHV President's Regional Advisory Board.
"I would like to thank everyone who attended the reception and helped us celebrate all the success we have experienced in the past year," said Farhang Niroomand, dean of the UHV School of Business Administration. "I'd especially like to recognize Bloomberg Businessweek for its continued support of student learning. This partnership has increased student engagement in the classroom and provided real-life examples to complement their course work."
The University of Houston-Victoria, located in the heart of the Coastal Bend region since 1973 in Victoria, Texas, offers courses leading to more than 80 academic programs in the schools of Arts & Sciences; Business Administration; and Education, Health Professions & Human Development. UHV provides face-to-face classes at its Victoria campus, as well as an instructional site in Katy, Texas, and online classes that students can take from anywhere. UHV supports the American Association of State Colleges and Universities Opportunities for All initiative to increase awareness about state colleges and universities and the important role they have in providing a high-quality and accessible education to an increasingly diverse student population, as well as contributing to regional and state economic development.