Close
UHV business school receives large donation from Chinese executive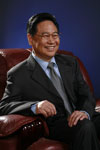 Bingxin Wu


More University of Houston-Victoria business students now have the opportunity to study international business in China thanks to a $600,000 contribution from a prominent Chinese businessman.
The donation from Bingxin Wu and his wife, Shuqin Feng, is the largest the UHV School of Business Administration has ever received. The school will use the contribution to establish a center for international business education that will be named after the couple.
The center will be home to a global leadership lecture series and an expanded executive-in-residence program. It also will provide scholarships to students who would like to study abroad in China.
"The Wu-Feng Center for International Business Education will be a major addition to the UHV School of Business Administration," UHV President Phil Castille said. "The center will bring heightened awareness to UHV's global initiatives, complement our Global Master of Business Administration program, and provide marvelous opportunities for our students to study in China. We can't thank Chairman Wu enough for his support."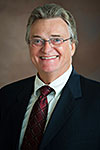 Phil Castille
Farhang Niroomand, dean of the UHV School of Business Administration, said he is excited about how the donation provides new opportunities here and abroad.
"We have a lot of students who would like to be involved in global commerce," he said. "This donation brings more opportunities for our students to participate in the study abroad program, where they interact with Chinese students and executives. It also gives opportunities for our faculty, who come from various ethnicities, to contribute to the center."
Wu is the board chairman of Sanzhu Group, Beijing Genetic Engineering Research Institute and Beijing Nuozhou Institute of Biology. Sanzhu Group is involved in the health care, medicine, medical devices, hospital and ecological cosmetics industries.
"Chairman Wu's passion is education and helping young students," Niroomand said. "He also is interested in cross-cultural exchanges and communication with other countries."
UHV received $100,000 last month. The university will receive $125,000 a year from 2014 to 2017.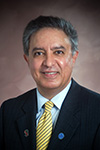 Farhang Niroomand
Niroomand said the school won't wait until 2017 to start using the money. UHV will provide up to $2,000 in travel scholarships for 15 undergraduate and graduate students qualified to study abroad in China. UHV also will provide $500 scholarships to qualified MBA students who speak Mandarin or Cantonese.
Jifu Wang, a UHV associate management professor, has known Wu for about seven years. Wang was invited to give a seminar at the Central University of Finance and Economics School of Government Administration in Beijing.
"I couldn't make it to campus, so the dean of the school took the students to my hotel in Beijing," Wang said. "Chairman Wu accompanied them. When I learned he was an executive, I decided we should both run the seminar."
The two stayed in touch, and when Wang was interim dean of the UHV School of Business Administration in 2008, he invited Wu to the university. Wu gave several lectures at UH Sugar Land and the UH System at Cinco Ranch, where UHV offers many of the programs, and came to Victoria to meet university administrators and watch a baseball game. Wang also has helped edit two books Wu has written: "Consumption and Management: New Discovery and Applications" and "New Theory on Leadership Management Science." They also have worked on papers together.
Wu invited Wang and Niroomand to be his guests in July during UHV's first study abroad trip to China. They spent part of the trip staying at Wu's Shanzu Holiday Resort in Jinan.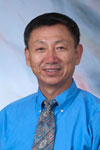 Jifu Wang
"It was Chairman Wu's initiative and generosity to sponsor this trip for 25 students," Niroomand said. "He covered the expenses for lodging, meals, ground transportation and even the entrance fees for sightseeing, including the Great Wall of China and the Forbidden City."
Wu taught seven classes about consumption and leadership management to UHV students and a group of Chinese students during the program.
"For three hours, he was jumping up and down full of energy," Wang said. "He's 76 years old. He has a great passion for education."
The Wu-Feng Center for International Business Education will be housed within the existing business school. The university plans to start a distinguished lecture series focusing on global education and international business. Wu will serve as an executive in residence for the center and will give lectures and participate in events during visits to South Texas. Wu is seeking to arrange a trip to UHV later this fall.
"With 15 Chinese faculty members and a large number of international students, we thought that Chairman Wu would make an excellent addition to our executive-in-residence program," Niroomand said.
The University of Houston-Victoria, located in the heart of the Coastal Bend region since 1973 in Victoria, Texas, offers courses leading to more than 80 academic programs in the schools of Arts & Sciences; Business Administration; and Education, Health Professions & Human Development. UHV provides face-to-face classes at its Victoria campus, as well as an instructional site in Katy, Texas, and online classes that students can take from anywhere. UHV supports the American Association of State Colleges and Universities Opportunities for All initiative to increase awareness about state colleges and universities and the important role they have in providing a high-quality and accessible education to an increasingly diverse student population, as well as contributing to regional and state economic development.