Close
UHV assistant professor sees art of books making a comeback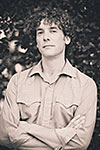 Kyle Schlesinger
Stop a person on the street and ask him about his most prized book from childhood or favorite font, and he will likely strike up a conversation.
Books are a universal language.
It's that all-encompassing nature of book culture that drew Kyle Schlesinger to the world of publishing.
"It's a great way to talk to people," said Schlesinger, an assistant professor of publishing in the University of Houston-Victoria School of Arts & Sciences. "Books bring people together, and that's the thing I like most about the field of publishing."
Schlesinger is co-director of UHV's graduate publishing program, which aims to teach students about everything the industry has to offer, ranging from design for print and online, editing, marketing and the history of the book.
He and his students talk daily about ongoing trends in the publishing industry. For example, Schlesinger anticipates the demise of the poorly made paperback.
"The way things are going, those will disappear in a decade," he said. "The disposable romance novels and thrillers you buy in the airport aren't necessary because we have e-readers to replace those now."
Schlesinger added that the art of the book is what's coming back in a big way. Readers who choose to read from pages rather than pixels want a more sensory and aesthetically pleasing relationship with the tactile book. He said a renaissance of the book is going on in terms of innovative design, exceptional typography, masterful illustration and craftsmanship.
"That's where the industry is going now," he said. "Book designers are looking to history for new ideas and realizing them with state-of-the-art technology to find new ways of reading. People want a distinction between the digital world and print. People always ask me if the book is obsolete, and, of course, my answer is 'no'. Did photography replace painting? Did the automobile replace the horse? No, we just perceive them differently. There has never been a more interesting time to get into publishing. Our students are extremely fortunate to be talented young people who will literally contribute to the future of the book in a meaningful way."
Schlesinger, now in the midst of his fourth year at UHV, began the publishing program with Jeffrey Di Leo, dean of the School of Arts & Science. At its start, the publishing program boasted two students. Today there are more than 50.
"It's grown very, very quickly," Schlesinger said. "I'm very proud of my students and feel fortunate to have the support of my wonderful colleagues and administration."
Schlesinger, a Providence, R.I., native, earned his bachelor's degree from Goddard College in Plainfield, Vt., and his doctorate from the University at Buffalo.
Teaching isn't the only thing keeping him busy.
Schlesinger is proprietor of Cuneiform Press, specializing in poetry, artists' books and typography, and based at UHV. He enjoys printing books on his letterpress, a traditional technology that dates back 500 years, as well as designing books using the latest software.
"New media and old are completely complementary," he said. "A thorough understanding of one will only deepen your knowledge of the other."
He also has written a number of scholarly books, books of poetry and artists' books, and his works have appeared in a variety of journals.
The educator said he's enjoyed his time at UHV, particularly the fact that the university's students, coupled with its faculty, administration and the Victoria community, create a fun environment in which to teach and research.
"I love teaching, and I love books," he said. "My mind is on my research and my students' research. We're making real books together and learning about the culture of publishing. Every day is new and interesting."
The Faculty Feature is an online feature highlighting faculty members from each of the University of Houston-Victoria's four schools. To nominate a faculty member, email
Paula Cobler
, UHV director of marketing and communications, or call her at 361-570-4350.
The University of Houston-Victoria, located in the heart of the Coastal Bend region since 1973 in Victoria, Texas, offers courses leading to more than 80 academic programs in the schools of Arts & Sciences; Business Administration; and Education, Health Professions & Human Development. UHV provides face-to-face classes at its Victoria campus, as well as an instructional site in Katy, Texas, and online classes that students can take from anywhere. UHV supports the American Association of State Colleges and Universities Opportunities for All initiative to increase awareness about state colleges and universities and the important role they have in providing a high-quality and accessible education to an increasingly diverse student population, as well as contributing to regional and state economic development.