Close
UHV business school forms Dean's Advisory Council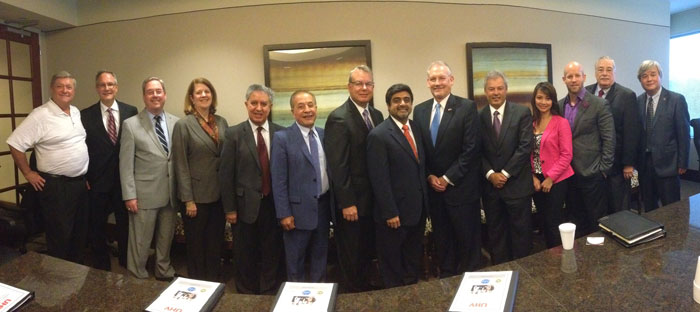 Members of the University of Houston-Victoria School of Business Administration Dean's Advisory Council pose with Associate Dean Jeff Blodgett, second from left, and Dean Farhang Niroomand, fifth from left, during the group's first meeting.
The University of Houston-Victoria School of Business Administration is seeking guidance from 13 business executives to ensure its business curriculum is in tune with the changing needs of area industries.
Farhang Niroomand, dean of the UHV School of Business Administration, has formed the Dean's Advisory Council, made up of executives in the banking, oil and gas, health care, staffing and consumer goods industries.
"By bringing real-world perspectives to the table, advisory council members will help ensure that our programs remain relevant in today's business world and that the school is producing highly knowledgeable and well-trained graduates with the appropriate skill sets," Niroomand said.
Council member Heber Lacerda, president and chief executive officer of Regency Nursing and Rehabilitation Centers, said it was a wise decision for Niroomand to seek out advice from the Victoria and Houston business communities.
"I think the partnership between schools and local businesses is extremely important in the process of educating our workforce," Lacerda said. "With the council's input, the school will have a better chance to train their students to fulfill the needs of today's businesses. Those needs change frequently, so there is a necessity to make adjustments."
The council met for the first time in October at the Willis Group headquarters in Houston. During the two-hour meeting, Niroomand explained his vision for the school and laid out key points in achieving his objectives.
"I was impressed by the goals the dean has set out for the school," said Atul Vir, a council member and president of Equator Advanced Appliances. "In some ways, it reminds me of the challenges I face as an individual entrepreneur competing against giant multinational companies."
The council also will provide a wider outlet for getting the word out about School of Business Administration student, faculty and alumni success stories. The council members will act as ambassadors for the school to increase its profile, Niroomand said.
"We still have work to do to raise our visibility in the Houston business community," he said. "I was upfront with the council members about helping us get recognition. By lending their names to the advisory council, they will bring more credibility to our school. They will be an asset in identifying keynote speakers for school events, and over time, they can help create additional opportunities for our students."
The council will assist the business school in formulating effective fundraising strategies, identifying likely contributors, making key contacts and supporting fundraising efforts.
"In order to continue the growth of high-quality, innovative programs, we need to continue to recruit quality faculty members," Niroomand said. "Hiring additional faculty in oil and gas, health care administration, insurance or banking may require additional funding. The council will assist with identifying potential contributors who can help us hire good faculty, create endowed professorships and provide additional scholarship money."
The council was assembled to represent the different ethnicities found in the business school's student body and faculty.
"The diversity in terms of age, business backgrounds and ethnicities is ideal," Lacerda said. "The fact that some of us are foreigners who have migrated to the U.S. is important because we can relate with the international students."
Most of the council members have a connection with UHV as an alumnus, adjunct professor or keynote speaker at Bachelor of Business Administration and Master of Business Administration conferences or Willis Group Distinguished Speaker Series events. Others have hired UHV alumni or selected students as interns for their companies.
The council members are all director level or higher in their organizations. Chris Carmouche, executive vice president and general counsel of Post Oak Bank and a UHV adjunct professor, will serve as chair. Niroomand anticipates that council eventually will expand to 25 to 30 members.
Joining Camouche, Lacerda and Vir on the council are:
Victoria Bryant, entrepreneur and president of the Vietnamese American Chamber of Commerce of Houston
Steve Ferguson, managing director of Endeavor Management and UHV School of Business Administration executive in residence
Greg Haralson, chief executive officer of Memorial Hermann Sugar Land Hospital
Steven Kaufman, president of Zeus Mortgage Ltd.
John O'Dell, director of strategic business development for WG Consulting and chairman and chief executive officer of Connections Intelligence
Farouk Shami, founder and chairman of Farouk Systems Inc.
Jenny Tektiridis, executive director of research planning and development at the University of Texas MD Anderson Cancer Center
Allison Wen, owner of Safari Texas Ranch
Michael Willis, chairman of the Willis Group
Frank Yonish, executive vice president and manager of commercial lending for Bank of Texas
The group will meet quarterly, with the next scheduled meeting in January.
The University of Houston-Victoria, located in the heart of the Coastal Bend region since 1973 in Victoria, Texas, offers courses leading to more than 80 academic programs in the schools of Arts & Sciences; Business Administration; and Education, Health Professions & Human Development. UHV provides face-to-face classes at its Victoria campus, as well as an instructional site in Katy, Texas, and online classes that students can take from anywhere. UHV supports the American Association of State Colleges and Universities Opportunities for All initiative to increase awareness about state colleges and universities and the important role they have in providing a high-quality and accessible education to an increasingly diverse student population, as well as contributing to regional and state economic development.