Close
UHV reflects on anniversary of excellence at annual report event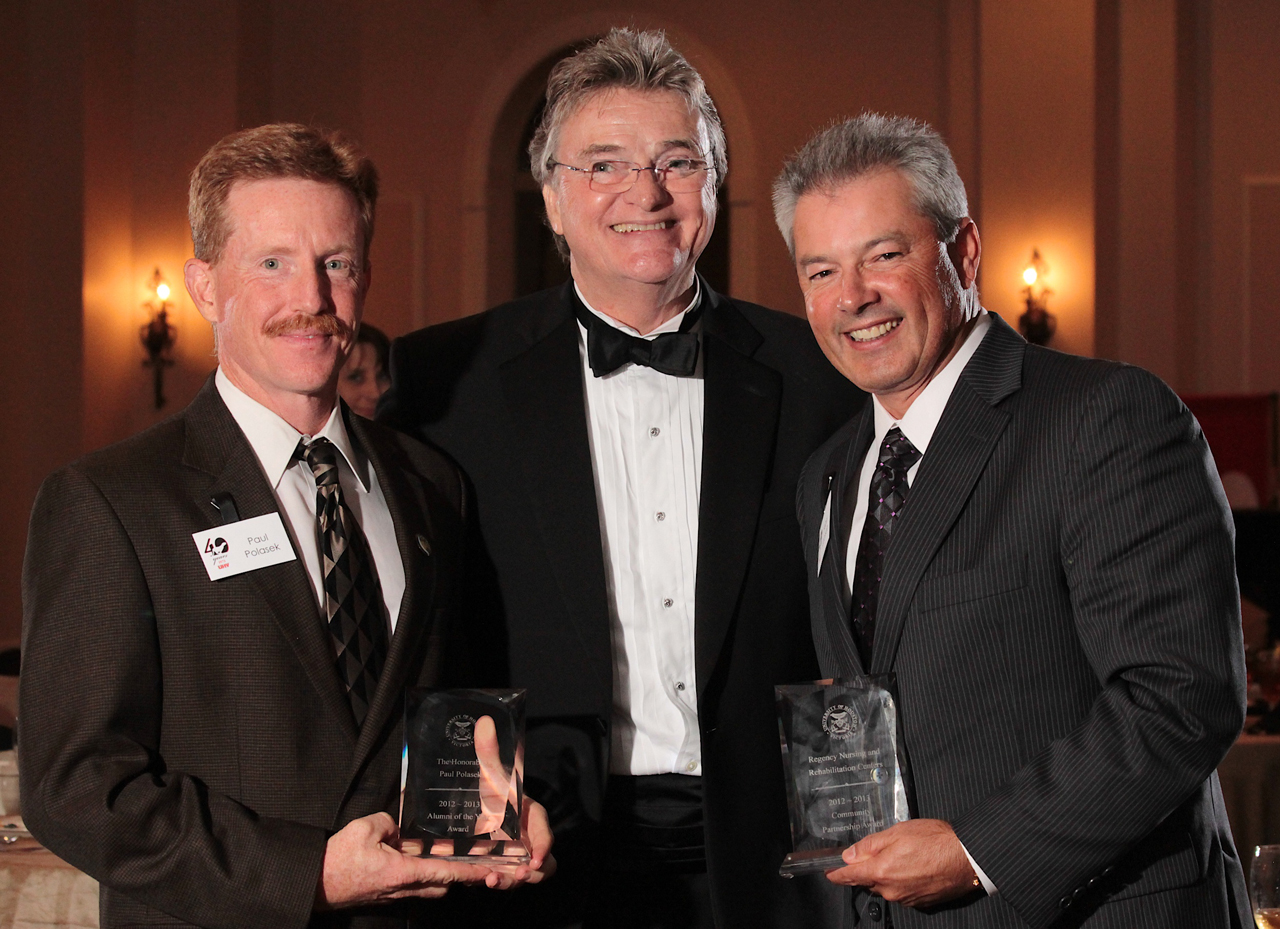 Victoria Mayor Paul Polasek, left, University of Houston-Victoria President Phil Castille and Heber Lacerda, Regency Nursing and Rehabilitation Centers president and CEO, pose for a photo at Tuesday's 2012-2013 UHV President's Annual Report & Excellence Awards. Polasek was named UHV Alumni of the Year. Regency Nursing received the UHV Community Partnership Award.
The University of Houston-Victoria cited accomplishments from the past year and celebrated its 40th anniversary as an institution in the UH System at the 2012-2013 President's Annual Report & Excellence Awards.
UHV President Phil Castille welcomed nearly 200 community supporters and university representatives to Spring Creek Place Events Center and presented two awards Tuesday evening.
The annual report theme was "An Anniversary of Excellence," and Castille provided plenty of examples about how UHV has excelled since its opening in 1973. The university has commemorated its 40th anniversary with a series of events and celebrations.
"The 2012-2013 school year was filled with many accomplishments, but none more important than our continued growth in Victoria," he said. "Even our Annual Report reception and dinner has outgrown its facilities on campus, so we have moved this year to Spring Creek to accommodate more of our donors and supporters."
Attendees watched videos about academic achievements, student life and athletics. UHV students, faculty and alumni, and jaX the Jaguar talked in the videos about new degrees and student organizations, classroom achievements, the rise in school spirit and record-breaking sports moments.
During the event, deans of UHV's four schools talked about academic highlights from the past year:
The School of Arts & Sciences began offering an industry-certified, post-baccalaureate gaming certificate through a public-private partnership with participating companies active in the industrial simulation and gaming fields.
The School of Business Administration added a new summer study abroad program to China to teach students about other cultures and business practices.
The School of Education & Human Development adopted Stroman Middle School through Victoria Independent School District's Adopt-A-School program, and university faculty and students worked with Stroman teachers and students to bolster academic performance at the school.
The School of Nursing was approved as an institutional member of the Texas Medical Center.
The event wrapped up with the presentation of two awards.
Regency Nursing and Rehabilitation Centers received the Community Partnership Award. Regency provides a wide range of long-term health care services at 30 facilities across Central and South Texas. Heber Lacerda, Regency president and CEO, reached out to university leaders when the company first moved its corporate headquarters to Victoria in 1994.
"As a company poised for growth in this area, we knew that it would be important for us to have a partnership, so we could have access to UHV graduates," Lacerda said.
Today, Regency employs more than 45 UHV graduates, including 30 in the corporate office.
"I have UHV alumni in the finance sector, operations and out in the field," Lacerda said. "It's been a partnership that has provided good things for us and the university."
The Community Partnership Award is presented annually to a person, business or organization that has helped advance the quality of life in the region and at the university. Lacerda said advancing the quality of life is second nature to Regency because it is in the people business. The company has about 3,300 patients and employs about 3,800 people.
"We are interested in what happens in the communities we serve," Lacerda said. "We can't be successful without successful communities. We believe in having partnerships that mutually benefit all parties."
Victoria Mayor Paul Polasek was named the UHV Alumni of Year. A lifelong resident of Victoria, Polasek is a partner in Aloe Software Group. He graduated in 1990 from UHV with a bachelor's degree in business administration. His wife, Michelle, graduated in 1989 from UHV with a bachelor's degree in mathematics.
Polasek said UHV's enrollment has increased rapidly since he was a student. During that era, most of the students lived in or near Victoria.
"Now UHV's outreach has grown both in terms of where students are from, but also in terms of what's being taught," Polasek said. "Today's business classes are preparing students for a global economy."
Polasek said he was surprised to receive the Alumni of the Year award.
"I'm humbled and pleased to receive this award," he said. "I hope that I can continue to set an example for graduates of UHV. I truly believe attending UHV will help students achieve what they want in life. I'm an example of that."
The Alumni of the Year award honors a UHV graduate who has distinguished himself in his profession while taking an active leadership role in the community. Polasek has served on numerous city boards, including being elected to the Victoria City Council three times.
As mayor, Polasek sees UHV's growth as an asset. He said the students not only contribute economically, but also by participating in local activities.
"It's exciting to see UHV students out at events around town," he said. "Having a destination university brings more of youthful exuberance to Victoria."
Area residents can now view the annual report and an event photo gallery at www.uhvAnnualReport.com. The site currently features video presentations shown during the event; faculty, staff, student and alumni highlights; UHV's enrollment and financial figures; a list of donors; and more. Videos filmed at Tuesday's event soon will be added to the website.
The University of Houston-Victoria, located in the heart of the Coastal Bend region since 1973 in Victoria, Texas, offers courses leading to more than 80 academic programs in the schools of Arts & Sciences; Business Administration; and Education, Health Professions & Human Development. UHV provides face-to-face classes at its Victoria campus, as well as an instructional site in Katy, Texas, and online classes that students can take from anywhere. UHV supports the American Association of State Colleges and Universities Opportunities for All initiative to increase awareness about state colleges and universities and the important role they have in providing a high-quality and accessible education to an increasingly diverse student population, as well as contributing to regional and state economic development.