Close
UHV graphic designer, manager win awards for creativity
Melody Vecera, creative services manager in the Marketing & Communications Department at the University of Houston-Victoria, and Amberley Gutierrez, a graphic designer in the department, won three graphic design awards in the MarCom Awards 2013 international competition for the projects pictured above.
Two staff members in the University of Houston-Victoria Marketing & Communications Department won three awards for outstanding graphic design in an international creative competition that attracted more than 6,500 entries.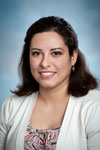 Amberley Gutierrez
Graphic designer Amberley Gutierrez won two platinum awards – the top honor – in the MarCom Awards 2013 competition. The first award was for a poster she designed for the "Escape from Camp 14" 2013-2014 UHV Community of Readers book, and the second was for a variety of collateral materials designed for the 2011-2012 "History in the Making" UHV President's Annual Report & Excellence Awards.
Creative Services Manager Melody Vecera received an honorable mention for her poster promoting "We Called for Workers, but People Came," a transatlantic conference held at UHV in November 2012 about the migration, globalization and integration issues faced by German Muslims and Mexican Americans.
"Melody, Amberley and the rest of the UHV Marketing & Communications staff does a tremendous job working to promote the university through creative marketing initiatives, eye-catching graphic designs and well-written press releases," said Paula Cobler, UHV director of Marketing & Communications. "I am always happy when an outside source recognizes the high quality of their work."
Only 19 percent of the entries received a platinum award for excellence in terms of quality, creativity and resourcefulness. About 22 percent were gold award winners, and about 10 percent were given honorable mention awards.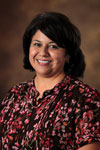 Melody Vecera
Gutierrez earned a Bachelor of Fine Arts in communication design from Texas State University, where she won awards for her student work. She previously worked for Aloe Software Group as a designer and also designs websites for a company based in Austin. Gutierrez began working in the UHV Marketing & Communications Department in June 2011.
Vecera earned her bachelor's degree in 2006 from UHV in applied arts and sciences with a concentration in communications. She also studied visual communication design at Austin Community College. Prior to joining UHV's Marketing & Communications Department in 2006, Vecera worked as a graphic artist for Graphix Unlimited and a production manager for the Victoria Business Magazine. She became the department's creative services manager in 2011.
This year's MarCom competition featured work from the U.S., Canada and several other countries. Entries came from corporate marketing and communication departments, advertising agencies, PR firms, design shops, production companies and freelancers.
The MarCom Awards is administered and judged by the Association of Marketing and Communication Professionals based in Arlington. The judges are industry professionals.
The University of Houston-Victoria, located in the heart of the Coastal Bend region since 1973 in Victoria, Texas, offers courses leading to more than 80 academic programs in the schools of Arts & Sciences; Business Administration; and Education, Health Professions & Human Development. UHV provides face-to-face classes at its Victoria campus, as well as an instructional site in Katy, Texas, and online classes that students can take from anywhere. UHV supports the American Association of State Colleges and Universities Opportunities for All initiative to increase awareness about state colleges and universities and the important role they have in providing a high-quality and accessible education to an increasingly diverse student population, as well as contributing to regional and state economic development.