Close
Publisher releases UHV professor's book on art in elementary education
University of Houston-Victoria professor Jill Fox is winning acclaim for the latest edition of her textbook on art in education.
Cengage Learning recently upgraded the book, the eighth edition of "Art & Creative Development for Young Children," to its AAA rating, meaning the book is one of the publisher's best-sellers.
A 400-page comprehensive resource, the textbook gives guidance for implementing a developmentally appropriate art program for preschool through third grades. It is used primarily in college classes to train future elementary school homeroom and art teachers, and also serves as a resource for school libraries. With a child-directed approach, the book addresses such topics as art and the developing child, special needs and diversity, brain research and children's artistic development.
"This new edition is an excellent resource, explaining current research on child development and the importance of the arts for young children, as well providing models for integrating both art production and art appreciation in the classroom," said Deborah Diffily, associate professor of early childhood education at Southern Methodist University.
Fox is a professor of early childhood education and director of assessment for the UHV Office of Institutional Effectiveness.
"One especially neat feature of this edition is the number of vignettes that are based on actual classroom experiences," Fox said. "Many times, there is a disconnect between teacher training and the real classroom, so the vignettes help prepare readers for teaching in real classrooms. It gives them a realistic picture of their challenges."
Also distinctive of this edition is that each chapter features a lesson plan that integrates art with the academic subjects of language arts, social studies, math and science to help teachers incorporate art into the core curriculum, Fox said.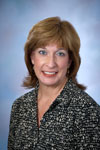 Jill Fox
The new edition also includes historical perspectives about art in education, with information about the role of the arts in the first kindergartens in Germany in the 1850s, Montessori programs, and early 20th century elementary schools.
"Right now, with the focus on academics in public schools, the arts are being neglected," Fox said. "So I wanted to show that art has historically been a part of quality educational experiences for young children since the 19th century."
The new edition also features an article about play therapy written by Elsa Leggett, an associate professor of counseling education at UHV.
"This eighth edition of 'Art & Creative Development for Young Children' promotes creative development and expression of young children from a philosophical as well as practical perspective," said Janet Melton, clinical professor of early childhood education at the University of Texas at Arlington. "Age-appropriate activities are included for classrooms and teachers that serve young children through school-age children. It is an excellent resource of activities and strategies to support creative development."
Before earning her doctorate in early childhood education, Fox taught kindergarten and first grade in Texas public schools for eight years.
"Dr. Fox is one of the nation's most recognized authorities on art in education, and that's a subject of great importance to the development of children," said Fred Litton, dean of the UHV School of Education & Human Development. "As this book's popularity attests, art is finally becoming more widely recognized for its educational and therapeutic value for children."
Though not available for sale until Jan. 1, the book is now listed on Amazon.com and Cengage.com, and will be available in university bookstores for campuses where the book is used for college-level classes.
The Internet and electronic media have revolutionized college textbook publishing since the first edition of the series was published in 1993, Fox said, noting that future editions will have an increasing online presence. Right now, it is a hardcopy book with an online component.
The University of Houston-Victoria, located in the heart of the Coastal Bend region since 1973 in Victoria, Texas, offers courses leading to more than 80 academic programs in the schools of Arts & Sciences; Business Administration; and Education, Health Professions & Human Development. UHV provides face-to-face classes at its Victoria campus, as well as an instructional site in Katy, Texas, and online classes that students can take from anywhere. UHV supports the American Association of State Colleges and Universities Opportunities for All initiative to increase awareness about state colleges and universities and the important role they have in providing a high-quality and accessible education to an increasingly diverse student population, as well as contributing to regional and state economic development.