Close
Next ABR author accomplished storyteller of Southern life, people
Paul Ruffin will concede that bacon is the unchallenged king of breakfast meats, but he has a surprising choice for second place.
"I aver that the most sensible candidate for second place should be not sausage, not ham, not steak, but Spam," Ruffin wrote in a 2012 newspaper column.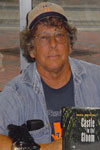 Paul Ruffin
The final 2013 University of Houston-Victoria/American Book Review speaker is a highly praised storyteller who can take a rather nondescript subject like Spam and turn it into 11 entertaining newspaper columns, which followed his eight different columns about bacon.
"I first was introduced to Spam when I was out camping, and one of the boys along fried some up," Ruffin said. "It was the most marvelous stuff I had ever tasted in my life. So I went back and wrote about Spam's influence on my childhood, how it's made, the role Spam played in keeping the Soviet empire alive during World War II, and how my father wouldn't allow it in the house because he ate it all the time during the war. I had to sneak down to the river to fry it."
Ruffin will give a reading at noon Nov. 21 in the Alcorn Auditorium of UHV University West, 3007 N. Ben Wilson St. The public is invited to attend the free event, and light refreshments will be served.
Ruffin will either read from his latest collection of stories, "Living in a Christ-Haunted Land," or a related story that wasn't ready in time for the book. The title comes from the response of Southern writer Flannery O'Connor to a question she was asked one time about the South: "Do you think that the South is Christ-centered?" Her answer was, "I don't know about it being Christ-centered, but it is certainly Christ-haunted."
"These stories have to do with the religious lives of the characters," he said. "I was brought up in rural Mississippi in the Assembly of God church. In my family, everything happened because of divine intervention one way or the other. I have quite a number of stories that deal with religious influences."
The 2009 Texas State Poet Laureate, Ruffin is a Texas State University System Regents Professor and Distinguished Professor of English at Sam Houston State University in Huntsville. His books include two novels, five collections of short stories, four books of essays, seven collections of poetry and 13 edited or co-edited books. More than 1,000 of Ruffin's poems, stories and essays have appeared in magazines and journals. Additionally, his "Ruffin-It" columns have appeared in Texas, Alabama and Mississippi newspapers and on his blog, pauldruffin.com/wordpress/.
Religion and breakfast meat are just two of the many subject areas Ruffin has delved into. Much of his work focuses on the South's people, landscape and attitudes. Ruffin was born in Millport, Ala.
His 2006 book, "The Segovia Chronicles," is a collection of 30 personal essays and sketches from people he encountered in the West Texas town of Segovia.
"In 'The Segovia Chronicles,' Paul Ruffin continues the tradition of contemporary educated writers examining their common roots and their responsibility to the depiction of the community from which they were raised," wrote Bryan Brower in a 2008 edition of the American Book Review. "Ruffin's example of peaceably mingling with simple men and women despite their lack of education clearly intimates that isolation is not the answer."
Ruffin said he got to know Segovia residents during his visits to the ranch of one of his former students.
"I spent a lot of time out there, and I love the sense of family that exists among West Texas people," he said. "There's a strong affinity with the Deep South because a lot of people originally came from there. It's obvious the influences that helped shape me helped shape them, as well."
Ruffin's fourth essay collection, "Travels with George in Search of Ben Hur and other Meanderings," was published in 2011 by the University of South Carolina Press.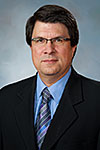 Jeffrey Di Leo
In the title essay, Ruffin reminisces about a reading tour through Texas with novelist and poet George Garrett. In search of a Dairy Queen, the pair happens upon the hamlet of Ben Hur where they talk with an eccentric representative of the town's handful of inhabitants. In other essays, Ruffin workshops a cowboy poem with a couple of deputy sheriffs, reveals aspects of Edgar Allan Poe's life never before published, and shares the story of a boy who speaks only in hymns.
Jeffrey Di Leo, dean of the UHV School of Arts & Sciences, said Ruffin's essays are a joy to read.
"He's not afraid to poke fun at his own experiences, and he uses humor to tell his stories," Di Leo said. "I'm really looking forward to him sharing some of his adventures with us. I'm anticipating another large turnout for the reading."
Ruffin referenced Flannery O'Connor to explain his use of humor.
"She once said that no story was any good unless it had an element of humor in it," Ruffin said. "Humor is a levitating agent that allows tragedy to develop a perspective. It permits us to endure the most grievous of experience. I try to inject humor in just about everything I write."
ABR is a nonprofit, internationally distributed literary journal that is published six times a year. It began in 1977, moved to UHV in 2007 and has a circulation of about 8,000. The journal specializes in reviews of works published by small presses.
For more information about the UHV/ABR Reading Series, call the ABR office at 361-570-4101 or go to www.americanbookreview.org.
The University of Houston-Victoria, located in the heart of the Coastal Bend region since 1973 in Victoria, Texas, offers courses leading to more than 80 academic programs in the schools of Arts & Sciences; Business Administration; and Education, Health Professions & Human Development. UHV provides face-to-face classes at its Victoria campus, as well as an instructional site in Katy, Texas, and online classes that students can take from anywhere. UHV supports the American Association of State Colleges and Universities Opportunities for All initiative to increase awareness about state colleges and universities and the important role they have in providing a high-quality and accessible education to an increasingly diverse student population, as well as contributing to regional and state economic development.