Close
UHV fall education symposium to address bilingual education issues
After the University of Houston-Victoria was designated a Hispanic-Serving Institution in May, UHV School of Education & Human Development leaders decided to make bilingual education the focus of the school's fall symposium.
"The local demographics show that a significant number of public school students in this area are Hispanic," said Fred Litton, dean of the UHV School of Education & Human Development. "We thought it was a timely topic, and it would be of interest to area educators as well as university faculty, staff and students."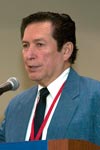 Leonard Baca
"Trends and Issues in Bilingual Education" starts at 6:30 p.m. Nov. 21 in the Alcorn Auditorium of UHV University West, 3007 N. Ben Wilson St. The symposium is free and open to the public.
The speaker for the event is Leonard Baca, director of the BUENO Center for Multicultural Education and a professor in the School of Education at the University of Colorado Boulder.
"Dr. Baca is very much on top of the literature in terms of what the professional opinions are on trends and issues, and he also has some personal issues to share," Litton said. "I think the attendees will learn quite a bit from him."
Baca will talk about the concept of bilingual education, where it came from, federal legislation and an overview of different types of programs. He also plans to discuss research on the effectiveness of the programs, and he will explore the different models of bilingual education.
Baca said one of the biggest issues facing bilingual education is a resistance movement coming from a group called U.S. English. The group is campaigning to make English the official language of the U.S.
"Then there are other groups who are advocating for multilingual speakers for a global economy," Baca said. "They would like for public schools to make it a goal to have children speak more than one language."
Baca has taught courses in bilingual education and bilingual special education at CU since 1973. He co-wrote the books "Language Minority Students With Disabilities" and "The Bilingual Special Education Interface."
Litton said special education students usually are at a disadvantage in the learning process. Special education students who speak another language may be at an extra disadvantage.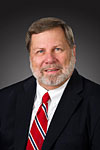 Fred Litton
"It's called 'twice exceptional,'" Litton said. "Dr. Baca has written the most-used textbook about that subject."
Baca was named the Teacher of the Year in 1984 by the Colorado Association for Bilingual Education. In 1994, he was recognized by the Colorado Legislature and the City of Denver for outstanding contributions to the field of bilingual education.
The BUENO Center for Multicultural Research conducts research, provides training and does service projects to promote quality education with an emphasis on cultural pluralism. BUENO stands for Bilinguals United for Education and New Opportunities.
One of the center's offerings is the College Assistance Migrant Program, a federal scholarship program that recruits students with migrant and agricultural backgrounds. Qualified students have their tuition, fees and books paid for during their freshman year at Aims Community College in Fort Lupton, Colo.
"It provides a scholarship for their first year of work and then plugs them into existing financial aid and other programs so they can continue on," Baca said. "We also provide tutoring, counseling and support activities."
This is the third symposium hosted by the UHV School of Education & Human Development. The school hosts a symposium about a different education topic each semester. The two previous ones focused on emotional intelligence and autism.
For more information about the symposium or the UHV School of Education & Human Development, contact the school at education@uhv.edu or 361-570-4262.
The University of Houston-Victoria, located in the heart of the Coastal Bend region since 1973 in Victoria, Texas, offers courses leading to more than 80 academic programs in the schools of Arts & Sciences; Business Administration; and Education, Health Professions & Human Development. UHV provides face-to-face classes at its Victoria campus, as well as an instructional site in Katy, Texas, and online classes that students can take from anywhere. UHV supports the American Association of State Colleges and Universities Opportunities for All initiative to increase awareness about state colleges and universities and the important role they have in providing a high-quality and accessible education to an increasingly diverse student population, as well as contributing to regional and state economic development.