Close
UHV opens on-campus motion capture, virtual reality studio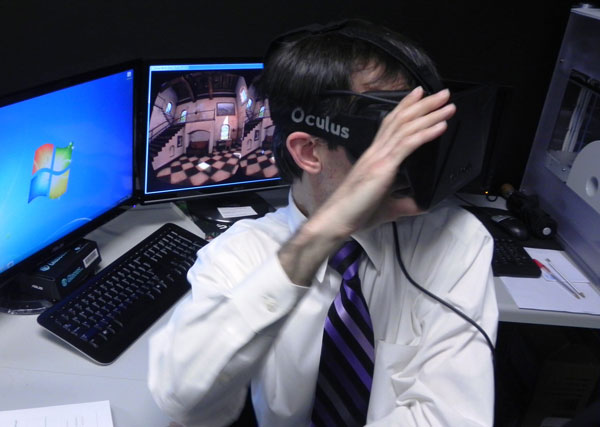 Alireza Tavakkoli, a UHV assistant professor of computer science, displays the 3-D goggles used for virtual reality in the university's new motion capture studio. Through the goggles, Tavakkoli virtually appeared in the home seen on the right computer screen.
The University of Houston-Victoria will provide digital gaming and computer science students with access to high-speed motion capture cameras and 3-D virtual reality equipment with the opening of a new studio on the Victoria campus.
UHV is setting up a Computation & Advanced Visualization Engineering, or CAVE, lab for use by students, faculty and local industry leaders. Motion capture technology is used in developing various forms of entertainment and for education, engineering and medical purposes.
"This is by far the most advanced programming lab I have been involved with," said Alireza Tavakkoli, a UHV assistant professor of computer science and director of the university's digital gaming and simulation program. "It's extremely exciting to think about the countless potential uses of this technology in gaming, simulation, engineering and beyond."
The lab has 24 high-speed motion capture cameras capable of shooting up to 2,000 frames a second. The cameras are up and running with the goal of having real-time motion capture – where real-world movements of a person wearing a suit are captured – operational by the end of the year. UHV students will begin using the lab during the spring semester.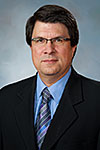 Jeffrey Di Leo
Tavakkoli said he is not aware of another university in Texas with the quality and scale of this advanced facility on its campus.
Jeffrey Di Leo, dean of the UHV School of Arts & Sciences, said the lab will be an advantage in recruiting students.
"The superiority of this equipment, combined with the quality of the faculty and staff and the affordability of the program, makes UHV an attractive option for prospective students," Di Leo said. "It's exciting to know that our students will work with cutting-edge equipment. I think they will enjoy using this technology for a variety of projects.
In 2007, UHV began a bachelor's program in computer science with a digital gaming and simulation concentration. The program is designed for students who want to advance their knowledge of modern game design and work with a variety of professionals – from artists to writers to programmers – to bring the vision for an interactive game or media product to life.
A handful of UHV students have used the equipment for game design work in the past when the cameras were housed in Sugar Land. The equipment was moved this fall to the UHV University West building in Victoria. The studio may relocate to the university's Academic & Regional Economic Development Building when the facility opens in 2015.
"Now that we have a large number of digital gaming and simulation students in Victoria, this was a good time for us to bring this equipment here," Tavakkoli said. "We already partner with Houston companies and colleges that have smaller-scale motion capture labs, so those are available for our Greater Houston students."
UHV also has retooled its industry-certified post baccalaureate gaming certificate so that it is not bound to a single industry or company. Students can work with a gaming, engineering or medical company for certification, Tavakkoli said.
"By housing the lab on our campus, we can give all our students the opportunity to use the studio for classes, training or industry-related projects," Tavakkoli said.
Along with the cameras, UHV also has three motion-capture giganet boxes that interact with the cameras and design software that allows users to build and animate 3-D models. Additional software helps put the models into an interactive environment.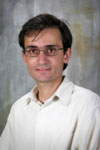 Alireza Tavakkoli
"The software allows us to build games, but it doesn't end there," Tavakkoli said. "It can be used for training, health and educational purposes."
As for virtual reality, the equipment functions as a virtual environment when participants put on 3-D goggles. The course work that the virtual environment can be used for includes 3-D modeling, animation, game design, artificial intelligence and computer graphics.
"Participants can put the goggles on and be completely immersed into a virtual world," Tavakkoli said. "It can be as realistic as walking around the UHV campus or appearing in a mythical location like a 'Dungeons and Dragons' game."
Tavakkoli also foresees uses by UHV students in other programs. Nursing students could use the equipment for training simulations, and it could have applications for business students studying entrepreneurship and finance. Education majors could take advantage of the technology to gain experience through a virtual classroom or create games to use in teaching.
Tavakkoli said the university also could generate revenue from outside industries using the lab. Di Leo said there also may be grants and other external funding opportunities.
"It can be used for developing training sequences in industry, simulation products for the oil and gas sector and athletic training and rehabilitation," Tavakkoli said.
For more information about the lab, contact Tavakkoli at tavakkolia@uhv.edu or 361-570-4204.
The University of Houston-Victoria, located in the heart of the Coastal Bend region since 1973 in Victoria, Texas, offers courses leading to more than 80 academic programs in the schools of Arts & Sciences; Business Administration; and Education, Health Professions & Human Development. UHV provides face-to-face classes at its Victoria campus, as well as an instructional site in Katy, Texas, and online classes that students can take from anywhere. UHV supports the American Association of State Colleges and Universities Opportunities for All initiative to increase awareness about state colleges and universities and the important role they have in providing a high-quality and accessible education to an increasingly diverse student population, as well as contributing to regional and state economic development.