Close
Outstanding business school graduates look to future
Though the prospect of higher earnings motivates many people to return to school, something more drove Bryan Guinn to continue learning – love of his work in municipal finance.
"Working in local government is almost like a calling," he said. "It's one of the few places you can work and see the direct impact of what you do on the people who live in the community. When I see the police officers driving around every day, the road crews out maintaining the streets and the sidewalks being maintained, it's satisfying to know I have a hand in making sure the funds are available to do that."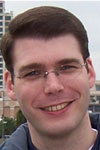 Bryan Guinn
For many months, Guinn and Bryan Dugger, both of Sugar Land, have been going to school full time at the University of Houston-Victoria while also working full time – Guinn for the City of Sugar Land and Dugger for OSIsoft LLC.
Their academic excellence led UHV's School of Business Administration to give them the school's top student awards for fall 2013. Guinn, the school's outstanding graduate student, will earn a Master of Business Administration on Dec. 14. Dugger was named outstanding undergraduate student. He will earn a Bachelor of Business Administration degree.
"Mr. Guinn and Mr. Dugger have shown that they have the knowledge, perseverance and work ethic to excel in school and in business," said Farhang Niroomand, dean of the UHV School of Business Administration. "This caliber of graduate will always be highly sought after by employers."
Each semester, professors from the four UHV schools select an outstanding student from both their graduate and undergraduate programs to be honored during commencement. UHV will hold fall commencement at 11 a.m. Dec. 14 in the Leonard E. Merrell Center, 6301 S. Stadium Lane in Katy.
Guinn, who was raised in Texarkana, Ark., has been working for municipalities for 12 years. A few years after graduating from Texas A&M University with a Bachelor of Arts degree in political science, he went to work for the City of Bryan, and then the City of College Station. The City of Sugar Land hired him six years ago as its budget manager and promoted him in February to be the assistant director of budget and research – a promotion made possible in part by his enrollment in the master's degree program at UHV.
"I realized over the course of the first two years on the job in Sugar Land that to continue in the organization, I would need a master's degree, because everyone who was getting hired and promoted had a master's degree," Guinn said.
UHV's MBA program helped him achieve that objective.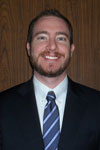 Bryan Dugger
"The school was close to where I live and work, it was affordable and the professors were all accessible, knowledgeable and willing to help," he said.
Likewise, Dugger was recently promoted within his company based on completion of his BBA. He has worked as a marketing coordinator for OSIsoft, a software company based in San Leandro, Calif. After receiving his degree, he will assume his new position in inside sales. Dugger plans to begin working on his MBA next fall.
His work for OSIsoft required considerable travel, so UHV's online portfolio of business courses made it possible for Dugger to work and go to school simultaneously, he said.
"With all the travel I do, there was no way I could have committed to classroom-based courses," he said. "UHV's online classes allowed the flexibility I needed to obtain this degree. "I'm grateful for all that I learned from my professors at UHV."
For both students, going to school full time while working full time had its challenges.
"Graduation has been a long time coming," Dugger said. "It was a ton of hard work, a lot of dedication, and many hours spent studying on planes and in hotel rooms while traveling for work."
The University of Houston-Victoria, located in the heart of the Coastal Bend region since 1973 in Victoria, Texas, offers courses leading to more than 80 academic programs in the schools of Arts & Sciences; Business Administration; and Education, Health Professions & Human Development. UHV provides face-to-face classes at its Victoria campus, as well as an instructional site in Katy, Texas, and online classes that students can take from anywhere. UHV supports the American Association of State Colleges and Universities Opportunities for All initiative to increase awareness about state colleges and universities and the important role they have in providing a high-quality and accessible education to an increasingly diverse student population, as well as contributing to regional and state economic development.