Close
Top education students bolster careers with UHV degrees
Living and working in the Boston area, Brian Edmunds got a few strange looks when he told people he was obtaining a master's degree from the University of Houston-Victoria.
"Sometimes I got the raised eyebrow followed by a question how it must be tough to earn a master's degree online," said Edmunds, a 31-year-old Salem, Mass., resident. "My response was that once I understood what the expectations were, I settled into my workload and enjoyed the course work. I still got to interact with the other students and professors. I just did it in a little different way."
With several work and family commitments, Edmunds, Autumn Buch of Nordheim and Tammy Griffin of Katy thrived in online courses on their way to earning degrees from the UHV School of Education & Human Development. Edmunds was named the school's fall 2013 outstanding graduate student while Buch and Griffin were chosen as outstanding undergraduate students.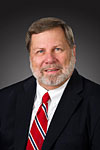 Fred Litton
Each semester, professors from the four UHV schools select outstanding students from both their graduate and undergraduate programs to be honored during commencement. UHV will hold fall commencement at 11 a.m. Saturday in the Leonard E. Merrell Center, 6301 S. Stadium Lane in Katy.
"All three of these students have shown that they have what it takes to be a successful teacher," said Fred Litton, dean of the UHV School of Education & Human Development. "I expect we'll be hearing more about the three of them in the future doing great things for education."
For Buch and Griffin, Saturday is a long time coming. Buch went back to school in 2008 and started at UHV in 2011, while Griffin began taking classes in 2010. Both wanted to be teachers long before then.
"It's always been a passion of mine to work with children," Buch said. "I felt it was the right career for me."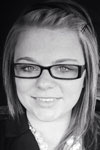 Autumn Buch
For the past five years, Buch, 25, has balanced school, work and raising her twin 5-year-old boys, Mayson and Jayson. She will graduate with a bachelor's degree in interdisciplinary studies focusing on early childhood through sixth-grade generalist. The Cuero native already has landed and started a job teaching second grade for the Nordheim Independent School District.
"My education at UHV opened my eyes to real-world situations and scenarios," she said. "While you can't be prepared for everything that happens as a teacher, it's been helpful to know that a UHV professor is there for me in case I have a question. The whole education program at UHV is amazing."
Buch got involved by serving as an officer in the Alpha Zeta Lambda chapter of the Kappa Delta Pi education honor society. She also built relationships with her faculty members.
"They are there for you," she said. "It took me a long time to realize that. Once I did, I took advantage of that. Those relationships have meant the world to me."
Griffin also relished the chance to learn from her education faculty members. She will graduate with a bachelor's degree in interdisciplinary studies with a focus on grades four through eight generalist. Her ambition is to teach junior high math and science.
Griffin, 47, was a stay-at-home mother when her two children were young. She volunteered at their elementary school and in recent years, worked as in-class support staff at Cardiff Junior High in Katy.
When it came time to choose a university, Griffin selected UHV for its academic reputation and convenience. She said the key to balancing everything was organization and learning to prioritize. She stayed on top of her calendar and charted out time to work on assignments. She also was a member of Kappa Delta Pi for two years.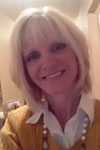 Tammy Griffin
"At first, it was rough, but everything eventually fell into place," she said. "I had a great support system with my husband and children. They were very supportive."
Though it wasn't required, Griffin decided to take four extra classes in special education.
"I noticed how special education children are being integrated into the classroom," she said. "I knew as a teacher that just getting an interdisciplinary studies degree would not be enough for me. Teachers may have a student with autism or dyslexia. I wanted that ammunition of knowing how to work with those students."
Edmunds will graduate with a master's degree in special education with a focus on applied behavioral analysis. He first learned about UHV on the Behavior Analysis Certification Board's website. The site lists university programs that meet requirements for students seeking to get certified as behavioral analysts.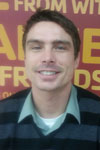 Brian Edmunds
"I was attracted to UHV because I was able to do the entire program online," he said. "That allowed me to still work a full-time schedule at the elementary school and work on my classes at night."
While pursuing his master's, Edmunds provided behavior analysis therapy to students with special needs in a low-income area of Boston.
"It was a tough place to work, but at the same time gratifying to serve students with the level of need that exists in that area of the city," he said. "I would spend the day working on specific skills for each student, such as color identification."
Edmunds landed a job this September in Salem, Mass., as a behavior analyst for a high school and middle school.
"The lessons I learned at UHV, especially in the transitions course I took, have been a big help for me," he said. "At the high school, I work with a lot of students moving on to vocational positions. The new gig is a good one, and I have UHV to thank for that."
Edmunds said it was an honor to be named an outstanding student.
"The professors who I studied under were excellent, and I learned a lot by soaking up their knowledge," he said. "To receive credit from them in return is a real honor."
The University of Houston-Victoria, located in the heart of the Coastal Bend region since 1973 in Victoria, Texas, offers courses leading to more than 80 academic programs in the schools of Arts & Sciences; Business Administration; and Education, Health Professions & Human Development. UHV provides face-to-face classes at its Victoria campus, as well as an instructional site in Katy, Texas, and online classes that students can take from anywhere. UHV supports the American Association of State Colleges and Universities Opportunities for All initiative to increase awareness about state colleges and universities and the important role they have in providing a high-quality and accessible education to an increasingly diverse student population, as well as contributing to regional and state economic development.