Close
UHV students achieve best Texas university nursing exam pass rate
Recent graduates of the University of Houston-Victoria Second Degree Bachelor of Science in Nursing have the highest first-time nurse licensing exam pass rate for universities in the state.
The first-time pass rate for UHV Second Degree BSN students was 97.3 percent on the National Council Licensure Exam-Registered Nurse, it recently was announced by the Texas Board of Nursing.
Students from 39 Texas universities took the exam from Oct. 1, 2012, to Sept. 30. The average pass rate for university-prepared BSN students statewide was 86 percent.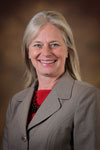 Kathryn Tart
"I'm extremely proud of our faculty and students," said Kathryn Tart, founding dean of the UHV School of Nursing. "I'm thankful to the administration, foundations and donors for supporting our work and out nursing staff. I'm also thankful for the support of our hospitals, clinics and health care providers. Nursing is a practiced profession. We are all concerned about our patients. We want the best. We've strived to make sure our graduates are ready, willing and able to make great leaders in the nursing profession."
Students who have completed an approved nursing program are eligible to take the NCLEX-RN exam. A passing score grants the test taker a Texas nursing license.
In the UHV School of Nursing, the test is taken by Second Degree Bachelor of Science in Nursing students. A total of 36 UHV students passed the test during the time period. Students in UHV's other nursing programs had already passed the exam prior to studying at UHV.
UHV's Second Degree BSN program was approved in 2008 by the Texas Board of Nursing. Tart said the board approved the program as an innovative way to address the state's nursing shortage. The UHV program allows students with a degree in another field to become Registered Nurses through a 12-month, intensive program.
"Most schools start with a traditional nursing program and then move into a second degree program, but we did it the opposite way," Tart said. "Moreover, our students graduate in December and have a better opportunity for beginning their careers instead of competing with all the May graduates. Employers find it valuable to hire graduates from UHV who have a BSN degree and a previous degree in another field. It is a win-win for the student and employer."
The composite test scores for the first four classes of UHV Second Degree BSN students were 88.2, 100, 97.8 and 100 percent for the most recent class. A 100 percent score means all graduates eventually passed the exam and are practicing nurses.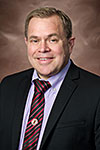 Jeffrey Cass
Tart said the school has kept pass rates high by solidifying its curriculum, hiring and retaining qualified faculty, choosing students through an innovative admissions process, and maintaining effective clinical partnerships.
"I want to convey my thanks to the terrific leadership, faculty and staff of our School of Nursing for these results," said Jeffrey Cass, UHV provost and vice president for academic affairs. "The year-long Second Degree BSN program is demanding, and the subsequent examination is rigorous. It is wonderful news to hear how well our students are performing."
Besides being a source of pride, the NCLEX-RN exam results provide another indication to prospective students about the strengths of the UHV School of Nursing.
"The first-time test pass test results are made public because we practice in a public profession," Tart said. "Every hospital and school will know the results. The public can look up the results starting in January on the Texas Board of Nursing website."
For more information about the UHV School of Nursing, visit www.uhv.edu/nursing or call 877-970-4848, ext. 4370.
The University of Houston-Victoria, located in the heart of the Coastal Bend region since 1973 in Victoria, Texas, offers courses leading to more than 80 academic programs in the schools of Arts & Sciences; Business Administration; and Education, Health Professions & Human Development. UHV provides face-to-face classes at its Victoria campus, as well as an instructional site in Katy, Texas, and online classes that students can take from anywhere. UHV supports the American Association of State Colleges and Universities Opportunities for All initiative to increase awareness about state colleges and universities and the important role they have in providing a high-quality and accessible education to an increasingly diverse student population, as well as contributing to regional and state economic development.