Close
UHV graduate student earns top student award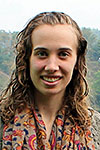 Kelsey Decker
The world might be a big place, but in the Internet age it's getting smaller every day. And for one University of Houston-Victoria student, research into a facet of that phenomenon brought big recognition.
Kelsey Decker, a graduate student in UHV's publishing program, recently came away with the Top Student Paper Award in Rhetoric and Communication Theory from the Texas Speech Communication Association.
That honor, which included a $100 prize, came for "Religious Community through Online Ritual: A Case Study of the World Race," a paper written for Decker's Religion and Media class.
"Our semester project was to write a research paper that looked at the different ways you can form a community – face-to-face or online," she explained. "Mine focused on the online aspect. It was a case study about a missionary organization and the ways it uses the Internet to form a community."
Throughout her research, she uncovered ways the group, which travels in teams to various parts of the world, maintained ties without direct physical interaction.
"It formed a community through blogging, talking on Facebook, things like that," the 23-year-old said. "The group members are apart from everything for about a year once you factor in training, but they still have ways to express their faith and get those messages across."
Decker originally hails from Anchorage, Alaska, but her family later relocated to the Lone Star State. She graduated in 2008 from New Braunfels High School before moving on to Georgia Southern University, where she earned bachelor's degrees in journalism and German.
With a husband in the U.S. Air Force, the latter worked out well for her. Today they're living in Wiesbaden, Germany.
"He got his orders to come here just after I finished studying abroad," she said of her husband, Corben.
She said she chose to continue her education at UHV because with a military lifestyle, the online element made school possible.
"I can continue studying while I'm over here and really pick up from anywhere," she said.
When Decker isn't studying, she enjoys taking in the sights around her. She recently visited Germany's Neuschwanstein Castle, a picturesque palace known by many as the "fairytale castle."
An upcoming trip to Zurich, Switzerland, is also in the works.
"It's nice living over here because there is so much to see," she said, noting it helps that, unlike travels stateside, she doesn't often have to worry about connecting flights and similar hassles.
Still, travels aren't all that occupy her time. She has one other very important responsibility keeping her busy at home: her 6-month-old daughter, Emma.
"She's great," Decker said. "And she's a fantastic traveler, so we couldn't ask for anything better."
Decker said she looks forward to the coming months. Not only are new European adventures in her future, but future course work brings her closer to her master's degree.
She isn't yet sure when she will graduate. She's pacing herself and her course work because of her daughter. But she's glad to be moving toward that next step, which might lead her to editing positions or possibly work with the U.S. Department of State.
Decker encouraged other students working toward a goal to know their limits, work hard and don't overdo it.
"Know what you're capable of," she said. "Know your needs and the needs of anybody else who's in the picture. Be aware. It really does help."
I am a Jaguar is an online feature highlighting the exceptional students who attend the University of Houston-Victoria. To nominate a student, email Paula Cobler, UHV director of marketing and communications, or call her at 361-570-4350.
The University of Houston-Victoria, located in the heart of the Coastal Bend region since 1973 in Victoria, Texas, offers courses leading to more than 80 academic programs in the schools of Arts & Sciences; Business Administration; and Education, Health Professions & Human Development. UHV provides face-to-face classes at its Victoria campus, as well as an instructional site in Katy, Texas, and online classes that students can take from anywhere. UHV supports the American Association of State Colleges and Universities Opportunities for All initiative to increase awareness about state colleges and universities and the important role they have in providing a high-quality and accessible education to an increasingly diverse student population, as well as contributing to regional and state economic development.