Close
UHV nursing faculty member brings real-life experiences to classroom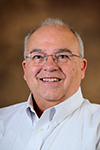 Terry Kirk
Textbooks and lesson plans bring much to the table, but real-life wisdom offers an educational element all its own.
And for Terry Kirk's students, their instruction comes with a bit of both.
The University of Houston-Victoria associate clinical professor in the School of Nursing works to incorporate experiences he gained through years in health care into his daily lectures.
"I do a lot of storytelling and engaging my students," said Kirk, whose work includes years as a U.S. Army nurse and in hospital administration. "I can relate to what they're telling me. I've lived through the things they have questions about. It really helps them."
Kirk joined UHV as an adjunct faculty member in 2012, the same year he retired from hospital administration. He took a full-time faculty position the following January.
That transition into academics was a smooth one, said Kirk, who described himself as something of a hybrid.
"I've always held faculty appointments, as well as full-time chief nursing executive appointments," he said. "I've been able to blend my experiences into the academic world for many years. At this point in my career, though, I just want to give back. I want to have an impact on the future of nursing."
He's already seen growth within UHV's School of Nursing and played a large role in developing the curriculum for an undergraduate health studies program that started this spring.
The university's combination of forethought and future study tracks is more important now than ever with the changes taking place in health care, Kirk said.
With every citizen maintaining some form of coverage, more people will access health services. That puts a strain on existing physicians and nurses, and emphasizes the nation's need for more health care professionals, he said.
"Access to care is a must, in my opinion, but we have the challenge of trying to decide how we will actually do it with the human resources we have," he said. "I'm excited about these changes but also reserved. I think it will be a real challenge in our country."
Kirk obtained his bachelor's in nursing from the University of the State of New York in Albany before moving on to the University of Texas Medical Branch in Galveston, where he earned his master's in nursing. Later came a doctorate from Nova Southeastern University in Ft. Lauderdale, Fla.
Although his work at UHV occupies much of his time now, the educator still enjoys the chance to indulge in a few hobbies. He enjoys hiking, birding and other elements of the great outdoors, as well as reading fiction. A lover of the arts, the educator also makes an annual trek to New York City to take in a Broadway show or two.
"Once you go, you'll want to go back," he said of the Big Apple. "There is so much to do and see."
Kirk said he has found a good home with UHV.
"This is a very proactive, evidence-based program. That really separates UHV from other universities," he said. "It's nice to be part of an evolving program that's keeping up with the changes in health care and the needs of the community."
The Faculty Feature is an online feature highlighting faculty members from each of the University of Houston-Victoria's four schools. To nominate a faculty member, email Paula Cobler , UHV director of marketing and communications, or call her at 361-570-4350.
The University of Houston-Victoria, located in the heart of the Coastal Bend region since 1973 in Victoria, Texas, offers courses leading to more than 80 academic programs in the schools of Arts & Sciences; Business Administration; and Education, Health Professions & Human Development. UHV provides face-to-face classes at its Victoria campus, as well as an instructional site in Katy, Texas, and online classes that students can take from anywhere. UHV supports the American Association of State Colleges and Universities Opportunities for All initiative to increase awareness about state colleges and universities and the important role they have in providing a high-quality and accessible education to an increasingly diverse student population, as well as contributing to regional and state economic development.