Close
UHV spends nearly $70,000 to increase campus safety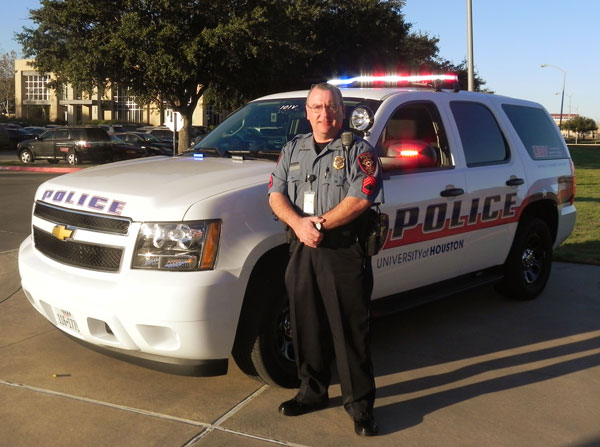 Sgt. Rick Gammon uses his new police vehicle to remind drivers on the University of Houston-Victoria campus to slow down. Gammon has been working since August to make the campus a safer environment.
When the new semester kicked off Monday morning, many University of Houston-Victoria students and employees were reminded to be safe while driving on campus.
UHV Sgt. Eric "Rick" Gammon parked his new police vehicle near the soccer field and warned drivers to slow down and come to a complete stop at the stop sign. He said to enforce the speed limit, speed bumps recently were added to the Jaguar Village parking lots and would be installed soon near the University West building.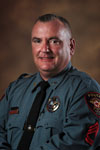 Rick Gammon
"My first priority is to educate people about safe driving," he said. "Sometimes people just need a little reminder."
Gammon was hired in August as UHV's first police officer following a national search conducted by the UH Police Department. The position was made possible because of a nearly $300,000 U.S. Department of Justice grant the university received in November 2011.
He is an employee of the UH Police Department but lives and works in Victoria. As a state university police officer, Gammon has full police jurisdiction throughout counties where the UH System operates, including Victoria, Fort Bend, Harris and Montgomery counties.
UHV has invested nearly $70,000 to help Gammon improve campus safety. The university purchased better radios that improve communication among campus officials and give Gammon access to the Victoria Police Department.
The university also purchased a new police vehicle, fully equipped with the latest police technology, including video recording, GPS tracking, a laptop, radar, prisoner cage, sirens and a backup camera.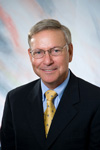 Wayne Beran
"The vehicle is a nice billboard for the community to see that we have a police presence on campus," said Wayne Beran, UHV vice president for administration and finance.
UHV officials already are seeing positive changes since Gammon came to the university, Beran said.
"Every residential campus is going to have some incidents come up, and we are happy that students are more comfortable now reporting them," Gammon said. "We are noticing that students feel safe living here. We want students and the community to know that we are making safety a priority at UHV."
Gammon's office is in Jaguar Hall, so students are used to seeing him and are more comfortable around him.
"The students have been receptive to my presence in the residence halls," he said. "I'm able to have a casual relationship with the students on a daily basis but reinforce that there are boundaries if they break the rules. It's the epitome of the community policing concept, where police officers get out and interact with people in a positive environment."
A benefit of the daily interaction is that there have been more reports. Gammon said that has partially occurred through the presentations given to the students as part of the U.S. Department of Justice grant, which helps prevent sexual assault, domestic violence, dating violence and stalking on campus.
"An advantage to a smaller campus, such as UHV, is that students get to know your face," he said. "The students are learning about the resources and procedures we have for safety on campus. I'm proud that they're using the information that we provide them."
Gammon also has established a working relationship with the Victoria Police Department. He has a radio that gives him direct access to a city dispatcher if needed. The city has been helpful during his transition into the new role by covering him when he is out of town on business and giving advice on special cases.
"The cooperation with the city has been great," he said. "They have been a major resource for me as I set up safety protocols and deal with types of cases we haven't had at UHV before it became a residential campus in fall 2010."
Gammon said he likes the work he's doing at UHV.
"Every day is a little different, whether I'm helping someone, solving a case or giving students advice about life or a career in criminal justice," he said.
The University of Houston-Victoria, located in the heart of the Coastal Bend region since 1973 in Victoria, Texas, offers courses leading to more than 80 academic programs in the schools of Arts & Sciences; Business Administration; and Education, Health Professions & Human Development. UHV provides face-to-face classes at its Victoria campus, as well as an instructional site in Katy, Texas, and online classes that students can take from anywhere. UHV supports the American Association of State Colleges and Universities Opportunities for All initiative to increase awareness about state colleges and universities and the important role they have in providing a high-quality and accessible education to an increasingly diverse student population, as well as contributing to regional and state economic development.