Close
UHV senior promotes arts, culture in Crossroads
The written word is a powerful thing, but art can pack an even bigger punch. Just ask Kate Garcia.
"Looking back in history, with anything you wrote, you risked being ostracized or jailed," said Garcia, a University of Houston-Victoria senior. "If it was written down, it was your word and responsibility. But if you create art, that's something that is open to interpretation. You can get away with a lot more."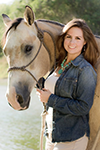 Kate Garcia
For the college student with a flair for the creative, that's reason enough for Garcia to indulge in and encourage the arts.
Garcia, 27, enjoys spending time at the pottery wheel, transforming formless clay into something beautiful. In fact, she briefly ran a pottery shop with a friend.
"I took ceramics classes for three or four years, and I actually got pretty good," she said. "I feel like art is a healthy outlet for people. It's good for the human spirit."
Garcia works to promote culture throughout the Crossroads by serving on the Victoria's Nave Museum board and volunteering during Main Street Program events.
"I like making a difference and knowing my time is being well spent," Garcia said. "I want to make a positive impact."
The Victoria native graduated from Memorial High School in 2005 before moving on to Victoria College. There, she obtained an associate degree in arts and sciences. She later transferred to UHV where it took awhile to nail down the right major. Garcia began with studying education. She later tried her hand at nursing, business and international business.
When she came across her current focus – humanities with a concentration on literature – it clicked.
"It made me wonder, 'Why didn't I start with this?'" she said as she laughed. "It's the perfect fit."
The arts might play an important role, but Garcia's interests don't lie there alone. The lifelong animal lover also enjoys spending time with Rocket, the lovable 7-year-old quarter horse she purchased a few years back.
"We make a perfect little pair together," she said of the horse she trained. "One of my favorite things to do is just taking off with him for a ride. I love horseback riding."
As Garcia nears the end of her time at UHV – Spanish courses are all she has left – she looks forward to walking the stage and taking home her diploma.
"It's taken me 10 years, and I have more than 200-something credit hours," she said. "It's going to be one of the most expensive pieces of paper I ever get, but I'm excited. This is a milestone."
She encouraged other students in similar situations to keep working toward their dreams. Getting an education isn't always easy, she said, and it doesn't necessarily come quickly. Still, it's important.
"That degree is going to benefit you in the long run," she said. "It will eventually open up so many doors. And, if it doesn't open a door, it'll open up a window. Don't give up."
I am a Jaguar is an online feature highlighting the exceptional students who attend the University of Houston-Victoria. To nominate a student, contact
Paula Cobler
, UHV interim director of marketing and communications, or call 361-570-4350.
The University of Houston-Victoria, located in the heart of the Coastal Bend region since 1973 in Victoria, Texas, offers courses leading to more than 80 academic programs in the schools of Arts & Sciences; Business Administration; and Education, Health Professions & Human Development. UHV provides face-to-face classes at its Victoria campus, as well as an instructional site in Katy, Texas, and online classes that students can take from anywhere. UHV supports the American Association of State Colleges and Universities Opportunities for All initiative to increase awareness about state colleges and universities and the important role they have in providing a high-quality and accessible education to an increasingly diverse student population, as well as contributing to regional and state economic development.