Close
UHV/ABR poet mixes personal, political themes
The last time Jeffrey Sartain saw poet Marilyn Chin, he was handing her a detailed bibliography he'd compiled that included more than 400 entries of her work, book reviews and interviews up to that point.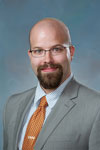 Jeffrey Sartain
Sartain, ABR managing editor and assistant professor in the University of Houston-Victoria School of Arts & Sciences, was a graduate student at Illinois State University in 2000 when he presented the results of his graduate project to the Chinese American poet. Her work is so widely recognized that Sartain said it took more than 60 hours to complete the research.
"I had read everything she had written up to that point and really got to know her work," Sartain said. "Unfortunately, I could not even begin to scrape the surface of her work in translation."
Chin is the first author featured in the Spring 2014 UHV/American Book Review Reading Series. She will read from her books at noon Jan. 30 in the Alcorn Auditorium of UHV University West, 3007 N. Ben Wilson St. The public is invited to attend the free event, and light refreshments will be served.
Chin will read from her upcoming book of poems that she has been writing off and on for 10 years. "Hard Love Province" features the themes of loss, love, sex and joy. She also will read what she calls "sassy tales" from her book of fiction, "Revenge of the Mooncake Vixen."
"I'm excited to see her again," Sartain said. "The last time I went to one of her readings she hadn't published long fiction yet, so I'm interested to see that dimension of her writing."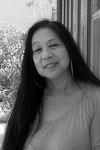 Marilyn Chin
Chin often writes about her assimilation into American culture after moving from Hong Kong at age 7 to Portland, Ore.
"My neighborhood in Portland was not diverse, and I quickly learned that I was different," she said. "Assimilation happens quickly. I learned English and then started losing my Chinese. One has to work hard to keep bilingualism."
Chin is known as a Chinese American activist who focuses on political themes in her writing. She said her best poems mix personal and political issues with the past and present.
"Personal issues often play with political themes," she said. "In one poem, I write about my Native American lover who passed away. He had been in the Army when he was younger, so I'm writing about mourning the loss of my love and mourning a period of U.S. history and war."
Chin said that her poems require a lot of revisions, some up to 50 before they are complete. She focuses on perfecting each line of poetry by using heightened language to create an image.
"The first draft is from God, the rest is hard work," she said as she laughed. "I try to be sparse with my words. The poem is a little package, and sometimes it's a little bomb that is filled with surprises, and sometimes it's a quiet read. There are many ways to write a poem, and I try to investigate different styles."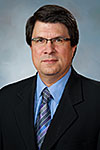 Jeffrey Di Leo
Chin goes beyond writing stories about immigration, said Jeffrey Di Leo, ABR editor and publisher, and dean of the UHV School of Arts & Sciences.
"It is easy to see why her poetry strikes a chord with readers," he said. "Her stories are relatable because everyone is trying to figure out how they fit into the world."
Chin said she never knows which poems will be loved by the public. One that has grasped readers, especially women, from around the world is "The Floral Apron." The poem, which describes an older Chinese woman showing a younger generation how to cook a traditional Chinese meal, is so popular that a fan once sent Chin her grandmother's apron as a gift. The poem also was chosen to represent Hong Kong culture during the BBC's broadcast of the 2012 Summer Olympics in London.
Chin said she loved poetry from a young age. Her grandmother used to chant Chinese poetry to her and encouraged her to memorize poems.
"The music of poetry moved me when I was young," Chin said. "Now I have students who have been raised on hip hop and the spoken word. It is a lot of fun with this new generation that knows how to throw lines at each other. It reminds us that poetry is an oral tradition, too."
But Chin stresses to her students the importance of writing their work down.
"I remind them that for the work to survive, you have to put it on the page," she said. "It has to be compelling on the page first but also can be performed in a vibrant way."
Other writers scheduled for the Spring 2014 UHV/ABR Reading Series are:
Dana Johnson, Feb. 20 – Johnson is the author of "Elsewhere, California" and "Break Any Woman Down," which won the Flannery O'Connor Award for Short Fiction and was a finalist for the Hurston/Wright Legacy Award. Born and raised in and around Los Angeles, Calif., she is an associate professor of English at the University of Southern California, where she teaches literature and creative writing.
Alex Espinoza, March 6 – Espinoza has authored two books and numerous shorter works. His stories and essays are known for drawing on his Hispanic heritage and describing his assimilation into American culture. "Still Water Saints," his debut novel, was published simultaneously in Spanish and English. His fictional work has been featured in various anthologies and journals such as The Southern California Review, and his essays have appeared in The New York Times.
Scott Russell Sanders, March 27 – Sanders is the author of 20 books consisting of collections of nonfiction, novels and personal stories. He also is the author of three children's books and is known for his attention to nature and history in his writings. Through the years, he has collected numerous awards for his work, including the Mark Twain Award and the Lannan Literary Award.
Domingo Martinez, April 24 – Martinez is the author of "The Boy Kings of Texas." The book explores his experience growing up in the border town of Brownsville and the cultural collision of two countries. Martinez was a nominee for the 2013 Pushcart Prize and a finalist for the National Book Award. He will be the 70th speaker the UHV/ABR Reading has welcomed to the Victoria community.
Authors will be available after each reading to sign copies of their books, which can be purchased at the events. During her visit, Chin will meet with students and attend functions in the community.
ABR is a nonprofit, internationally distributed literary journal that is published six times a year. It began in 1977, moved to UHV in 2007 and has a circulation of about 8,000. The journal specializes in reviews of works published by small presses.
For more information about the UHV/ABR Reading Series, call the ABR office at 361-570-4101 or go to www.americanbookreview.org.
The University of Houston-Victoria, located in the heart of the Coastal Bend region since 1973 in Victoria, Texas, offers courses leading to more than 80 academic programs in the schools of Arts & Sciences; Business Administration; and Education, Health Professions & Human Development. UHV provides face-to-face classes at its Victoria campus, as well as an instructional site in Katy, Texas, and online classes that students can take from anywhere. UHV supports the American Association of State Colleges and Universities Opportunities for All initiative to increase awareness about state colleges and universities and the important role they have in providing a high-quality and accessible education to an increasingly diverse student population, as well as contributing to regional and state economic development.