Close
UHV alumna steps into job advocating for Texas physicians
During a student internship at the Texas Nursing Association in Austin, Angelica Ybarra witnessed the impact nursing leaders could make at the state level.
Less than a year after graduating from the University of Houston-Victoria School of Nursing, Ybarra is now one of those leaders. She is director of clinical advocacy in the Division of Public Health and Medical Education at the Texas Medical Association in Austin.
Ybarra learned about the position through an online advertisement. While she wasn't actively looking for a new job, the title caught her attention.
"When I read the job description, I felt compelled to apply," she said. "I thought the role and responsibilities of being the director of clinical advocacy aligned with my nursing and health care expertise, as well as my career preferences."
Ybarra graduated from UHV in spring 2013 with a Master of Science in Nursing. She was chosen by the university's School of Nursing faculty as that semester's outstanding graduate student.
"Ms. Ybarra's high-profile job validates the quality the faculty saw in her while she was a student," said Kathryn Tart, dean of the UHV School of Nursing. "The newest data from the Texas Higher Education Coordinating Board reports that 100 percent of our master's degree nurse administration alumni are gainfully employed. We are very proud of the work our graduates are doing."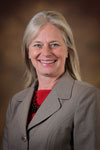 Kathryn Tart
The Texas Medical Association is the largest state medical society in the nation. The association's Division of Public Health and Medical Education focuses on public health, and scientific and patient safety issues, emphasizing areas in which high-quality medical care and scientific expertise can benefit Texans.
"My position provides me the opportunity to make a difference in health care by advocating for physicians and their practices which, in turn, impacts patient care delivery statewide," Ybarra said. "My favorite thing about the job is being in a position to empower physicians with information that can help them improve their clinical effectiveness and quality of care."
One task Ybarra is involved with is preparing physicians for payment reimbursement challenges. She explained health care payment models are transitioning from traditional fee-for-service pay structures to value-based reimbursement. A value-based system rewards medical providers who provide quality care with higher reimbursement payments. For instance, medical providers who improve population health outcomes for patients with diabetes or other chronic medical conditions and reduce health care costs may be rewarded with incentives and higher payments.
"These new reimbursement models come with many challenges and new requirements for physicians," she said. "Our association strives to educate and prepare physicians for these changes."
A Registered Nurse for 13 years, Ybarra has worked in varied health care settings such as hospitals, home health, telehealth, community health and nursing management. Prior to her current position, she worked as a nurse analyst for TMF Health Quality Institute, where she developed medical policies for Texas Medicaid and the Children with Special Health Care Needs Services Program. She also worked as a health services consultant for the Texas Health Care Transformation and Quality Improvement Program.
Ybarra said she probably wouldn't be able to fully comprehend some of the issues occurring in the medical profession had it not been for a combination of her nursing background and the courses that she took at UHV.
"The nurse administration degree plan provided a well-rounded curriculum about the nursing profession and health care industry," she said. "Having an expanded knowledge about our U.S. health care delivery system helps me quickly grasp the challenges physicians are faced with today."
Ybarra said she hopes other nursing students find the right career path, whether it is practicing nursing or in an administrative role.
"I find my job very rewarding," she said. "Job satisfaction is key to a successful career, and I would encourage other UHV graduates to look for positions that meet their interests in any setting."
While the job requires a lot of dedication, Ybarra said she is able to balance her work and home life because of the support of her husband and children.
"My husband is impressed by all that I do, and my parents are simply pleased with the fact that I'm a nurse and in a position to help others," she said.
The University of Houston-Victoria, located in the heart of the Coastal Bend region since 1973 in Victoria, Texas, offers courses leading to more than 80 academic programs in the schools of Arts & Sciences; Business Administration; and Education, Health Professions & Human Development. UHV provides face-to-face classes at its Victoria campus, as well as an instructional site in Katy, Texas, and online classes that students can take from anywhere. UHV supports the American Association of State Colleges and Universities Opportunities for All initiative to increase awareness about state colleges and universities and the important role they have in providing a high-quality and accessible education to an increasingly diverse student population, as well as contributing to regional and state economic development.