Close
New UHV dance team promotes school spirit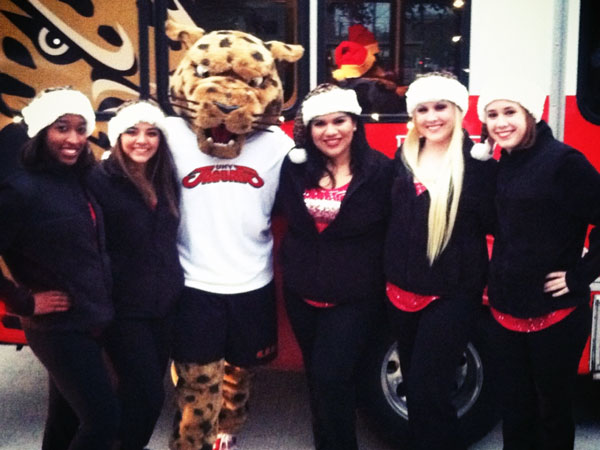 Five members of the University of Houston-Victoria Felines dance team pose with jaX the Jaguar during the Victoria Lighted Holiday Parade in December. Pictured are Briana Holmes, left, Megan Huerta, Natalia Salinas, April Harvey and President Marina Miller.
Fresh off its debut performance in the Lighted Holiday Parade in Victoria, members of the University of Houston-Victoria Felines dance team got an unexpected reaction when they boarded the university's shuttle bus for the ride back to campus.
"The UHV athletes, who had followed us in the parade, gave us a round of applause and several compliments," Felines President Marina Miller said. "It was nice to feel the gratification from some of our peers."
While love of dancing was one reason why UHV students joined the Felines, another reason was a desire to help boost school spirit. Miller said dance teams are spirit organizations. The members not only perform, but also get involved in school activities. Team members wear school colors and encourage students to attend sporting events.
Vera Akinkuotu, UHV coordinator for Student Development and Parent Programs and the organization's sponsor, said the Felines are another avenue to promote school spirit.
"We're still in the midst of building student life traditions, and I think having a dance team is a good component," Akinkuotu said. "It also promotes structure, discipline and dedication. Those are items we look for in student organizations as we build student life."
Team members are Miller of San Antonio; Megan Huerta of Van Vlek; Briana Holmes of Milton Fla.; Natalia Salinas of Texas City; April Harvey of Houston; and Franklyna Tumbay of Dallas. Huerta and Holmes are juniors, who also play on the UHV soccer team. The other team members are freshmen. The team manager is Damilola Ojo of Houston.
The Felines replaced the Jaguar Jazz Team, which lost steam after the 2011-2012 school year. The lack of a dance team troubled Iesha Lamark, a UHV student during the fall semester who founded the new team and chose the name.
"Iesha loved dance, and she found out that several other students loved dance, too," Akinkuotu said. "Just because there wasn't a dance program or classes at UHV didn't mean students had to give it up completely. She wanted to give them the opportunity to continue dancing."
Since Miller was co-captain of the dance team at Sandra Day O'Connor High School in San Antonio, Lamark asked her to come up with a routine for the tryout.
Miller and Lamark then took to social media in October to get the word out about the tryouts. They first held a couple of clinics to teach the routine. A total of 18 women showed up for the first clinic.
"We wanted students with basic dance skills, like being able to leap or turn," Miller said. "Being able to have rhythm or understand chorography also was important. We wanted team members who could perform. Skills are good, but a dance is nothing if you can't put on a smile."
Lamark originally served as the Felines' president, but she was unable to return to UHV for the spring semester, so Miller stepped in as president.
Miller said the team typically practices twice a week at the Victoria College dance studio or the Jaguar Suites fitness room. The Felines are open to performing at community and university events this semester.
"Right now, we are in the process of getting the team known," Miller said. "Not many people are aware of us yet. Any chance to perform is an awesome opportunity for us."
Miller said they molded the tryout routine to use at the holiday parade. The Felines performed to a mashup of Lady Gaga and Britney Spears songs.
"When we got to the parade, the entry in front of us was pimped out cars with big stereo systems," Miller said. "They agreed to play our song for us. We rotated a Christmas song with our routine song. We ended up performing the dance 10 to 12 times."
The team wore matching shirts and jackets in the parade. This semester, the members plan to purchase uniforms with funding they received from UHV's Student Government Association.
Miller said the Felines eventually may want to compete in dance competitions, but the focus now is on performing locally.
"I hope the team is active in Victoria's community, and I hope we have groups of dedicated girls coming through that push the team to a competitive level," Miller said. "Collegiate dance team competitions are difficult. It won't be possible this year, but maybe in future years with a bigger team it will."
Miller said the first year will be a lot of trial and error, but the team hopes to have more students try out next school year. Male team members are welcome to try out if they are serious about dance.
"It's a good experience, and it looks good on a resume," Miller said. "Being on a dance team leads to a lot of new experiences and friendships."
The University of Houston-Victoria, located in the heart of the Coastal Bend region since 1973 in Victoria, Texas, offers courses leading to more than 80 academic programs in the schools of Arts & Sciences; Business Administration; and Education, Health Professions & Human Development. UHV provides face-to-face classes at its Victoria campus, as well as an instructional site in Katy, Texas, and online classes that students can take from anywhere. UHV supports the American Association of State Colleges and Universities Opportunities for All initiative to increase awareness about state colleges and universities and the important role they have in providing a high-quality and accessible education to an increasingly diverse student population, as well as contributing to regional and state economic development.