Close
UHV nursing ceremony informs students' families about rigorous program
SUGAR LAND – A vital component for students attempting to earn a University of Houston-Victoria nursing bachelor's degree in a year is support from their family and friends.
Those friends and families are invited to a special ceremony Friday to celebrate the start of a journey for 55 UHV students pursuing a Second Degree Bachelor of Science in Nursing.
The 2014 Hands of Caring ceremony will be from 4 to 6 p.m. in the Susan Ryon Davis Multi-Purpose Room in Brazos Hall at UH Sugar Land, 14000 University Blvd.
The Second Degree BSN program allows individuals with a bachelor's degree in another field to become nurses in a year after meeting admissions criteria. All students in the program start in January with a December graduation date.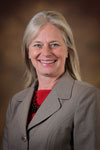 Kathryn Tart
To formally introduce students into the profession, the School of Nursing has held the Hands of Caring ceremony every year since 2010. Family members often attend the ceremony to learn about what the students will face in the months ahead.
"The ceremony is a way to welcome these new students into the noble profession of nursing," said Kathryn Tart, dean of the UHV School of Nursing. "This is an event I look forward to every year because it's a chance for the families to gain a better understanding of the educational process to become a nurse. It's an exciting day for everyone involved."
Tart said the new Second Degree BSN students are following in the footsteps of a class that achieved the highest first-time nurse licensing exam pass rate for universities in the state. The first-time pass rate for 2013 UHV Second Degree BSN students was 97.3 percent on the National Council Licensure Exam-Registered Nurse.
Lisette Barton, an assistant professor in the nursing school, said if families have a better idea of what the students will go through, they will have a better idea of how to help.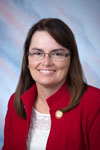 Lisette Barton
"This is an eight- to 10-hour-a-day investment for a year," Barton said. "Getting the family's buy-in on what it will take to be successful is just as important as getting the student's buy-in."
After Tart's opening remarks, ceremony attendees can tour the Methodist Sugar Land Hospital Nursing Simulation Center, which is located at UH Sugar Land, where UHV offers the nursing program.
Several nursing faculty members then will give presentations. Assistant clinical professors Sandra McNeely and Patricia Schrader will team up to present "How to Care for Your Student with Classroom and Clinical Learning."
Assistant professor Shainy Varghese will discuss her research about caring through telehealth, while Barton will talk about innovative technology in the curriculum. Barton said students are exposed to a tremendous amount of technology in the BSN program. She will demonstrate some of the technology to their families.
"We have some really cool tools that help students move through the program in a year," Barton said.
As one example, Barton will demonstrate how she uses online polling. With an app called "Polls Everywhere," students use their cell phone to text answers to a particular question that Barton asks. A few seconds later, a bar graph appears listing how the students responded.
"It's a really neat tool to work on misconceptions," Barton said. "I'll deliver a lecture and ask some poll questions. Then the students and I can quickly gauge where we are in terms of mastering those concepts."
The University of Houston-Victoria, located in the heart of the Coastal Bend region since 1973 in Victoria, Texas, offers courses leading to more than 80 academic programs in the schools of Arts & Sciences; Business Administration; and Education, Health Professions & Human Development. UHV provides face-to-face classes at its Victoria campus, as well as an instructional site in Katy, Texas, and online classes that students can take from anywhere. UHV supports the American Association of State Colleges and Universities Opportunities for All initiative to increase awareness about state colleges and universities and the important role they have in providing a high-quality and accessible education to an increasingly diverse student population, as well as contributing to regional and state economic development.