Close
UHV reaches new high for spring enrollment; preliminary numbers up 4 percent
Preliminary enrollment figures show the University of Houston-Victoria has reached 4,303 students, an all-time high for spring enrollment. Headcount is up 4 percent compared with last spring.
This total is an increase of 166 more than the university's final spring 2013 enrollment of 4,137 students. In the past five years, spring enrollment figures have grown by 32 percent, starting at 3,260 in spring 2009.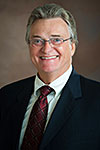 Phil Castille
UHV President Phil Castille said most of the university's growth can be found on the Victoria campus, where the student population has nearly tripled since freshmen and sophomores were added in fall 2010. Not only is UHV's undergraduate enrollment up 9 percent from spring 2013 to spring 2014, but also 89 percent of the freshmen in the fall re-enrolled in the spring – an indication of successful student retention.
"The university's headcount enrollment and number of semester credit hours have risen dramatically as UHV transitions into a destination four-year university," Castille said. "But the core of UHV is the same – a place where students have many means of access to an affordable, quality higher education. We are preparing for more future growth, especially in our residential population in Jaguar Village."
In the fall, the university opened the $11.5 million Jaguar Suites residence hall to house the growing number of residential students on the Victoria campus.
UHV also is working to accommodate its growth by building an approximately 63,000-square-foot Academic & Regional Economic Development Building just northeast of the UHV University Center, 3007 N. Ben Wilson St. The $12.5 million facility will house the School of Business Administration, student support services, career services with a job testing area, an office for the Small Business Development Center director, and the new Regional Center for Economic Development. The center will promote area job creation and retention within the 13 surrounding counties.
"UHV continues to grow and adapt to the needs of our students, whether they are residential, commuter or online," Castille said.
The university offers face-to-face, online and Interactive Television courses at its Victoria campus and several teaching centers in Greater Houston.
UHV opened in 1973 with about 350 students. The university first exceeded 3,000 students in fall 2008 and then crossed over the 4,000 student mark in fall 2010. The university was named the third fastest-growing public master's institution in the nation from 2000 to 2010, according to The Chronicle of Higher Education's 2012-2013 Almanac.
Final spring enrollment figures and a breakdown of student demographics will be released later in the semester after certification from the Texas Higher Education Coordinating Board.
The University of Houston-Victoria, located in the heart of the Coastal Bend region since 1973 in Victoria, Texas, offers courses leading to more than 80 academic programs in the schools of Arts & Sciences; Business Administration; and Education, Health Professions & Human Development. UHV provides face-to-face classes at its Victoria campus, as well as an instructional site in Katy, Texas, and online classes that students can take from anywhere. UHV supports the American Association of State Colleges and Universities Opportunities for All initiative to increase awareness about state colleges and universities and the important role they have in providing a high-quality and accessible education to an increasingly diverse student population, as well as contributing to regional and state economic development.