Close
New York, Texas children's book lists recognize UHV faculty member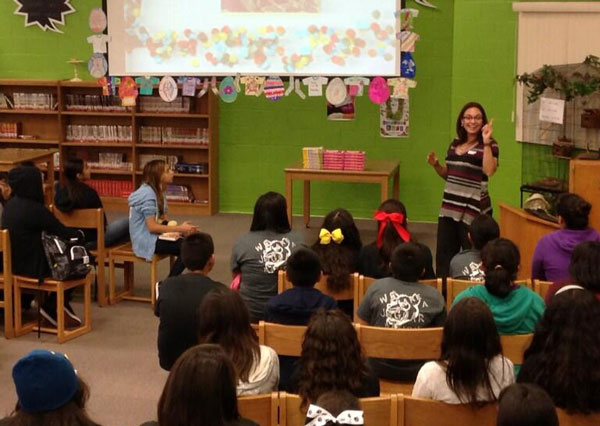 Diana López, a University of Houston-Victoria assistant professor, makes a presentation in front of a group of students at Mary Hoge Middle School in Weslaco about her latest book, "Ask My Mood Ring How I Feel."
More adolescents could get the opportunity to read "Ask My Mood Ring How I Feel" thanks to its recent inclusion on two book lists.
For the first time, Diana López, University of Houston-Victoria assistant professor and director of the university's creative writing program, has a book on the Lone Star Reading List. López also appears for a second time on the New York Public Library 100 Titles for Reading and Sharing.
Released in June, "Ask My Mood Ring How I Feel" is the third book López has written for a middle school audience.
It's the summer before eighth grade, and Erica "Chia" Montenegro is feeling so many things that she needs a mood ring to keep track of her emotions. She's happy when she hangs out with her best friends. She's jealous that her genius little sister skipped two grades. And she's passionate about the crushes on her Boyfriend Wish List. And when Erica's mom is diagnosed with breast cancer, she is worried and doesn't know what she can do to help.
In a somber part of the book, Chia's mother is asked what bad habit, such as smoking or drinking, causes breast cancer. She answers that an illness isn't always caused by a bad habit. During a reading of the book in Austin, a middle school boy asked López if that was true.
"I could tell he never put that together, so we had a real nice conversation about how it's the sad truth," López said. "I told his class, 'What's important to remember is the support from family and friends in that situation.' Children are wondering about these things. They may not always bring it up, but they have questions or concerns. I like being a neutral party they can talk with."
A committee of Texas Library Association members selected 20 books geared toward a middle school audience for the 2014 Lone Star Reading List. The list, which first came out in 1990, is frequently used by school librarians when considering what books to add to their collections.
"You don't have to be a Texas author to make the list, but I think it's a little more special to be from Texas because then you have a chance to visit schools and share your work," López said.
She said the committee did a great job picking books middle school students are interested in reading. Examples of other books are the crime thriller "Lincoln's Grave Robbers" by Steve Sheinkin and a sports book, "Sasquatch in the Paint," co-written by NBA Hall of Famer Kareem Abdul-Jabbar and Raymond Obstfeld.
"There's good diversity in the list in terms of where the books come from and also the genres they are working with," López said. "The list is really to promote a love of books. That makes me really happy. I want those students to become lifelong readers."
Cynthia Perales, a librarian at Mary Hoge Middle School in Weslaco, said her students can relate to the book because some of what happens to the characters has happened to them.
Perales, who also serves on the Lone Star Reading List Committee, invited students from the book clubs of the three other middle schools in the Weslaco Independent School District to attend López's reading.
"The students enjoyed talking with Diana," Perales said. "We drew pictures, and we raffled off autographed books. The students were excited and asked a lot of good questions."
The New York Public Library list is comprised of 100 children's books published in 2013. A group of 19 librarians put together the list. López's first young adult book, "Confetti Girl," made the 2009 list.
López, who will teach a course in UHV's new Master of Fine Arts program this fall, is already at work on her next book, "Nothing Up My Sleeve." The book is about three boys whose friendship is put to the test when they all sign up to compete in a close-up magic contest. López attended the Texas Association of Magicians annual Labor Day convention, and the idea for the book came from an amateur magician competition there.
The University of Houston-Victoria, located in the heart of the Coastal Bend region since 1973 in Victoria, Texas, offers courses leading to more than 80 academic programs in the schools of Arts & Sciences; Business Administration; and Education, Health Professions & Human Development. UHV provides face-to-face classes at its Victoria campus, as well as an instructional site in Katy, Texas, and online classes that students can take from anywhere. UHV supports the American Association of State Colleges and Universities Opportunities for All initiative to increase awareness about state colleges and universities and the important role they have in providing a high-quality and accessible education to an increasingly diverse student population, as well as contributing to regional and state economic development.